Grape Jelly Meatballs
We may earn money or products from the companies mentioned in this post.
Grape Jelly Meatballs
Happy New Year!
Still don't have a clue what to bring to that New Year's Eve party tonight? Or maybe your staying home and just want to make something to nibble on while your watching the ball drop in Times Square? Grape Jelly Meatballs are the answer. This timeless classic is fast, easy and delicious!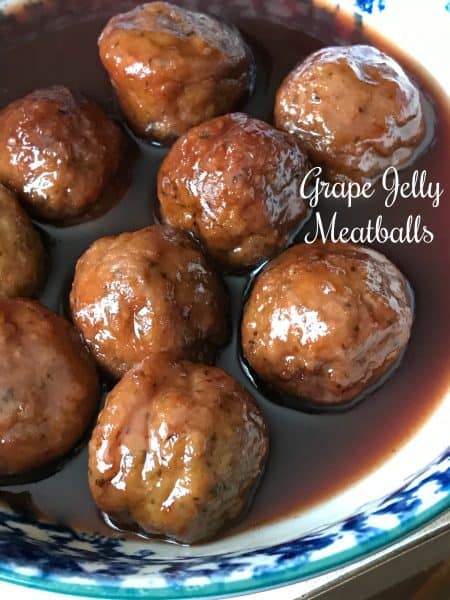 The Mole Hole
This is one of those recipes that combines a few strange ingredients and the end result is super, duper delicious. I first tasted Grape Jelly Meatballs about 20 years ago when I worked at a specialty gift shop called the Mole Hole The owners of the gift shop were Bill and Helen Scott. One Christmas Eve day when I was working, they came into the shop with a bowl of meatballs.
A Star is Born
Helen said, "You have got to try these meatballs, we tried them at a party last night and they're delicious."  I thought, what the heck, I'm starving…(I forgot to pack a lunch and I didn't bring any lunch money, so I would have gnawed my arm off at that point)…I sampled a meatball and they were delicious. I knew my family would love them too, so the tradition of serving grape jelly meatballs on Christmas Eve was born.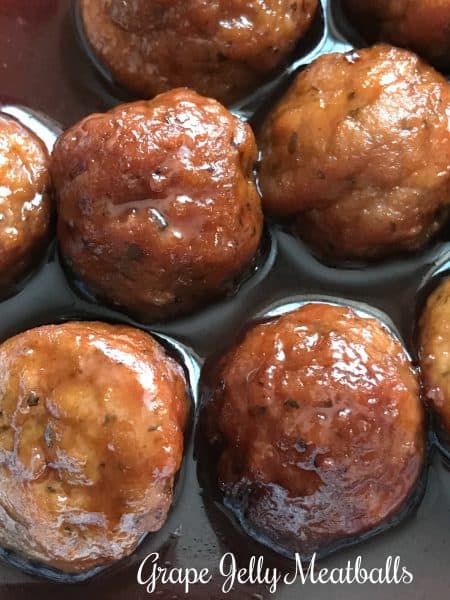 Love Affair
That began my family's love affair with grape jelly meatballs. I made grape jelly meatballs for Christmas Eve that year and every year after that, until I finally said, "no more grape jelly meatballs" My daughter took up the tradition and still makes them to this day. In the past, I have made grape jelly meatballs using the original recipe which consists of about three ingredients; grape jelly, chili sauce and packaged meatballs. To change things slightly, I've used cranberry sauce or orange marmalade or pineapple jam in place of the grape jelly and we've spiced them up a bit by adding hot sauce. I prefer to make homemade meatballs, using ground venison or ground duck, ground beef and pork and or sausage but in a pinch I have used packaged meatballs.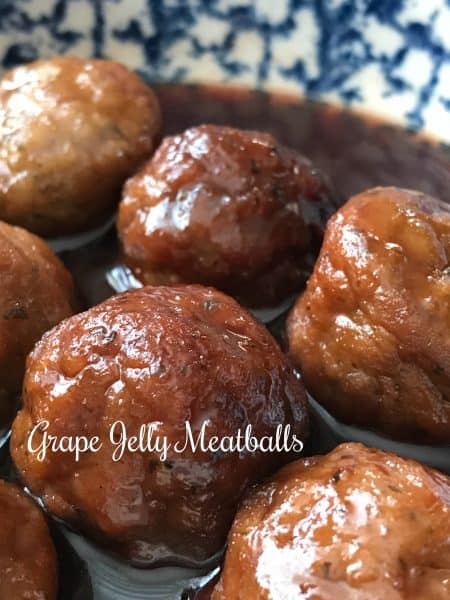 This recipe is another version of grape jelly meatballs. The difference is, this recipe doesn't use chili sauce. Today my hubby wanted grape jelly meatballs but I didn't have any chili sauce. Since it has been about -20 degrees below zero and it's New Years Eve, I decided to 'wing it' or  in other words, make my own version of chili sauce with what I had available in my pantry. The result was great!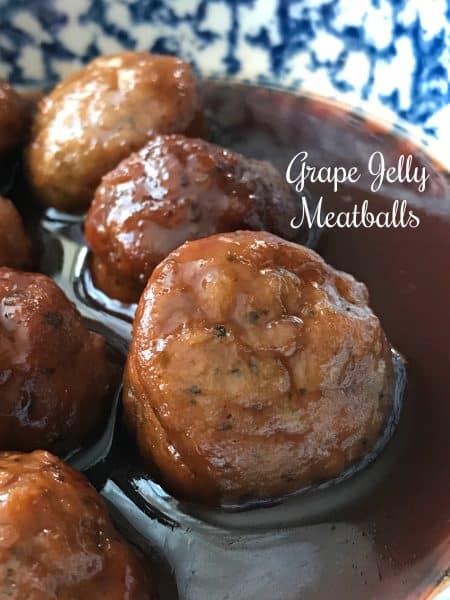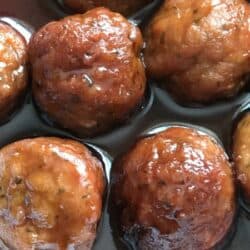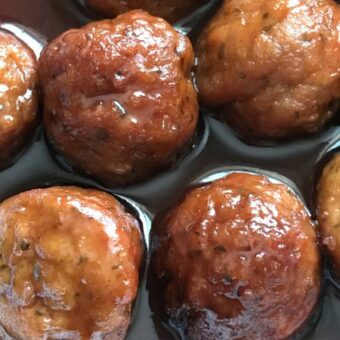 Grape Jelly Meatballs
Made with a sweet, tomato based sauce.
Ingredients
1

24 oz package

frozen meatballs

1/3

cup

ketchup

1

10 oz can

condensed tomato soup

1

32 oz jar

grape jelly

1/2

cup

grape juice or cranberry/grape juice

1

teaspoon

prepared horseradish

1/3

cup

dark brown sugar

1/4 to

1/2 teaspoon

cayenne pepper, to taste

1

orange
Instructions
Place frozen meatballs in the bottom of a slow cooker or crock-pot. Turn slow cooker to low.

In a medium saucepan combine ketchup, tomato soup, grape jelly, grape juice, horseradish, dark brown sugar, cayenne pepper and the juice and zest from one orange. Heat to a boiling, stirring constantly. Remove from heat, cool 10 minutes and pour sauce over meatballs.

Heat on high for 2 hours or low 4 hours.