Game Day Deviled Eggs or Stuffed Eggs
We may earn money or products from the companies mentioned in this post.
Game Day Deviled Eggs or Stuffed Eggs
Are You Ready For Some Football Wisconsin!! Game Day Deviled Eggs are the perfect game day appetizer. Along with her love for cooking, my Grandma Rose passed her love for football on down to me. My Grandma Rose never missed a Green Bay Packer Game or a Wisconsin Badger Game. She died at 94 years old and still watched the Packer Game every Sunday.
Snacks, Appetizers or Half-Time Food
During a Packer Game, especially if the Packers were losing, my sweet, soft spoken, very lady-like Grandma, would cuss like a trucker driver! Football games wouldn't be the same without some sort of pre-game snack, appetizer and/or tail gate food. These "snacks" shouldn't be confused with half -time food, which can range from grilled brats to prawns in garlic butter. In my family, we are all about the appetizers. We love a good dip!
We ♥ Our Football
Here in Wisconsin, we take our football very seriously. Football is a way of life for many of us. We pass our love for football down to our children and our grandchildren. It's just who we are. If you ever get a chance to visit Green Bay WI, Madison WI or anywhere in Wisconsin during the football season, you'll understand what all the fuss n' cuss is about. Learn more here: Packer Hall of Fame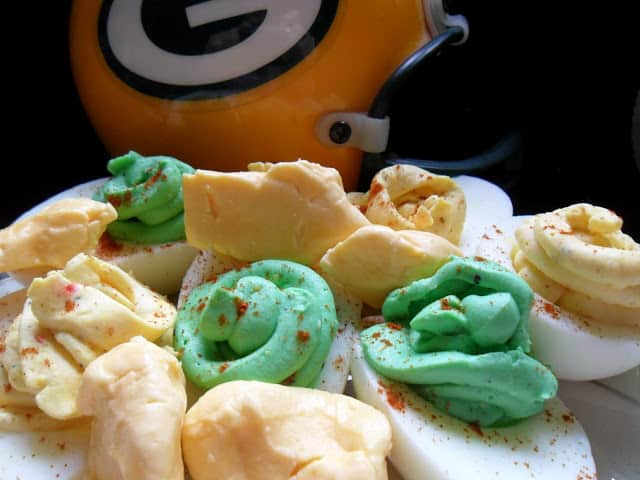 Did You Know?
Did you know that most people call deviled eggs "deviled eggs," when in fact they should really be called "stuffed eggs?" Yep, I didn't know that either. The definition for a "stuffed egg" is: A hard-cooked that has been cut in half length-wise and the yolk removed, mashed and mixed with any of various flavorings such as minced fresh herbs, Worcestershire sauce, mustard, curry powder and so on.
Add On
Other finely chopped ingredients including chives, toasted nuts, bell peppers, chutney and so forth may be added. Enough mayonnaise or sour cream is blended into the mixture to make it soft and moist. This mixture is then spooned bake into the egg-white halves, the top is garnished with a sprinkle of paprika. Here's the deviled vs stuffed part..adding cayenne pepper or a hot sauce like Tabasco sauce makes it a deviled egg.
UP NEXT: Mandarin Tea Buns, A Newfie Favorite
Baseball Games
For some reason I don't recall my Dad watching football games. Not just the Green Bay Packers but any football games for that matter. But I do remember my Dad listening to baseball games on the radio. I can remember him sitting in the kitchen, at the little table with the white and gold speckled Formica top. He'd be smoking his Lucky Strike cigarettes, drinking a Schlitz, listening to the baseball game.
"On the Radio"
Sometimes we would find him laying down in the back seat of our big ol' chevy, listening to the game on the car radio. I suppose with six kids ages two years old to 18, I'd hide in the car too. Other times I would find him sitting on our big front porch, with his feet up on the railing, smoking a Lucky, drinking a Schlitz, and listening to the baseball game. I wonder if youngsters now-a-days even know what a 'radio' is or if they know who Donna Summer is?!? (My reference to the song; "On the Radio")
If you have Reuben sandwich lover's in your family, then they are in for a real treat. Make them Super Easy Hot Reuben Dip and they'll love you forever!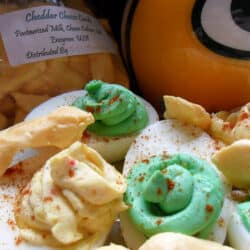 Deviled Eggs, Game Day Style
Deviled Eggs are a family favorite, especially when they're in our favorite Team Colors!
Ingredients
6-8

eggs, hard-boiled and cooled

4

wedges laughing cow cheese, any flavor

1/4

cup 

garden vegetable cream cheese spread

1/3

cup

mayo

1/4

teaspoon 

salt and pepper

1/4

teaspoon

garlic powder

1

teaspoon

horseradish sauce, creamy-style

1

teaspoon

hot sauce

3

drops each yellow and green food coloring, if desired

smoky paprika for garnish
Instructions
Cut hard boiled eggs in half. Scoop out yolks, transfer to a medium bowl. Set whites aside.

Combine yolks with cream cheese wedges, garden vegetable cream cheese spread and mayo. Stir in salt, pepper, garlic powder, horseradish sauce, and hot sauce.

With an electric mixer, cream yolk mixture until fluffy.

Divide egg mixture in half. Add green food coloring to one half and yellow to other half. Stir together until achieve desired color.

Spoon green egg mixture into a large baggie.

Spoon yellow egg mixture into a large baggie.

Snip off one corner of each baggie.

Pipe green egg mixture into 6 egg white shells.

Pipe yellow egg mixture into 6 egg white shells.

Sprinkle with smoky paprika.