We may earn money or products from the companies mentioned in this post.
Baked Deviled Eggs with Toast Points
Whether you make this dish for brunch, lunch or supper, you make this dish using leftover hard-boiled eggs. Baked Deviled Eggs with Toast Points is sure to become a family favorite. This recipe is made with a can of deviled ham spread but if you have leftover Easter ham, you can use that instead. Just grind some ham in a meat grinder first and proceed with the recipe directions.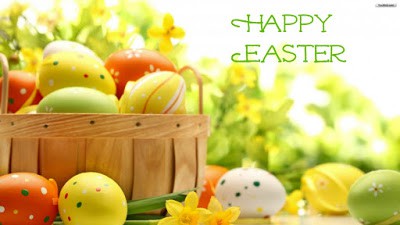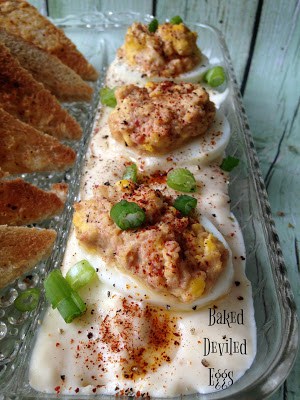 Too Many Easter Eggs
Looking for a recipe that will use up all of those hard-boiled Easter eggs? Then you have come to the right place! Give this different and delicious recipe a try. It may become your family's favorite way to eat hard-boiled eggs. Serve Baked Deviled Eggs with homemade Toast Points for a complete meal. What are toast points? Nothing fancy….basically just bread that has been brushed with melted seasoned butter, placed on a baking sheet and  popped into the oven for 6 to 8 minutes. That's about it! (recipe follows)  I can't think of a better way to eat eggs.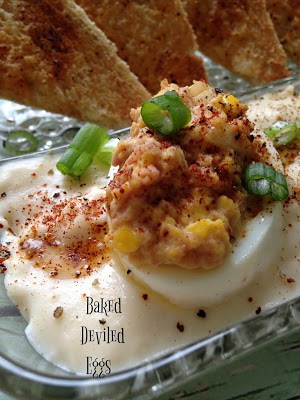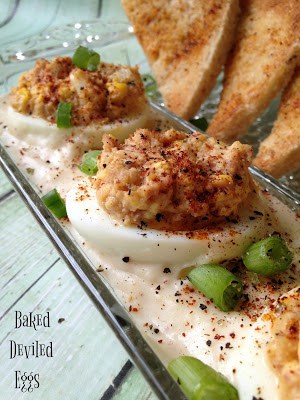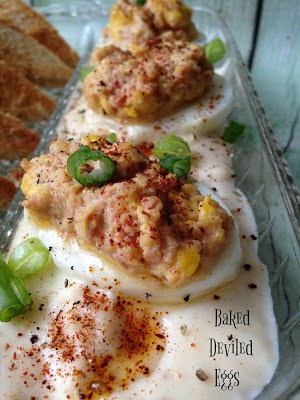 Ingredients
8 hard-cooked




eggs

1 (4.25 oz) can




deviled ham spread OR

1 cup ground ham 

1/4 cup




butter, softened

1 tablespoon




diced onion

1 teaspoon




snipped fresh parsley

1/2 teaspoon




Worcestershire sauce

1/4 teaspoon




Dijon mustard

4 tablespoons




butter

1/2 cup




flour

1/8 teaspoon




paprika

1/4 teaspoon




salt

dash of




black pepper

1 (14 oz) can




chicken broth

1 cup




half and half

Garnish: sliced green onion tops, paprika and pepper.
Cooking Directions
Halve the hard-cooked eggs lengthwise and remove yolks.
Set whites aside.
Place yolks in a bowl; mash with a fork.
Add ham, 1/4 cup butter, onion, parsley, Worcestershire sauce, and mustard.
Fill egg whites with yolk mixture, set aside.
In a large ovenproof skillet, melt the 4 tablespoons butter over medium heat.
Stir in the flour, paprika, salt and pepper. Add chicken broth and milk. Cook and stir until thickened and bubbly. Cook and stir 2 minutes more. Carefully place filled eggs in skillet. Cover, bake in oven for 10 minutes or eggs are heated through. Serve hot with toast points.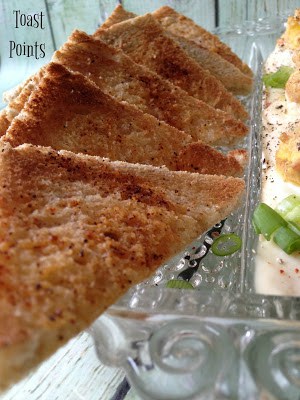 Ingredients
10 slices




white bread

3 tablespoons




butter, melted

1/4 teaspoon

 garlic

 powder

1/4 teaspoon




salt

1/4 teaspoon chili powder
Cooking Directions
Preheat oven to 400°.
Remove crusts from bread slices; cut each slice into 4 triangles. Stir together melted butter, onion powder, and salt. Lightly brush 1 side of bread with butter mixture; place buttered sides up on a baking sheet.
Bake 6 to 8 minutes or until toasted; cool on a wire rack 30 minutes.