Coconut Honey Bun Cake
We may earn money or products from the companies mentioned in this post.
Coconut Honey Bun Cake
Coconut Honey Bun Cake gets it's delicious coconut flavor from coconut extract. Sour cream, eggs and vegetable oil make this boxed cake mix super moist. The brown sugar and coconut 'swirl' is made up of brown sugar, cinnamon, coconut and pecans. You can adjust the amounts of the brown sugar and coconut 'swirl' in this recipe according to your family's taste. Some like a very sweet swirl, others a so-so sweet swirl. The sweetness of the swirl is up to you.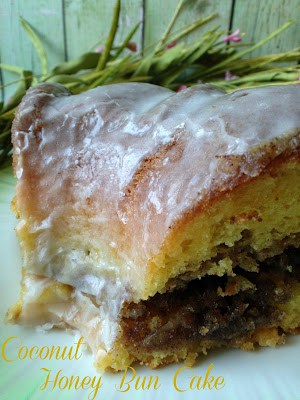 Make it Your Own
For a less sweet swirl, decrease brown sugar by a 1/4 cup. If you like more pecans than coconut, decrease coconut to 1/2 cup and increase pecans to 3/4 cup. If your family doesn't like flaked coconut, don't add it. You can add extra chopped pecans in place of the flaked coconut or even mini chocolate chips. You can substitute vanilla extract for the coconut extract too, this cake is very forgiving. We like to serve this delicious cake with macerated strawberries. So Good!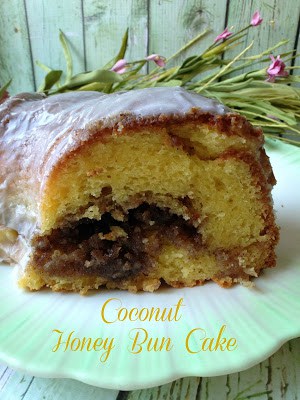 The Honey Bun
According to legend, Howard Griffon of Griffon Pie Co. in Greensboro, North Carolina developed the first honey bun in 1954. Flowers Foods acquired Griffon Pie Co. in 1983. Although the Greensboro bakery is now closed, honey buns remain a best-seller. A honey bun is a sweet roll, similar to the cinnamon bun. It's a yeast pastry that contains honey, a swirl of cinnamon in the dough and is glazed with an icing.
The honey bun has become an iconic food in the United States. They are common convenience store and vending machine fare. Normally sold individually wrapped, honey buns are also used as currency. In the United States prison systems, where honey buns are sold from prison commissaries, honey buns are sold between inmates for all sorts of favors.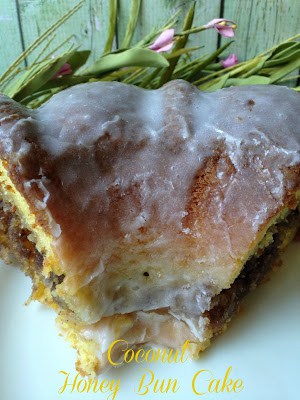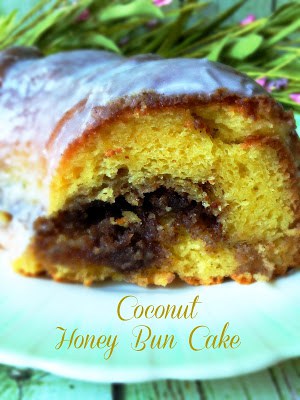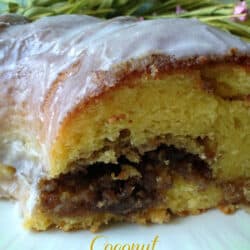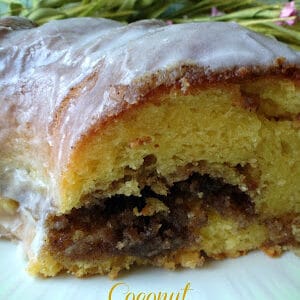 Coconut Honey Bun Cake
Ingredients
1

15.25 box

yellow cake mix

4

large

eggs

1

cup

sour cream

3/4

cup

vegetable oil

2

teaspoons

coconut extract

1

tablespoon

honey

1

cup

brown sugar

3

teaspoons

ground cinnamon

1

cup

sweetened flaked coconut

1/2

cup

chopped pecans

3

cups

powdered sugar

1/2

cup

half and half

1

teaspoon

coconut extract
Instructions
Grease and flour a 10-inch bundt pan, set aside. Preheat oven to 325º.

In a large bowl combine cake mix, eggs, sour cream, oil, coconut extract and honey. With an electric mixer, beat on low speed until moistened. Beat on medium speed for 2 minutes. Batter will be thick.

Pour in enough batter to cover the bottom of the pan.

Mix together brown sugar, cinnamon, coconut and pecans.

Sprinkle evenly over batter in pan.

Pour the rest of the cake batter over the brown sugar/cinnamon mixture.

Bake at 325º for 45 minutes or until toothpick inserted in the middle comes out clean. Remove the cake from oven, let cool in pan for 5 minutes.

Remove cake from pan, cool on wire rack.

In a large bowl, mix together powdered sugar, half and half and coconut extract. Drizzle glaze over cake while cake is still warm.
Recipes On Tap
Grilled Lemon Pound Cake and German Apricot Cake Aprikosenkuchen.
Coconut Honey Bun Cake is made with Baker's Flaked Sweetened Coconut.