Dill Pickle Dip
We may earn money or products from the companies mentioned in this post.
Dill Pickle Dip
Evidently, Dill Pickle Dip has been around for many years but I've just recently discovered this old/new dip. The reason for this lack of culinary discovery and lack of dill pickle dip knowledge is probably a very simple one, personally I don't like pickles…I mean at all. If every pickle company in the world said they weren't going to produce another pickle ever, I would say to myself, GOOD! (Please don't take it personally dill pickle companies:)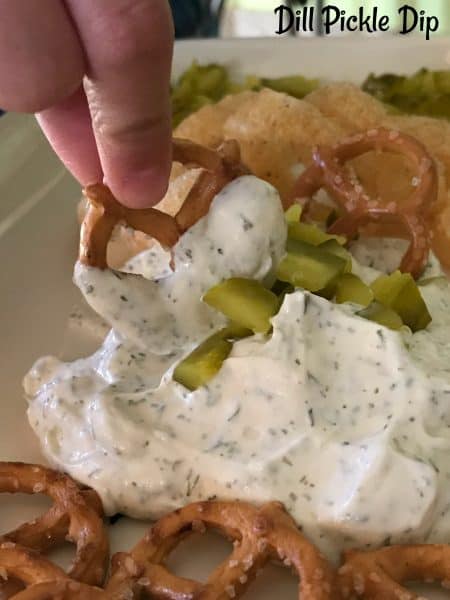 For the Love of
Some people I know would have a pickle melt-down and probably suffer from a pickle cardiac arrest or they would go into a pickle coma, even suffer from pickle withdrawal and go into pickle DT's. Well not me! I don't care if I ever see another pickle in my like. I don't buy pickles, either…ever. I've tried deep-fried battered pickle slices and spears and they're okay but other than that, I'll pass.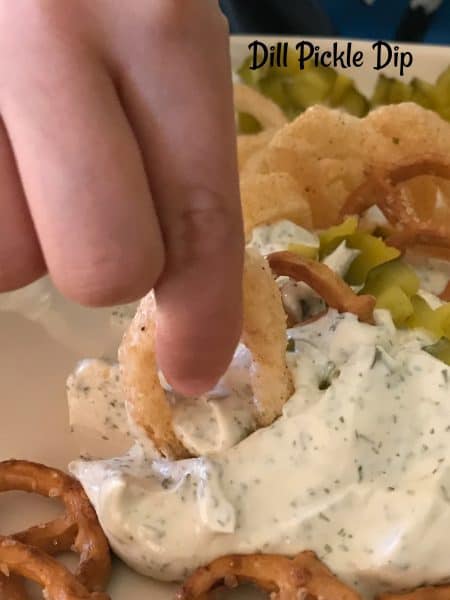 Why?
Your probably wondering then, why am I posting a recipe for Dill Pickle Dip if I don't even like pickles..right? Because in my family, I'm the odd man out..meaning everyone in my family loves pickles, except me. From my hubby, to my kids, to their spouse and even all three of my grandkids love pickles. My family thinks I'm the crazy one for not liking pickles, even on my hamburger.
Everyone Loves Dill Pickle Dip
My grandkids, ages 7, 5 & 3 beg me for pickles. When my hubby buys pickles, the grands will find them in the refrigerator and say, "Oh Grandma, you have pickles!" "Can we have some?" and I'll say, "Certainly, in fact you guys can eat the whole darn jar!" Now, back to the dill pickle dip….like I said my family loves pickles and they absolutely went crazy over this dip.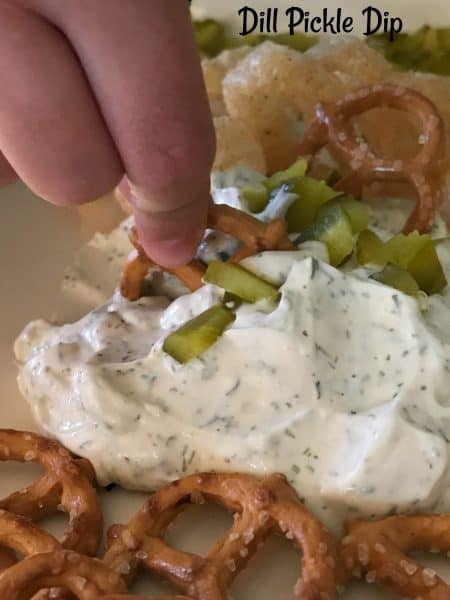 Kids and Adults
In fact, they devoured this dip. I'm pretty sure one of them would have licked the bowl if I hadn't taken it off the table. This dip is also very versatile and forgiving. You can add more pickle juice or less, don't like mayonnaise, leave it out….like more dill, add more. This dip definitely can be made to your family's liking. If you or your family loves pickles as much as mine does, you are gonna love this dip!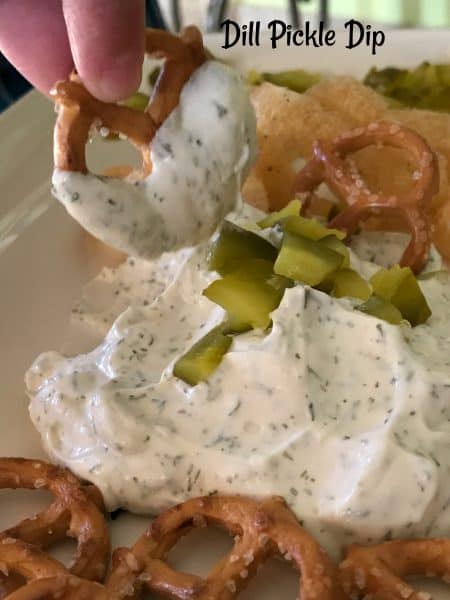 By chance if you happen to have any left-over dill pickle dip, do what I did, make Dill Pickle Dip Deviled Eggs. 
This recipe is made with Clauseen pickles, the pickles my family loves.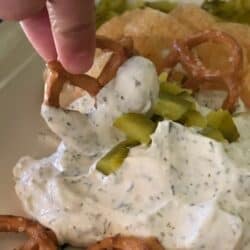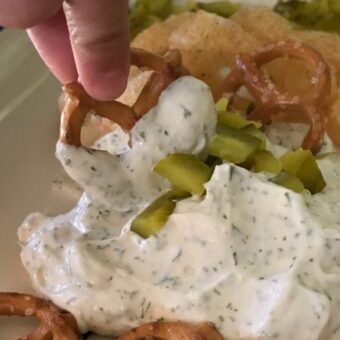 Dill Pickle Dip
Dill pickle dip is a must for any pickle fan! Loads of pickle and dill flavor and it's perfect for dipping pretzels, chips, crackers, or veggies.
Ingredients
1½

cups

finely chopped dill pickles, about 8 to 10 spears

8

ounces

cream cheese, room temperature

2

tablespoons

minced sweet onion

2

tablespoons

pickle juice

2

tablespoons

sour cream

2

tablespoons

real mayonnaise

2

teaspoons

minced fresh dill

1/4

teaspoon

ground black pepper

¼

teaspoon

kosher salt

¼

teaspoon

garlic powder

1

2.82 package

Diplicious Dill Pickle Dip Mix, optional
Instructions
Allow pickles to drain on a triple layer of paper towels for at least 15 minutes. Press on the paper towels to blot out as much excess moisture as possible. Set aside.

Using an electric mixer, cream together the cream cheese, onion, pickle juice, sour cream, real mayonnaise, dill, pepper, salt and garlic powder on medium-low speed until thoroughly combined. Add Diplicious Dill Pickle Dip Mix, if using. Using a rubber spatula, stir in the chopped dill pickles. Serve immediately or cover and refrigerate for up to 1 day before serving. Serve with your favorite pretzels and/or crackers.