Tye Dye Cupcakes
We may earn money or products from the companies mentioned in this post.
Tye Dye Cupcakes
Tye Dye Cupcakes are fun to make, cool to look at and fantastic to eat! They're perfect to serve for Easter, Springtime, Mother's Day or Just Because. They might look difficult to make but when you use a boxed cake mix and ready-made frosting, they come together quickly. This Easter week-end my grandson will be staying with us, so we did all the usual Easter stuff. Take a look…
Easter Break
Every year my grandson stays with us over Easter break and we dutifully color eggs. I'm not sure why, except the fact he "likes the way they look when they're brightly colored," as he puts it. He doesn't like hard-boiled eggs and frankly neither do I but thankfully papa does. Papa can eat all the hard-boiled eggs he wants, under one condition, he eats them when he's at work.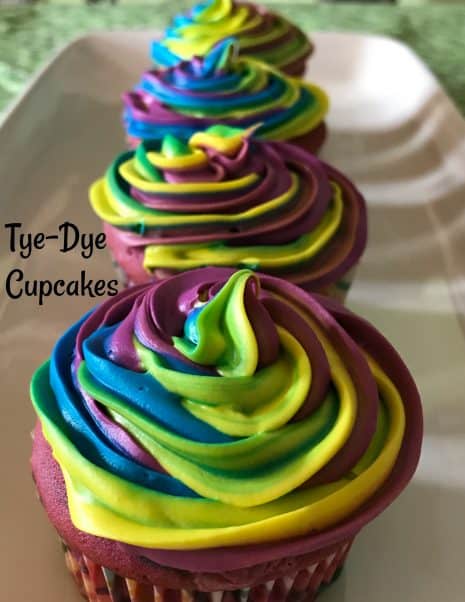 Bring on the Cupcakes!
After we colored eggs, I decided to make deviled eggs out of the four eggs that ended up cracked, due to a few slips and mishaps. E doesn't like deviled eggs either and well, neither do I so papa happily ate those too. Next we made cupcakes. Tye Dye Cupcakes! E and Grandma both have a huge sweet tooth, so we were only too happy to indulge in a cupcake or two after all that egg dyeing business.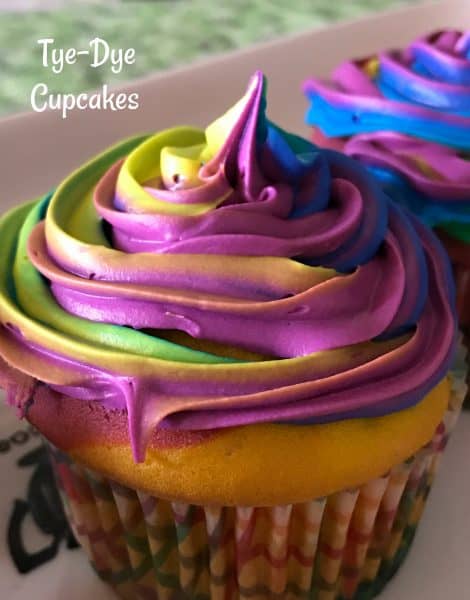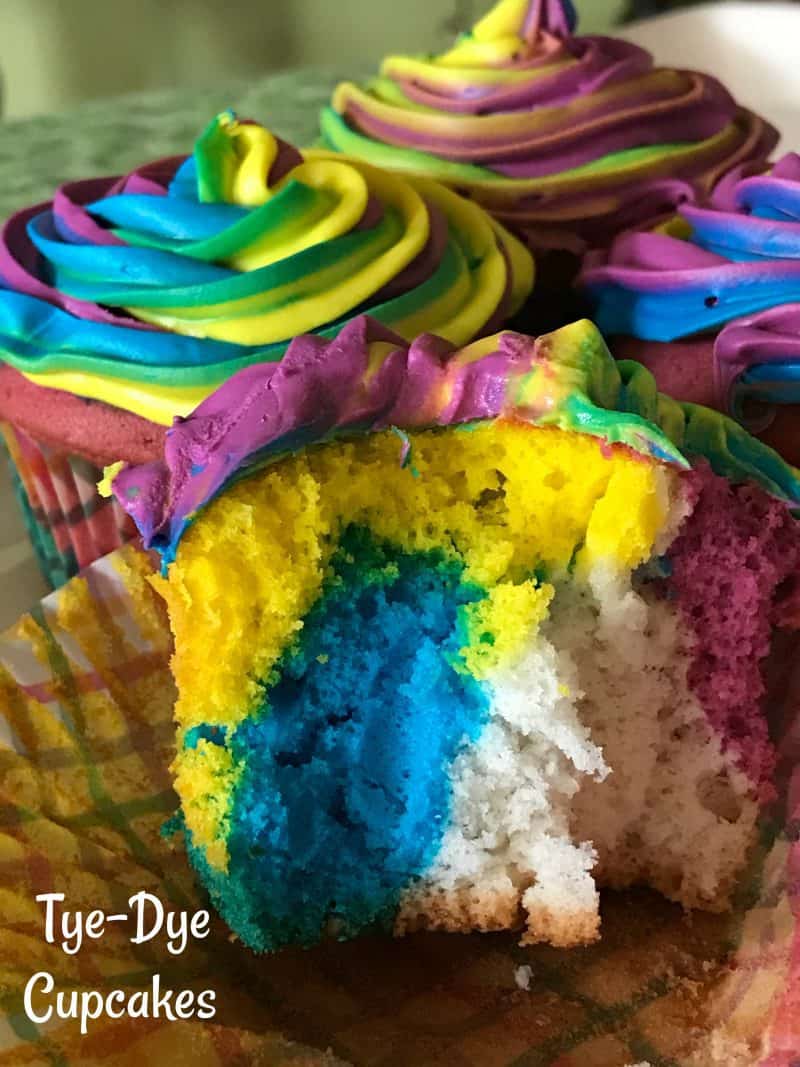 Happy Easter Everyone! To achieve the vibrant colors of these awesome cupcakes I use Americolor Gel.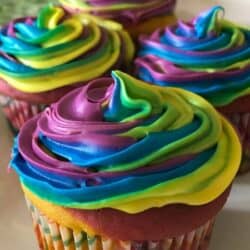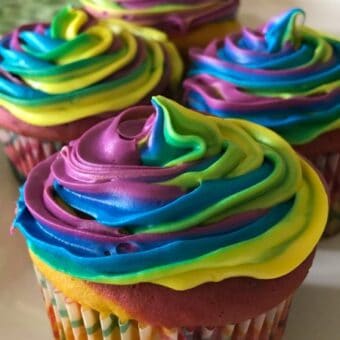 Tye Dye Cupcakes
Fast, Fun and Delicious! The perfect Easter or Springtime Cupcake.
Ingredients
1

(15 oz) box

classic white cake mix

,

Duncan Hines

1

cup

water

1/3

cup

vegetable oil

3

large

egg white

18-20

cupcake liners

4

drops

fushia gel food coloring

4

drops

teal gel food coloring

4

drops

sunny yellow gel food coloring

3

small containers

classic white frosting

,

Duncan Hines

2

drops each

fushia, teal and sunny yellow gel food coloring

cupcake sprinkles or candies, optional
Instructions
Preheat oven to 350 degrees for metal and glass pan(s), 325 degrees for dark or coated pan(s). Use baking cups for cupcakes. Will need 18 to 20 baking cups.

Blend cake mix, water, oil and egg whites in a large bowl at low speed until moistened (about 30 seconds)

Beat at medium speed for 2 minutes. Divide batter. Place one cup of batter into 3 separate small bowls, saving one cup batter for white. Tint one bowl with 4 drops fushia gel food coloring, one bowl with 4 drops teal gel food coloring and one bowl with 4 drops sunny yellow gel food coloring. Leave one bowl white. Stir food coloring into batter until you reach the desired color.

Starting with one colored batter, place a small spoonful of batter into each baking cup liner, continue with remaining batter using a small spoon and alternating colors as you go until all batter is gone.

Bake in oven for 18 to 21 minutes. Cupcakes are done when toothpick inserted in center comes out clean.

Remove cupcakes for pan and cool completely before frosting.

Add 2 drops of gel food coloring per container of frosting. Stir until well combined. Frost cupcakes using a decorating tip of choice and piping bag or simply frost with a knife.
Last year I made this cute cake for Willow Strawberry Surprise Cake.