Cranberry Amish Friendship Bread
We may earn money or products from the companies mentioned in this post.
Cranberry Amish Friendship Bread
Cranberry Amish Friendship Bread is made with an Amish Friendship Bread Starter and chopped fresh cranberries. It's absolutely delicious. During the cranberry season here in Wisconsin, I always pick up a few extra bags of cranberries and toss them in my freezer. When I get a craving for this tart, bouncy berry, I whip up a loaf of cranberry bread or a batch of muffins, scones or bars.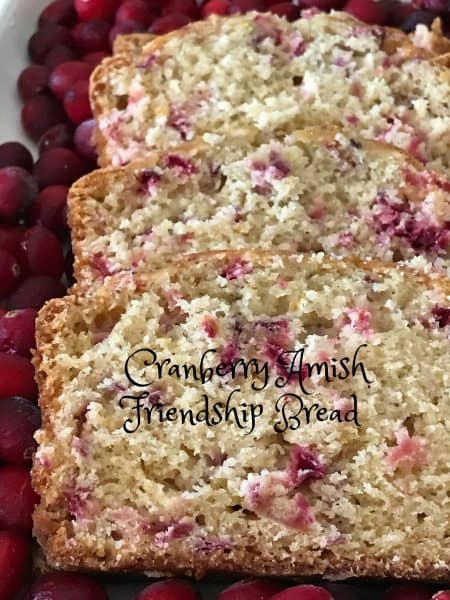 Amish Friendship Bread
If you look up Amish Friendship Bread on Wikipedia, you's find this definition: "Amish Friendship Bread is a type of bread or cake made from a sourdough starter that is often shared in a manner similar to a chain letter. The stater is a substitute for baking yeast and can be used to make may kinds of yeast-based breads, shared with friends or frozen for future use."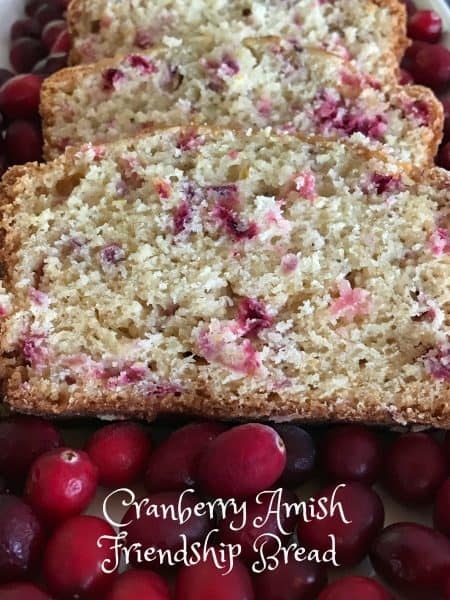 Much More
Amish Friendship Bread and Starter is much more than that definition. It is basically the gift that keeps on giving. With a little care and time, your friendship bread starter will give you years of "friendship" in the form of many baked goods. Anything can be made with a friendship bread starter. Want to learn more? Go to Friendship Bread Kitchen.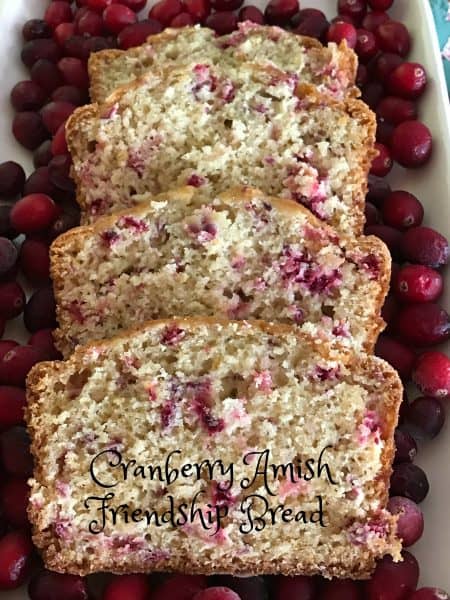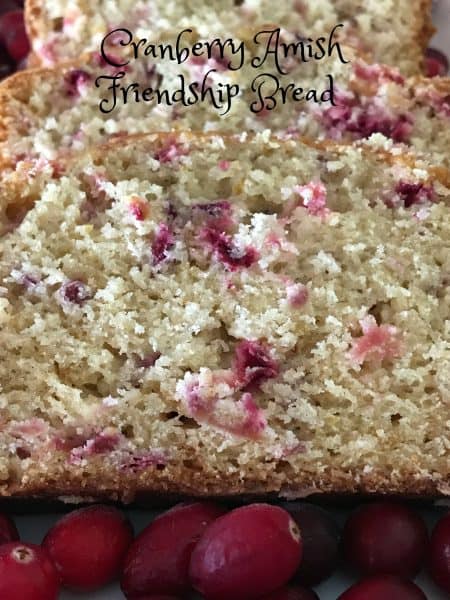 Like scones? Try this delicious recipe for Fresh Blueberry Lemon Scones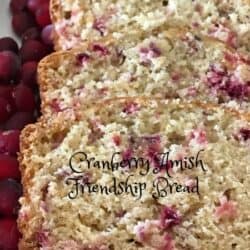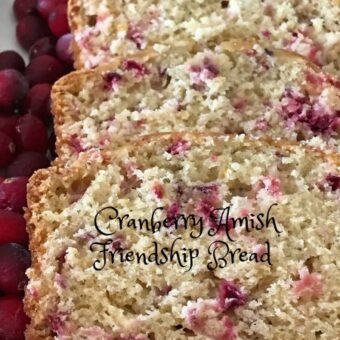 Cranberry Amish Friendship Bread
A delicious cranberry bread.
Ingredients
1

cup

Amish Friendship Bread Starter

3

eggs

1

cup

oil

1/2

cup

milk

1

cup

sugar

2

teaspoons

vanilla extract

1 1/2

teaspoons

baking powder

1/2

teaspoon

salt

1/2

teaspoon

baking soda

2

cups

flour

1

box

vanilla instant pudding

1

cup

chopped walnuts, optional

2

teaspoons

orange rind grated

1

cup

chopped fresh cranberries
Instructions
Preheat oven to 325 degrees

In a large mixing bowl, add ingredients as listed.

Grease two 8 x 5 loaf pans. Dust the greased pans with sugar. Pour the batter evenly into loaf pans.

Bake for one hour or until the bread loosens evenly from the sides and a toothpick inserted in the center of the bread comes out clean.
Want more? Carrot Raisin Amish Friendship Bread