Classic Oven Beef Stew
We may earn money or products from the companies mentioned in this post.
Classic Oven Beef Stew
When the weather turns cold, reach for this recipe. Serve classic oven beef stew with thick slices of buttered country bread and a glass of red wine. I have been making this recipe for more than 30 years and its still a family favorite. I received this recipe from my sister-in-law Lynn, and its one of the few recipes that I have never tweaked. The aroma coming from the kitchen while this stew is cooking will make your mouth water.
A Bounty of Flavors
Everyone will love this beef stew made with potatoes, carrots, mushrooms, chopped onions or you can substitute small pearl onions as well. If you don't want to add red wine, you can use apple cider. Salt and pepper, along with bay leaves are the only seasonings added to this classic style beef stew. This recipe relies on simply ingredients, that turn into something super special after several hours in the oven.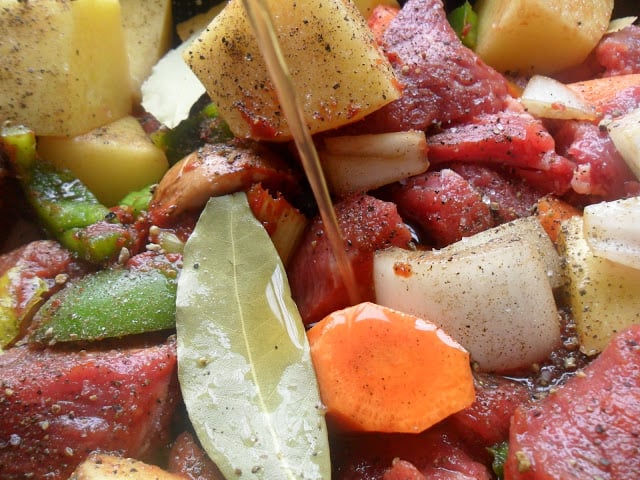 Serve with Bread
Serve classic beef stew with thick slices of buttered country bread to soak up the delicious gravy that is made while baking. In my eyes that's the best part about eating beef stew. Slicing a huge piece of crusty, country bread, buttering the bread and then dunking it into the hot, steamy bowl of beef stew. Makes me want to run into the kitchen right now and make a pan of beef stew. Another thing that's great about beef stew is the fact that the left-overs are just as good as the first day you made it.
*A Recipe with Step-by-Step Pictures*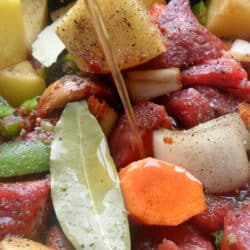 Classic Oven Beef Stew
This recipe is called a classic for good reason. I've been making it for over 40 years and its still a family favorite.
Ingredients
1/4

cup

oil

1

large

onion, coarsely chopped

6

cloves

garlic, crushed

1

large

green pepper, coarsely chopped

4

stalks

celery, with leafy tops, chopped

1

8 oz ounce package

whole mushrooms, wiped clean and quartered

1

6 oz can

tomato paste, can also use 1/2 can

6

large

carrots, peeled, sliced on an angle

6

large

potatoes, peeled and quartered

3 to 4

pounds

Chuck, English or Sirloin Tip Roast, cut into medium chunks

1/4

cup

molasses

salt and pepper, to taste

4 to 6

whole

bay leaves

4

cups

beef broth

2

cups

red wine or apple juice
Instructions
In a large roasting pan, mix together all ingredients.

Cover pan tightly with heavy-duty tin foil.

Place in a 325 degree oven.

Bake for 4 to 6 hours.
Favorite Slow Cooker Beef and Vegetables is a recipe that I have been making for some 40 years. It was one of the very first recipes I made with my 'new' crock-pot, way back in 1977!! I think I received it as a gift at my wedding shower. I don't know for certain, but I think that crock-pot out lived my marriage:) Rival Crock-pots are still going strong today. Rival Crock-Pot/Slow Cooker