Chocolate Pecan Coffee Cake
We may earn money or products from the companies mentioned in this post.
Chocolate Pecan Coffee Cake
A wonderfully delicious coffee cake, that has a chocolate swirl running through the middle and a pecan chocolate crumb topping. Perfect on a Saturday morning with a cup of  hot coffee. Start your day off right with a piece of coffee cake before you head out the door for a  day of shopping or spending time with family. This post also comes with step-by-step photos. Enjoy!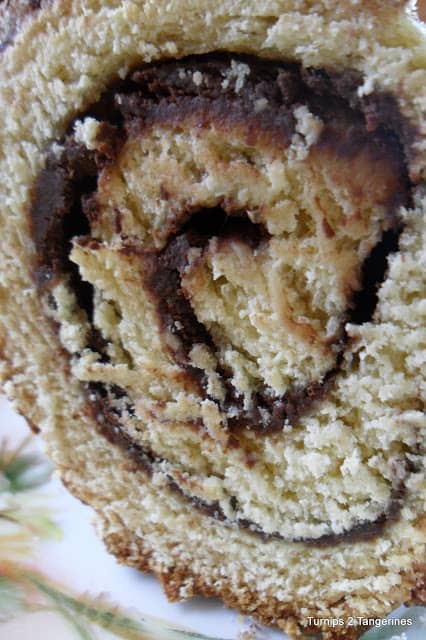 Well Worth It
I'm not certain where I found this recipe, possibly in one of my many Southern Living Annual cookbooks but wherever it came from, I'm so glad I found it. This coffee cake takes some time to prepare with many steps to follow, but this coffee cake is so worth it. Made with a sweet dough, that's allowed to rise several hours. After the dough has been 'punched down' the dough is rolled into an 18 x 10- inch rectangle.
 Chocolate Layer
Once the dough has been rolled out to appropriate dimensions, a mixture of evaporated milk, chocolate pieces, sugar, and ground cinnamon is combined in a saucepan and heated over low heat until the chocolate pieces have melted. After the chocolate mixture has cooled, it's spread over the dough. The chocolate filled dough is rolled up and placed in a greased tube pan seam side up.
One More Layer of Yum
If all that wasn't enough to make this a super duper extravagant coffee cake, another layer of yum is added to the top. Flour, sugar, cinnamon, butter, chocolate pieces and pecans are combined together and sprinkled over the top. After a rest period of about an hour, this ultimate coffee cake is baked. What comes out of the oven will be a rich, decadent, nutty and chocolate sensation. One whiff of this and your family will come running to the table. I can promise you that!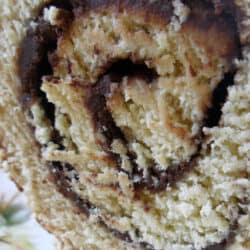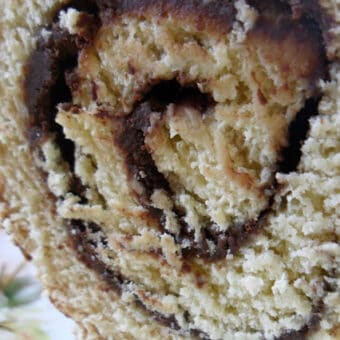 Chocolate Pecan Coffee Cake
Chocolate Pecan Coffee Cake is a delicious coffee cake filled with chocolate ganache and topped with a brown sugar pecan topping.
Ingredients
4 to 4 1/2

cups

all purpose flour

2

packages

active dry yeast

3/4

cup

sugar

2/3

cup

water

1/2

cup

butter, cut up

1

5 oz can

evaporated milk (2/3 cup)

1/2

teaspoon

salt

4

egg yolks

1

cup

semi-sweet chocolate pieces

2

tablespoons

sugar

1/2

teaspoon

ground cinnamon

1/4

cup

flour

1/4

cup

sugar

1

teaspoon

ground cinnamon

1/4

cup

butter

1/4

cup

chopped pecans
Instructions
In a large mixing bowl stir together, 1 1/2 cups of the flour and the yeast; set aside.

In a medium saucepan heat and stir together, sugar, water, butter, 1/3 cup of the evaporated milk and salt. Heat just until warm (120 F to 130 F) and butter almost melts. Add milk mixture to flour mixture; add egg yolks. Beat with an electric mixer on low to medium speed 30 seconds, scraping the sides of the bowl constantly. Beat on high speed 3 minutes. Using a wooden spoon, stir in as much remaining flour as you can.

Turn dough out onto a lightly floured surface. Knead in enough of the remaining flour to make a moderately soft dough, that is smooth and elastic (3 to 5 minutes total.) Shape dough into a ball. Place in a lightly greased bowl, turning once to grease surface. Cover and let rise in a warm place until doubled (about 2 hours). Punch dough down. Turn dough out onto a lightly floured surface. Cover; let rest 10 minutes.

Meanwhile, in a small saucepan, combine the remaining evaporated milk, 3/4 cup of the chocolate pieces, sugar, and the 1/2 teaspoon cinnamon. Cook and stir over low heat until chocolate is melted. Remove from heat; cool.

Grease a 10-inch tube pan; set aside. Roll dough into an 18 x 10 inch rectangle. Spread chocolate mixture to within 1 inch of the edges. Starting from a long side, roll up dough. Pinch seam to seal. Place, seam side up in prepared pan. Pinch edges together.

In a small bowl combine 1/4 cup flour, 1/4 sugar, and 1 teaspoon cinnamon. Using a pastry blender, cut in 1/4 cup butter until mixture resembles coarse crumbs. Stir in remaining chocolate pieces and pecans. Sprinkle over dough in pan. Cover; let rise in a warm place until nearly double (about 1 hour). Bake in a 350 F oven about 50 minutes or until bread sounds hollow when lightly tapped. Cool in pan on wire rack for 15 minutes, remove from pan; cool for 45 minutes. Serve warm.
Recent Recipe: Tequila Cranberry Pepper Jelly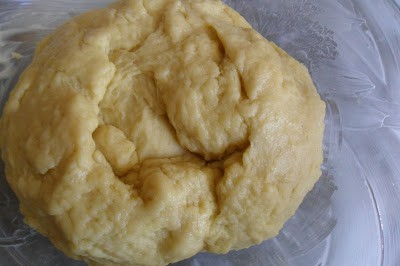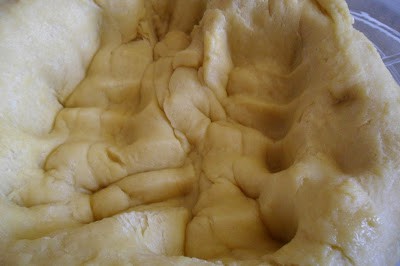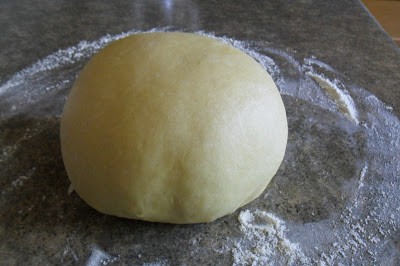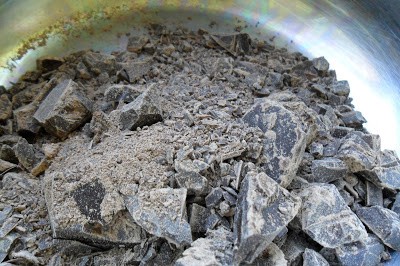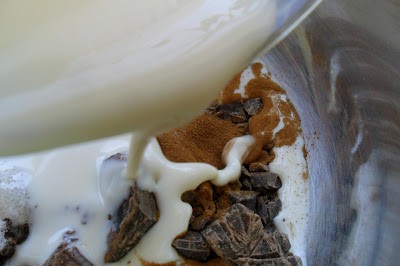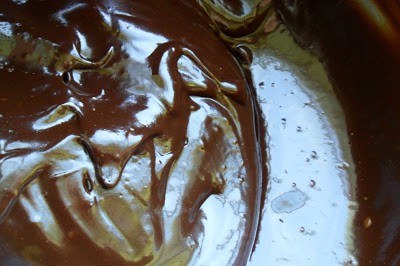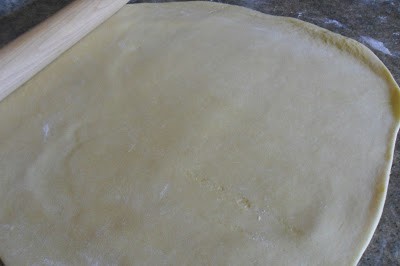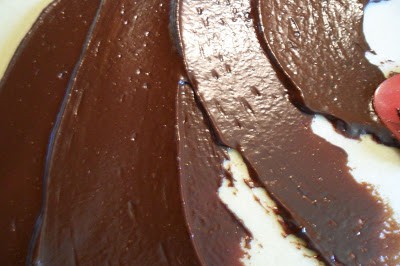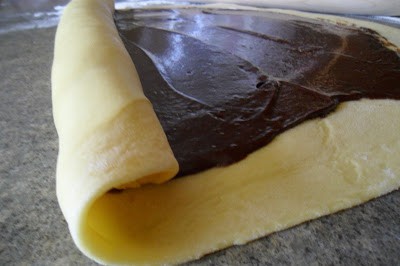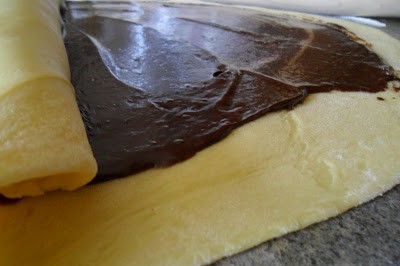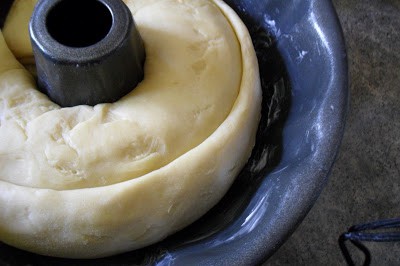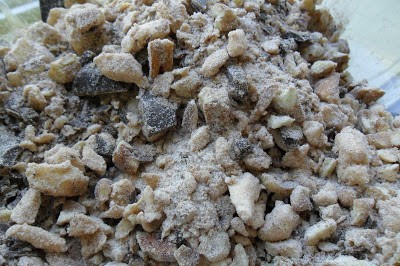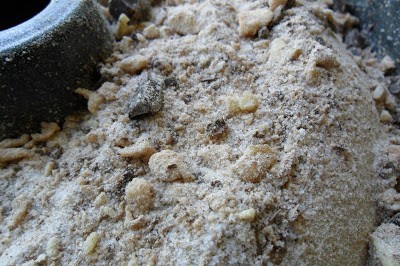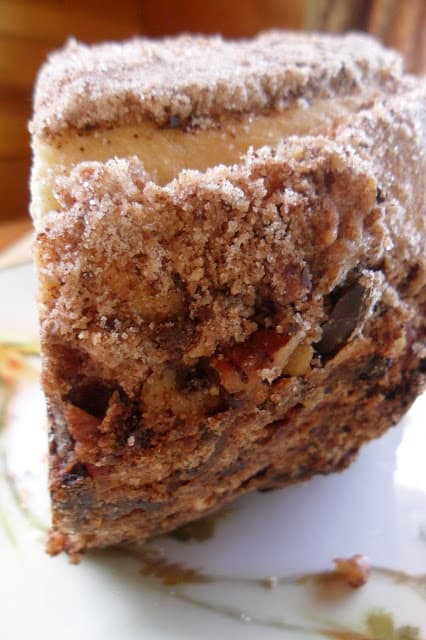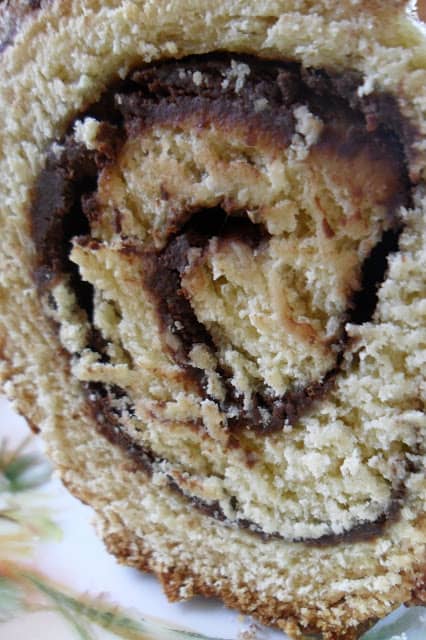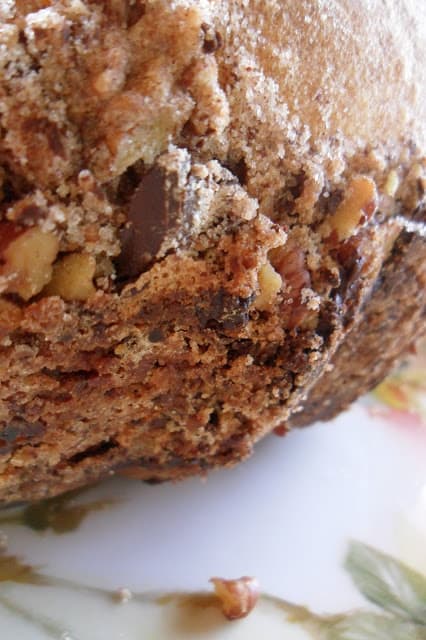 Looking for more coffee cake recipes? We got you:) Buttercup Squash Coffee Cake , Easy Blueberry Coffee Cake and German Apricot Coffee Cake .
For this recipe we used Red Star Yeast.