Favorite French Toast
We may earn money or products from the companies mentioned in this post.
Favorite French Toast
Do you and your family like to eat breakfast for dinner? So do we! At least twice a month and for some reason, usually on Sunday nights, we like to have breakfast for dinner. Favorite French Toast is our number one dinner choice and it can be yours too. It's perfect to serve for breakfast, lunch or dinner. It's fast, easy, affordable and delicious. What more could you ask for? Maybe some bacon, fried potatoes and orange juice! Serve breakfast tonight for dinner and start a new tradition in your house.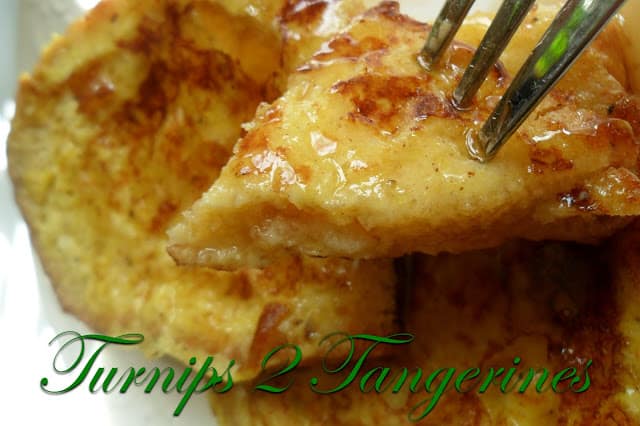 Grandma's House
The first time I ever had French toast was when I was a very young girl. So long ago now, I can barely remember it anymore. Every summer I spent several weeks at my Grandma's house. I can't tell you how much I looked forward to going. I loved going to my grandma's house. It was just me and her and I loved the attention. I would help her garden, do lawn work, go for walks around the block and take the short drive to Park n' Market in her yellow Studebaker. Sometimes I even went with my grandma to Cathy's Cut n' Curl for her weekly hair appointment. Favorite French Toast became a favorite.
More Fun At Grandma's
After dinner, we would sit in the 'breezeway' until it got dark outside. Talking and listening to the June bugs and mosquitoes buzzing at the screens. When my grandma had finished her high ball and Winston cigarette, and I had finished glass of 'white soda' (7-up), we would head into the house. I would take a bath, complete with bubbles. After my bath, we would sit in the t.v room and watch a show on her black and white television. I'd eat a bowl of vanilla ice cream with crushed saltine crackers. By 9:00 I would be tucked into bed and sound asleep.
French Toast for Dinner
The night that my grandma made French toast, it had been an especially hot day. A real scorcher…hot and umid. (My grandma had the odd habit of dropping the first letter of words) My grandma asked me if I wanted French toast for dinner that night. I told her that I had never ate anything from France before. She smiled at me. I proceeded to take my very first bite of French toast. I have enjoyed French toast ever since.
Here are some of our favorite 'egg' recipes. Gruyere Onion and Bacon Mini Quiche , Overnight Ham, Cheese and Egg Lasagna  and Italian Egg Bake.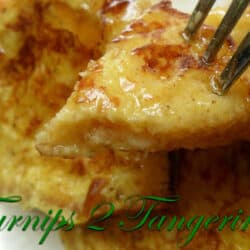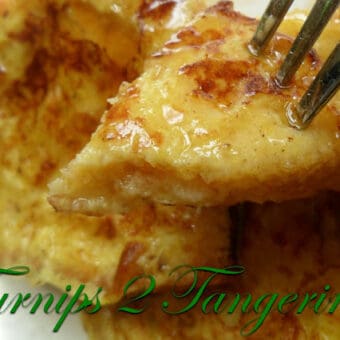 Favorite French Toast
Always a family favorite.
Ingredients
4

large

eggs

salt and pepper, to taste

1/4

teaspoon

ground cinnamon

1/2

teaspoon

vanilla extract

4

tablespoons

evaporated milk or milk

4

slices

good bread, (Pano Turano Italian Bread)

2

tablespoons

butter
Instructions
In a 2 quart glass baking dish whip together, eggs, salt, pepper, cinnamon, vanilla extract and milk. In a large skillet or griddle melt butter over medium heat. Dip bread slices in egg mixture, place bread slices on skillet or griddle, fry until golden brown on both sides.

Serve with additional butter and maple syrup.
Another family tradition, picking and eating rhubarb! Rhubarb Time Means Springtime