Chicken Noodle Soup Flavored Crackers
We may earn money or products from the companies mentioned in this post.
Chicken Noodle Soup Crackers
I recently told you in an earlier post for Taco Oyster Crackers, that I came across a new spice mix envelope by McCormick. Limited Edition McCormick Slow Cookers Chicken Noodle Soup Recipe & Seasoning Mix to be exact. At the grocery store that I bought the seasoning mix, it had been the last one on the shelf but a few days later when I went to Walmart, I went down the spice aisle to see if they had any mixes. Lo and Behold, there sitting on the shelf were probably 20 seasoning mix packets.  Chicken Noodle Soup crackers are the best.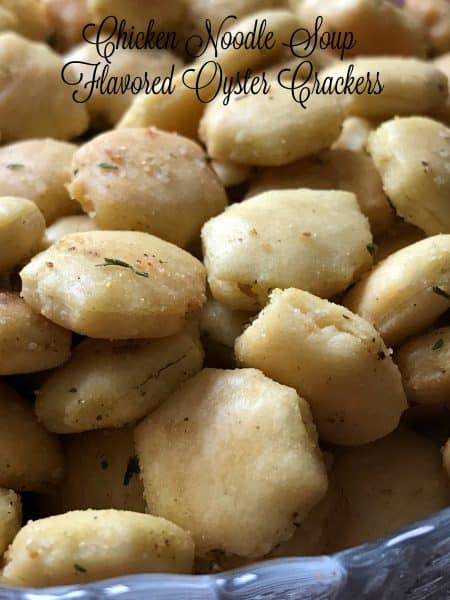 Seasoning Packets
I didn't purchase all 20 seasoning mixes but I only bought five. which for me was an accomplishment in its self. After all, I had to leave a few mixes on the shelve just in case someone wanted to make this fast, easy and great recipe. This is the fourth recipe I've made for flavored oyster crackers and I have to admit, these are by far my favorite. Chicken noodle soup crackers are perfect to float on top of chicken noodle soup, chicken stew or even a cup of tomato soup. I hope you enjoy these crackers as much as my family does.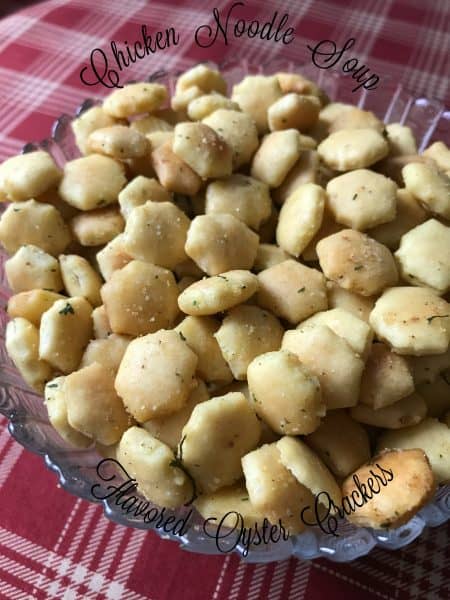 One taste of these delicious tasting, chicken flavored oyster crackers and you'll be making them over and over again. Great floating on top of soup, chili or stews. Chicken Noodle Soup Snack Crackers are perfect for eating out of hand!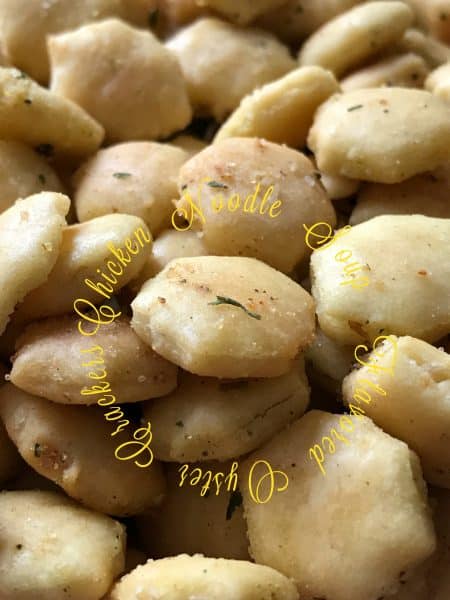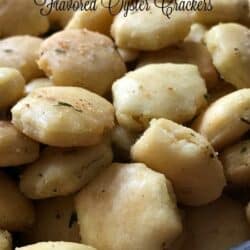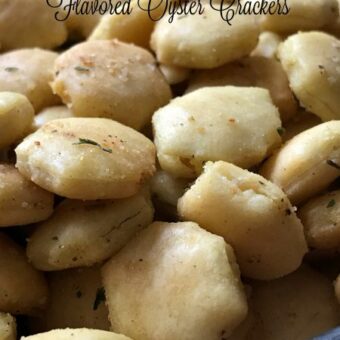 Chicken Noodle Soup Crackers
Chicken Noodle Soup Crackers taste very similar to the famous "Chicken in a Brisket' cracker. Great to snack on alone and delicious floating on top of any type of chicken based soup or stew.
Ingredients
4

9 oz packages

oyster crackers

3/4

cup

vegetable oil

1

envelope

McCormick Slow Cookers Chicken Noodle Soup Recipe & Seasoning Mix

1

teaspoon

poultry seasoning

1/2

teaspoon

onion powder

1/2

teaspoon

dried parsley flakes
Instructions
Preheat oven to 350. Place crackers in a large roasting pan.

In a medium bowl stir together oil, seasonings. Pour over crackers in roasting pan and stir to coat.

Bake for 15 to 20 minutes, stirring several times while baking.

Remove from oven and dump crackers out onto counter top lined with waxed paper. Allow crackers to cool.