Roasted Chicken in a Cast Iron Skillet
We may earn money or products from the companies mentioned in this post.
Roasted Chicken in a Cast Iron Skillet
Roasted Chicken in a Cast Iron Skillet is absolutely delicious. It's one of those classic Sunday, after church, kind of dinners. I have to confess, this is the first time I have ever made a traditional-style roasted chicken. I have made chicken in every way, shape and form you can think of, but never roasted. My biggest fears are probably the same as most, dried out chicken or chicken that isn't cooked through and of course, non-crispy skin or burnt skin.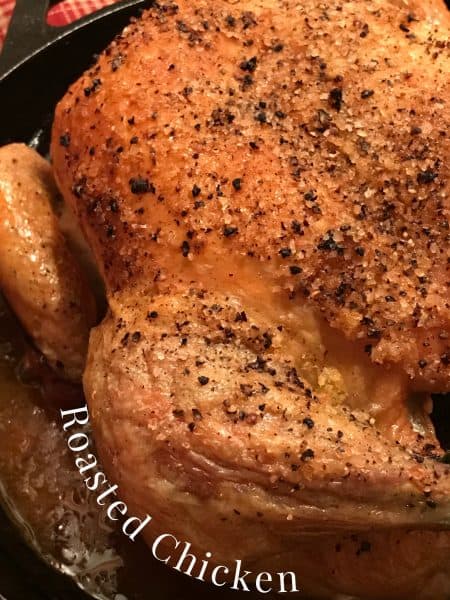 The Skin
Let's face it, the skin on a roasted chicken has to be crispy! I mean a crispy, crunchy, flavorful crust. Personally, I have never been a "skin" person. That sounds so gross, doesn't it, but I never have been. I really don't like extra crispy fried chicken either. Now on the other hand, my hubby is. My hubby loves crispy skin on chicken and turkey. He would order super, duper, extra, extra crispy fried chicken, if there was such a thing. He takes great care when he carves a chicken or turkey..so everyone gets a piece of crispy skin on their piece of white meat, whether you want it or not. I guess you could say he's not a "breast" man..at least when it comes to chickens and turkeys:)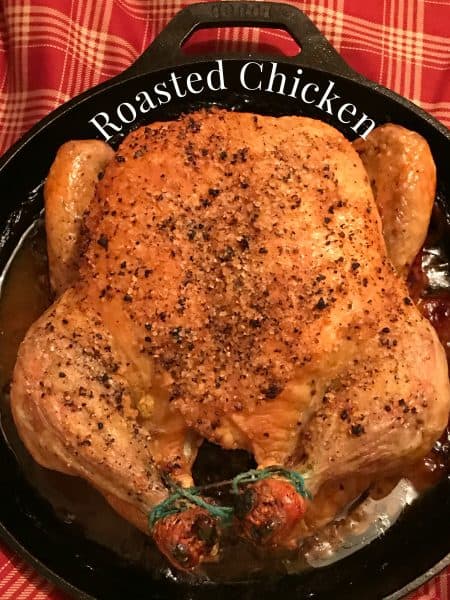 Roasted Chicken Dried Out?
One of my biggest problems when preparing chicken is that I tend to dry it out. I wish I had a $1.00 for every time my son has said, "Oh goodie, we're having moms "dried out" chicken again for supper. You need to drink a glass of milk just to wash a bite down.", I'd be a millionaire, sitting on a beach somewhere, sipping a Mai Tai out of a coconut. He even went so far as to 'warn' his future wife, not to 'eat my moms dried out chicken'. I will give her credit, she never mentioned my 'dried out chicken' until after they were married!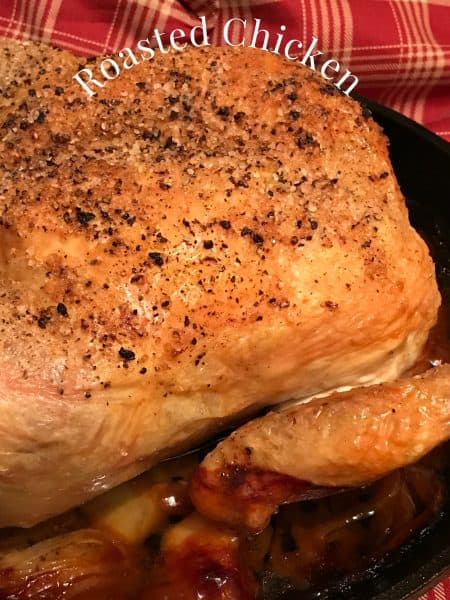 Nice and Juicy
You are probably wondering why I'm telling you all this, right? Well, I just like to tell a story and I wanted to let you know that this recipe for Roasted Chicken is out of this world! Another plus, it's not dried out!!! Yahoo!!  The skin is crispy and the meat is succulent and juicy. The secret to this chicken and it's crispy skin, is letting the chicken "air dry" in the refrigerator overnight. I use this same method when I make Peking Duck The skin drys out which allows it to become extremely crisp when roasted. The salt used for seasoning the chicken plumps up the meat, making it super moist.
Extra Lovin'
This recipe needs some extra TLC, placing the chicken in the fridge uncovered overnight, but the extra care given will result in extra crispy skin and  super moist and succulent chicken. Left-overs, if you have any, make delicious chicken sandwiches. Just like when I make a turkey, I look forward to the left-overs and sandwiches more than the straight from the oven 'roasted' chicken.
Captain Crunch Touchdown Marshmallow Treats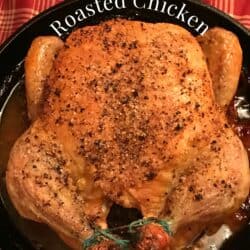 Cast-Iron Skillet Chicken
Make this delicious Roast Chicken for dinner tonight.
Serve with mashed potatoes, fresh corn and a side salad.
Ingredients
1

3 1/2 to 4 lbs

roasting chicken

2

teaspoons

kosher salt

1

teaspoon

pepper

2

tablespoons

Herbs de Provence

2

tablespoons

oil

4

sprigs

fresh thyme

1/4

cup

extra-virgin olive oil

2

large

red onions, sliced into 1/3-inch thick slices

4

whole

garlic cloves, peeled

sea salt and freshly cracked black peppercorns, to taste
Instructions
Wash chicken inside and out. Pat dry with paper towels.

Generously season chicken, inside and out with 2 teaspoons kosher salt and pepper. Sprinkle with 2 tablespoons Herb de Provence or spices/herbs of your choice, to taste. Place chicken on a rack set over a plate or rimmed baking sheet, uncovered, and let it rest in the fridge for 24 hours or up to two days. Keeping the chicken uncovered will dry out the skin, which results in crispy skin. The salt will penetrate the meat and tenderize it.

Preheat the oven to 425º F

Stuff the chicken with springs of thyme. Tie the legs together with kitchen string. Bend the wing tips to the back of the chicken.

Drizzle the olive oil over the bottom of a large cast-iron skillet.

Place skillet in oven. Heat cast-iron skillet for 10 minutes. Carefully remove skillet from oven. Separate the onion slices into rings and place in skillet, add garlic cloves. Place chicken on top of the oil, onions, and garlic. Generously season the chicken with salt and pepper.

Roast the chicken for 1 hour, check chicken, continue roasting the chicken until the skin is browned and an instant read meat thermometer inserted in a thigh registers 185º F. (be sure the thermometer does not touch a bone) bake 30 to 45 minutes longer.

Let the chicken rest for 7 to 10 minutes before carving it into serving portions. Spoon some of the caramelized onions and garlic over each serving.
Notes
You can use any of your favorite seasonings and/or herbs. Dried garlic, onion and lemon rind can also be used.