Blueberry Spice Coffee Cake
We may earn money or products from the companies mentioned in this post.
Blueberry Spice Coffee Cake
Blueberry Spice Coffee Cake is on the menu today, and with good reason. It's fast, easy and super delicious. One of my all thyme favorite things in the whole wide world are Coffee Cakes. I love coffee cakes, in any way, shape or form. Maybe it's my German heritage or maybe my Dutch or both but whatever it is, they're a favorite of mine. In my humble, culinary opinion, coffee cakes are the most overlooked breakfast treat.
A Kuchen, A Coffee Cake
Most coffee cakes are those sugary, heavy, cakey things you find in the bakery department of most, if not all, grocery stores. The kind that my hubby can't seem to get enough of, he loves those things. I'm talking about the fresh fruit and nut topped creations with the moist and delicate almond flavored cake. I guess what I have just described was more of a kuchen than a coffee cake? Now maybe you understand my dilemma.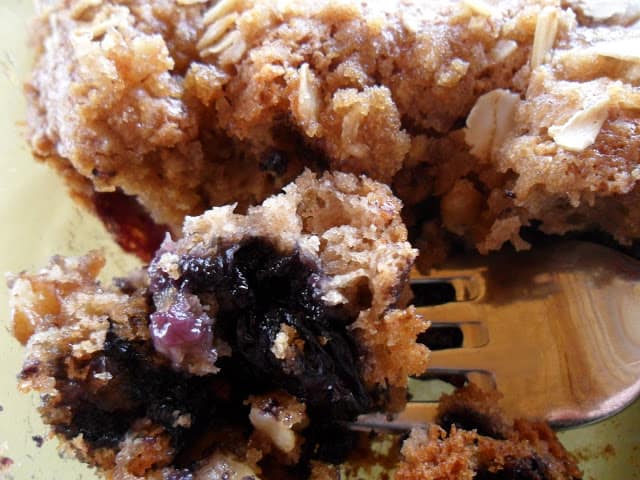 Boxed Cake Mix
This recipe for blueberry spice coffee cake might not actually qualify as a coffee cake because it calls for using a boxed spice cake mix. Some people might think that if a recipe uses a 'boxed' cake mix, it's not a recipe at all. Here on Turnips 2 Tangerines we are all about fast, easy and affordable recipes. We like to use box cake mixes to save time. When time allows, we like to make cakes and coffee cakes from scratch too. After all, variety is the 'spice'of life!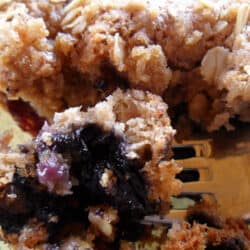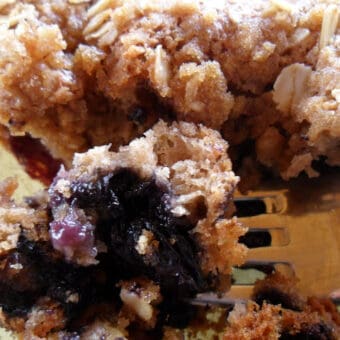 Blueberry Spice Coffee Cake
Delicious served for breakfast as a coffee cake or as a dessert after dinner.
Ingredients
1

package 2-layer size

spice cake mix

1/4

teaspoon

allspice

2/3

cup 

apple juice

2

eggs

3

tablespoons 

oil

2

cups

fresh or frozen blueberries, thawed if frozen

3/4

cup

packed brown sugar

1/2

cup 

chopped walnuts

3

tablespoons 

flour

1/4

teaspoon 

ground cinnamon

1/4

cup

rolled oats

1/4

cup

butter, melted

1/2

cup

confectioners' sugar

1

tablespoon

milk
Instructions
Preheat oven to 350º Grease and flour a 13 x 9 inch baking pan.

In a large bowl, combine cake mix and 1/4 teaspoon allspice. Stir in apple juice, eggs and oil until moistened. (batter will be lumpy)

Gently fold in blueberries. Spread batter into prepared pan.

For topping: In a small bowl, combine brown sugar, walnuts, flour, 1/4 teaspoon cinnamon and rolled oats. Stir in melted butter. Sprinkle topping over cake batter.

Bake at 350 for 45 minutes. Cool in pan on wire rack for 10 minutes.

For Glaze: Combine confectioners' sugar and milk; drizzle over warm coffee cake.
For this recipe we used a spice cake mix from Pillsbury.