Blue Cheese and Mushroom Gougères
We may earn money or products from the companies mentioned in this post.
Blue Cheese and Mushroom Gougeres
It's New Year's Eve and that calls for a special appetizer. Why not try Blue Cheese and Mushroom Gougères. Not only are they easy to make, require only a few ingredients, can be made in under an hour and they are absolutely delicious! Treat your guests to something different tonight. These tasty little treats are the perfect size to pop into your mouth. Gougeres can be made with any ingredients but the most popular ingredient is cheese. If your not fond of blue cheese substitute your favorite cheese.
Gougeres
Gougere pronounced  [goo-ZHEHR] are usually Gruyere-flavored choux pastry that is piped into a ring shaped before being baked. A gougere can be served hot or cold as an appetizer. We've made gougeres with sausage, mushrooms, onions and many different cheeses. Once you start making these little 'cream puffs' you won't be able to stop! One more thing, stuff these mini cream puffs with whipped cream or pudding. Super delicious.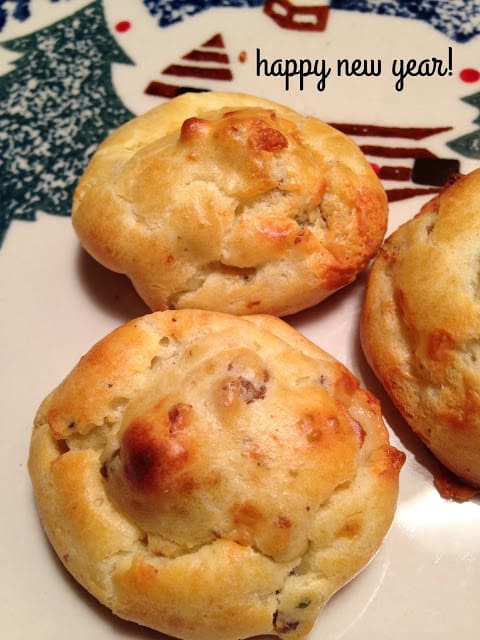 Blue Cheese
From mild to bold, the list of blue cheese includes some of our favorites; Gorgonzola, Stilton, Roquefort, Danish Blue and Maytag Blue. The history of blue cheese goes back to the 7th century to a cave outside the village of Roquefort in France. Legend has it that a distracted shepherd forgot his lunch of bread and cheese in the cave. When he returned a few months later, the cheese has become infested with penicillium roqueforti, a mold growing in the cave.
Today this natural mild is refined and used for almost all blue cheeses simply by adding the mold culture to the cheese milk. For the cheese to turn blue, oxygen must reach the inside of the cheese. This is often done by piercing the cheese with thin needles or skewers. The blue mold then matures inside the air tunnels, developing flavor as it ages. Most mold-containing cheeses take three to six months to mature. In blue cheese, this happens from the inside out.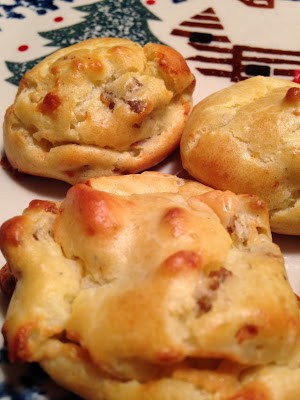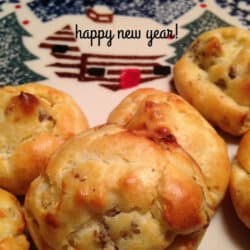 Blue Cheese and Mushroom Gougeres
Ingredients
1

stick

unsalted butter, plus 1 tablespoon

8

ounces

mushrooms, finely chopped

2

shallots, finely chopped

2

pinches

of kosher salt

1/2

cup

water

1/2

cup

milk

few grinds

of black pepper

1

cup

flour

4

eggs

3/4

cup

crumbled blue cheese
Instructions
Heat the oven to 425° Line baking sheets with parchment paper or with a silicone mat.

In a large skillet, over medium-high heat, melt 1 tablespoon of butter.

Add the mushrooms, shallots and a pinch of salt.

Cook until tender and lightly browned, 4 to 5 minutes. Set aside.

In a medium saucepan over medium heat, combine 1 stick of butter, water, milk, a pinch of salt and pepper.

Bring to a simmer, then add the flour all at once.

Stir vigorously with a wooden spoon, until the mixture becomes a ball that separates from the pan, 1 to 2 minutes.

Stir for an additional minute to dry out ball slightly.

Transfer contents to a large bowl.

With an electric mixer, beat on medium speed for 2 minutes to allow the mixture to cool slightly.

Add the eggs, one at a time, beating thoroughly after each addition.

Stir in the reserved mushroom mixture and the blue cheese.

Scooping by the tablespoonful, place walnut-sized dollops on the prepared baking sheets, leaving 1 1/2 inches of space between each or transfer the dough into a large zip-lock plastic baggie. Snip off one of the corners and pipe the mixture into place on the prepared baking sheets.

Bake for 10 minutes, turn heat down to 375° and bake an additional 20 to 25 minutes or until golden brown.
Recipes On Tap
Bacon Stuffed Mushrooms and Cheese Stuffed Cucumber Bites.
For this recipe we used Giorgio Fresh Mushrooms and a Wisconsin Blue Cheese made by Roth Cheese.