Coconut Steel Cut Oats
We may earn money or products from the companies mentioned in this post.
Coconut Steel Cut Oats
Start the New Year off right with a bowl of healthy and good for you Coconut Steel Cut Oats. This oatmeal is made in your slow cooker which means the oats cook unattended and in the morning breakfast is served. When making oats in your crock-pot, be sure to use steel-cut oats. Steel-cut oats can withstand the long hours of cooking in the crock-pot, while old-fashioned oats can be used but I won't recommend it. They tend to overcook if cooked to long, so stick with the steel-cut oats. I've used both and prefer steel-cut oats, with great results.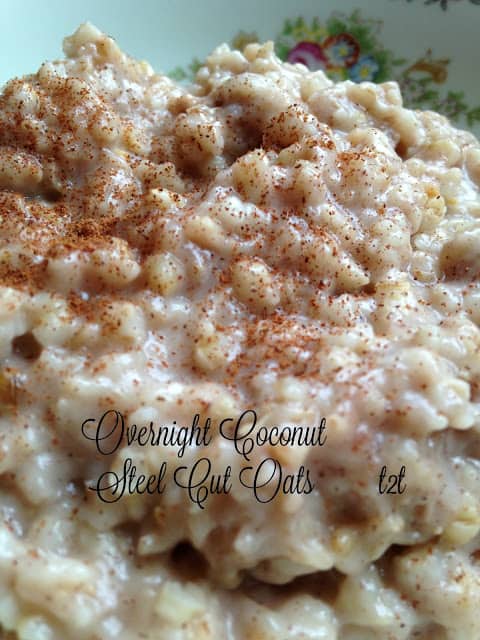 Made With
This recipe for Coconut Steel Cut Oats is made with steel-cut oats, water, coconut milk, coconut extract, cinnamon, nutmeg, brown sugar, flaked coconut and chopped pecans are all that is needed to make delicious oats. Steel cut oats are very versatile, so make them your own by using ingredients your family likes. Another point to remember, cooking times will vary depending on your crock-pot, oats and liquid.
Tasty Tip
Tasty Tip~ Pureed prunes can often be used as a substitute for the oil or butter in baked goods. The prunes keep baked goods moist and tender,
while adding extra fiber. 
Recipe Note:
Here at Turnips 2 Tangerines we have decided to drop the word "overnight" in all of our steel cut oats and oatmeal recipes that are made in the crock pot. Several batches of "overnight" oat recipes that we made did not turn out. Simply put, they burned. No one wants to wake up to a crock pot full of burnt oats, let alone clean it. With all that being said, our directions will no longer say overnight. Instead for best results we suggest cooking oats in the crock pot on low for 4 to 6 hours. I've never cooked oats on high so I can't give a time for that. Keep in mind that crockpot oats can be frozen:) For this recipe we used McCanns.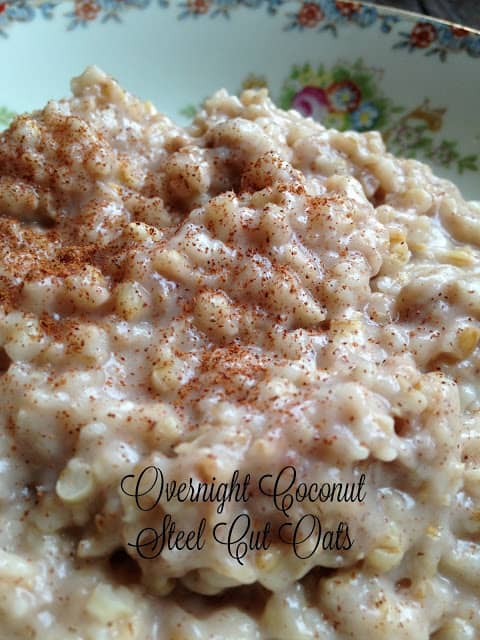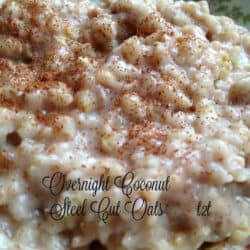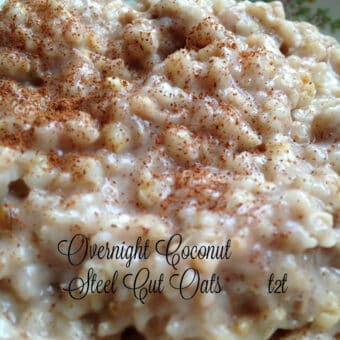 Coconut Pecan Steel Cut Oats
A great way to start your day!
Ingredients
2

cups

steel cut oats

8

cups

water

1

15 oz can

coconut milk

1

teaspoon

coconut or vanilla extract

1

tablespoon

ground cinnamon

1/4

teaspoon

ground nutmeg

pinch

of salt

2

teaspoons

brown sugar

4

tablespoons

flaked coconut

1/3

cup

chopped pecans
Instructions
Lightly butter 6 quart slow cooker.

Put all ingredients into slow cooker, stir.

Cook on low 4 to 6 hours.
Recent Recipes: