Bing Cherry Lime Scones
We may earn money or products from the companies mentioned in this post.
Bing Cherry Lime Scones
This recipe is short and sweet. When I first started blogging here at Turnips 2 Tangerines, some eight years ago, I made a lot of scones. Here is just a few of my favorites from back in the early days: Fresh Blueberry Lemon Scones, Honey Strawberry Yogurt Scones and Buttermilk Peach Scones. Scones are not only delicious, they're super easy to make and come together quickly. Bing Cherry Lime Scones are the perfect start to your day and the perfect scone to start you on your very own scone making adventure.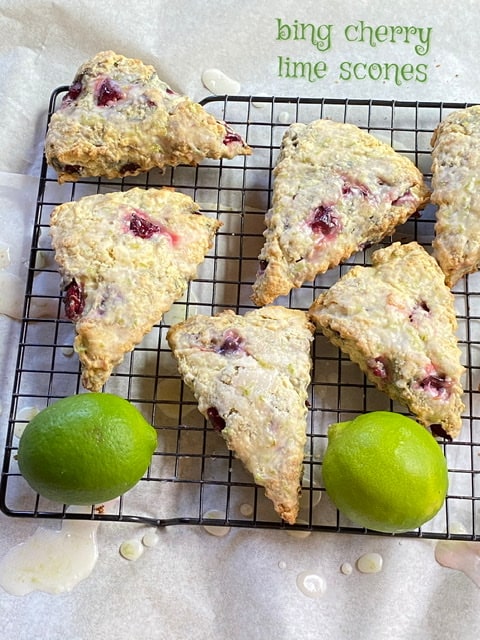 Scones
Scones can be made with any number of flavor combinations you and your family loves. Fruit is typically used in scones but seasonal farm fresh produce, like pumpkin, squash or sweet potatoes, are also good choices. Another popular choice are savory scones. Made with onion, leek, chives, cheese and sage. Before baking, Bing Cherry Lime Scones are lightly brushed with milk and sprinkled with sugar. This adds a nice sheen and sweetness to the scones. After baking, a glaze is made with powdered sugar, lime juice and zest. The glaze is drizzled over the scones while still warm. This makes the perfect ending to these already delicious scones.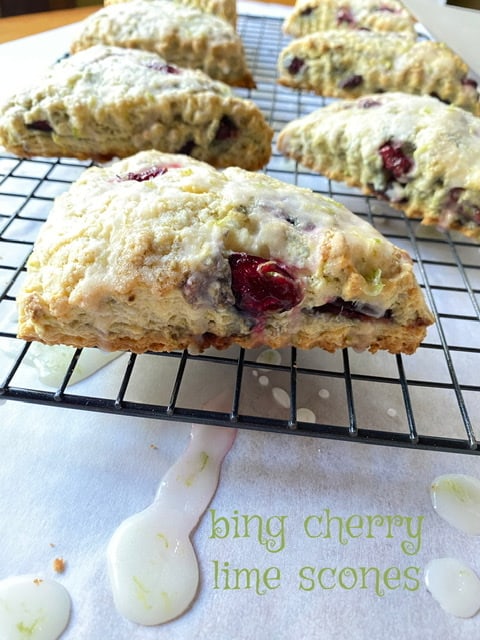 For this recipe today we'll be using:
all purpose flour
baking powder
baking soda
salt
sugar
cold butter
milk
one egg
lime juice and zest
bing cherries, pitted and quartered
Scones are traditionally eaten for breakfast or afternoon tea. They're served with butter, honey, jam, jelly, marmalade or preserves. Another option is fresh Devonshire Cream or clotted cream, as it's sometimes referred too. In England, Devonshire Cream is traditionally served with scones during tea time.
Devonshire Cream
Devonshire Cream, Pronounced [DEHV-uhh-sheer], Devonshire Cream hails from Devonshire County, England. It's a thick cream with a consistency similar to soft butter and is often used as a topping for desserts. It's still a specialty of Devon, Cornwall and Somerset. This is the area of England where the right breed of cattle are raised to make Devonshire cream, the Devon. The Devon are raised not only for its exceptional  beef but also for its milk. The Devon produce milk that has a high enough cream content to produce clotted cream.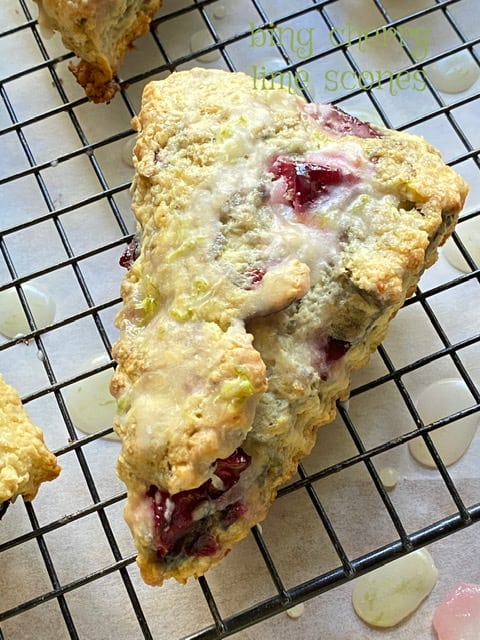 Consistency of Soft Butter
Before the days of pasteurization, the milk from the cows was left to stand several hours. This allowed the cream to rise to the top. The cream was skimmed off and transferred into big pans. The pans were then floated in trays of constantly boiling water in a process called scalding. The cream would become much thicker and creamier, much like soft butter. Today however, the cream is extracted using a separator, among other means, following strict safety guidelines.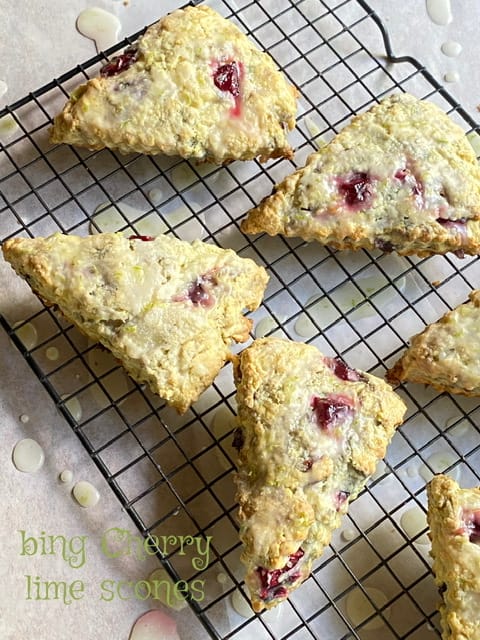 How It All Started
I first fell in love with scones about 10 years ago, shortly after we moved up north. Being the city gal that I am, moving to a rural area was shocking to say the least but over time I've learned to embrace my rural roots. In the spring of 2012, my daughter and grandson were visiting from Georgia. We stopped in a small coffee shop located in Lakewood WI called. My daughter and I both ordered a coffee and I ordered a lemon blueberry scone. The coffee was super (my favorite is the Highlander Grogg), but the lemon blueberry scone on the other hand, were really super!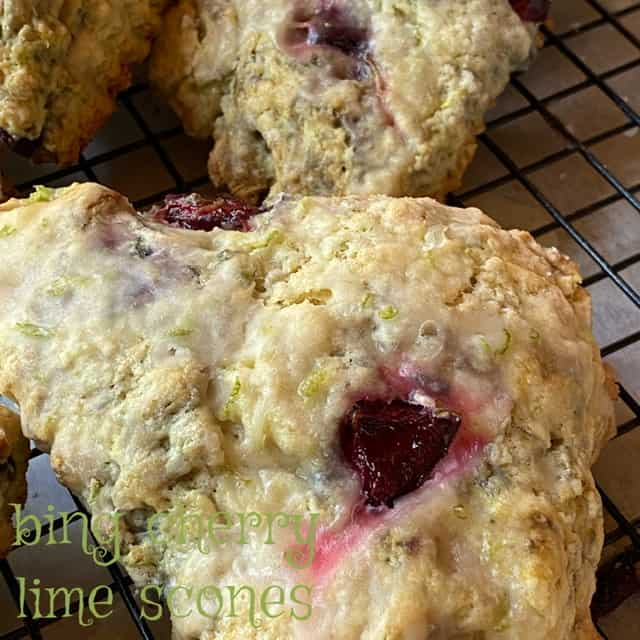 When we got home later that day, I went on my computer and looked up scones. Not only was I shocked to find so many different kinds of scone recipes, I was amazed at how easy scones are to make. One of the first blogs I visited, seeking a scone recipe was a blog called: Created By Diane She had many scone recipes, so I picked one out and got down to baking. I guess you could say that was what started the scone rolling. From there I went on to make and eat  scones! Lots and lots and lots of scones:)
Bing Cherry Lime Scones
Ingredients
2

and 1/2 cups all purpose flour

1/2

teaspoon

salt

2

teaspoons

baking powder

1/2

teaspoon

baking soda

1/3

granulated cup sugar

3

teaspoons

lime zest

1

stick cold unsalted butter

1

large egg

,

beaten

1/2

cup

milk

2

tablespoons

lime juice

1/2

cup

bing cherries

,

pitted and cut in quarters

1

tablespoon

milk

2

tablespoons

granulated sugar

,

for sprinkling

For glaze:

2

tablespoons

fresh lime juice

1

teaspoon

lime zest

3/4

cup

confectioners sugar
Instructions
Preheat oven to 400°(F). Line a large baking sheet with parchment paper; set aside.

In a large bowl, add flour, salt, baking powder, baking soda, sugar, and lime zest; whisk well to combine. Quickly cut the butter into small cubes then work them into the mixture using a pastry cutter until it resembles coarse meal. Set aside.

In a small bowl, whisk together the egg, milk and lime juice. Add to flour mixture. Use a fork to stir everything together until just moistened.

Add bing cherries. Gently stir into dough.

Empty the loose dough out onto a clean, floured work surface, shape the dough into an 8-inch circle.

Cut the dough into 8 wedges and carefully transfer to the prepared sheet.

Lightly brush each scone with milk, then sprinkle the top of each scone with sugar.

Bake for 18-20 minutes, or until light golden brown.

Allow scones to cool on the baking sheet while you make the glaze.

For the glaze:

In a small bowl whisk together the lime juice, lime zest and confectioners sugar. Drizzle over warm scones and serve at once.