Funfetti Pancakes New Food Find
We may earn money or products from the companies mentioned in this post.
New! Pillsbury Funfetti Complete Buttermilk Pancake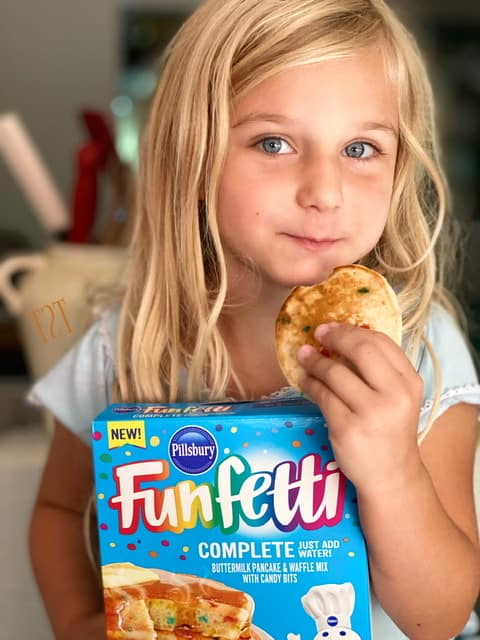 Funfetti Pancakes Food Find
It has been some time since we did a 'Food Find' post. In fact it has been a few years since our last food find post! The reason isn't from lack of "new" food products, but I guess it's just something we stopped doing. What exactly is a food find? A food find is basically any new food product that's out on the market. It can be from anything from a new flavor of bbq sauce to a new flavor of brownies. When I say "new", I'm referring to the fact that it's new to us. It could possibly have been out in stores for 6 months or longer but we have just discovered it. Funfetti Pancakes Food Find is a new to us food product that I purchased when I knew that my granddaughters would be staying for the weekend. Plus this gives me the opportunity to let them be in my pictures:)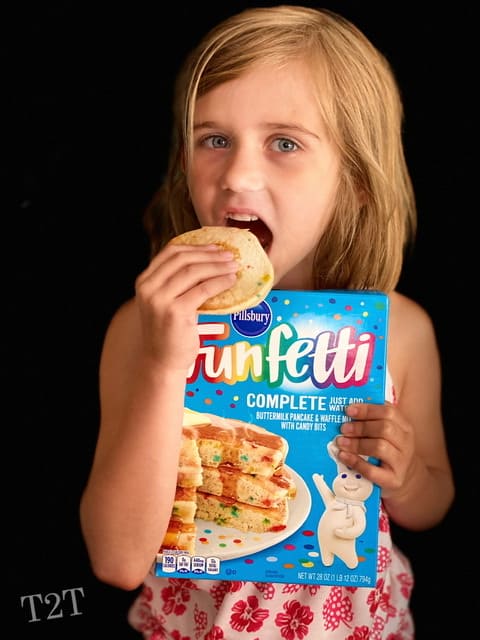 Pancakes For Breakfast
When my grandkids stay for the weekend, chances are they'll want more than just cereal for breakfast. Waffles, pancakes, cinnamon rolls, donuts, French toast and recently egg sausage sandwich are on the menu. They also like bacon and sausage links to go along with their brunch. Now the only problem is, my granddaughter Iris (in top image) likes to get up early!! I mean early…6 am early. Granted she goes to bed by 8 pm but still, 6:00 am? C'mon on now. Anyone who knows me knows I don't do early. I can and will but don't like too. I'm going back to Canada (fingers crossed) in the spring of 2021 and I told Cindy that I'll start getting up early 6 weeks in advanced!!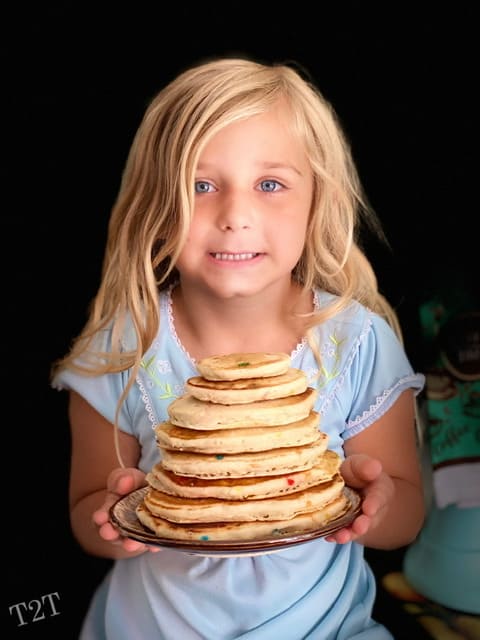 Breakfast and Brunch
Now on the other hand, my granddaughter Willow, (in the second image) is a girl after my own heart. She's a night owl just like her grandma:) Her and I stay up until 11:00 pm, talking, laughing and eating popcorn. Willow also likes to sleep in and like her grandma, she's not a morning person. Now as I said, Iris gets up early and likes to eat early too. She'll get up and eat a small bowl of cereal and then wait until the 'big' breakfast is ready, usually around 9:30 or 10:00. The girls think it's so cool that when they stay at grandma and papa's house they get to have breakfast, brunch and lunch!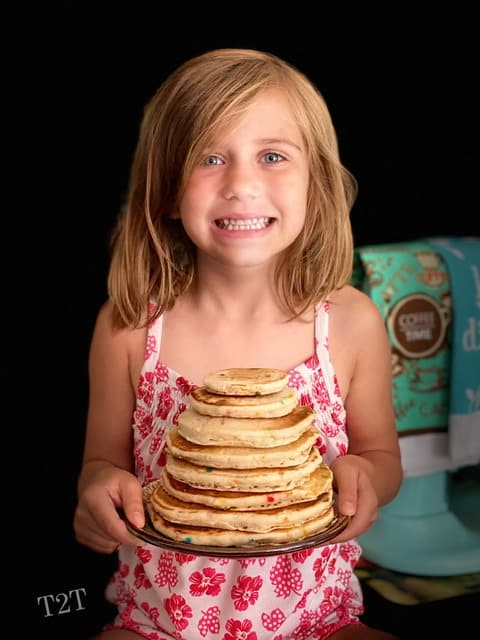 Pillsbury
Pillsbury Buttermilk Complete Funfetti Pancake and Waffle mix is super easy to prepare. Simply follow the package directions for pancakes, heat a large flat electric griddle, lightly oil the griddle and start making pancakes. When I worked at Cracker Barrel Old Country Store and Restaurant   many years ago, I had made a comment to the head chef as to how she made her pancakes so light and fluffy? She said, "Make your pancake batter, let it sit for 10 to 15 minutes, stir it down and proceed with making pancakes or waffles." She said you'll have light and fluffy pancakes every time and she was right! My granddaughters really liked the New Funfetti Pancake Mix and each gave the pancakes two thumbs up.
UP NEXT: Minion Cereal Marshmallow Treats Food Find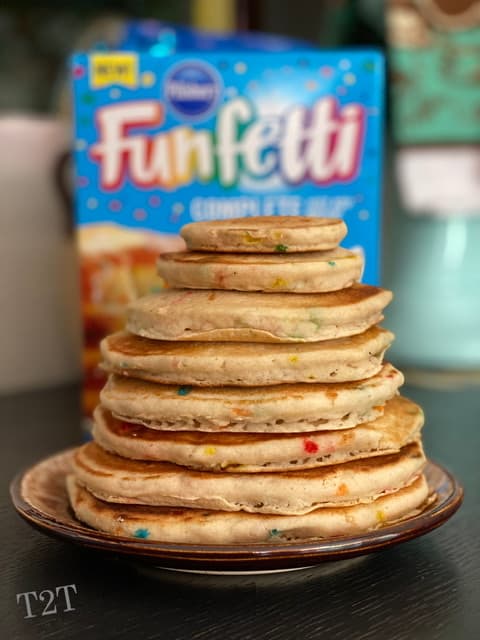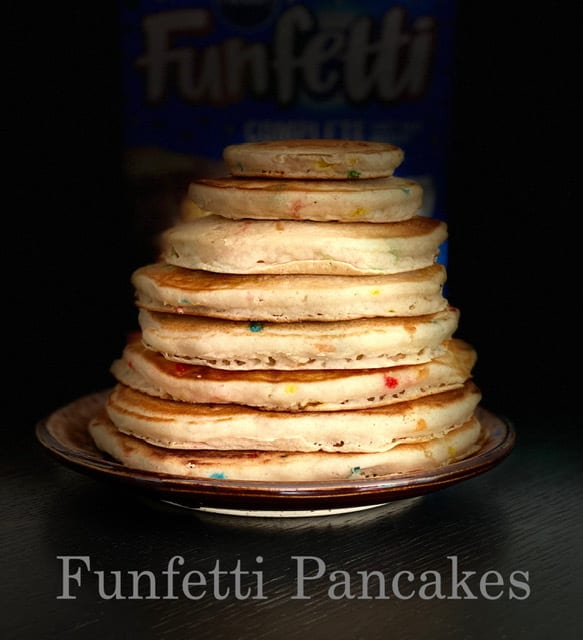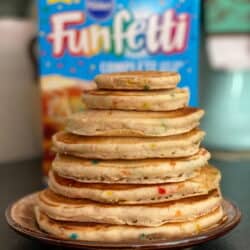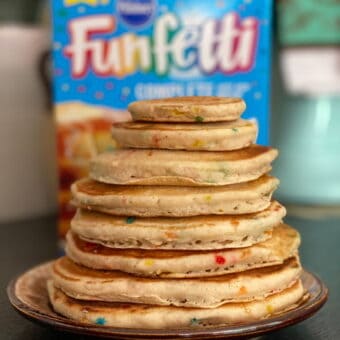 Funfetti Pancakes
Super delicious and easy pancakes.
Ingredients
2

cups

Pillsbury Funfetti Complete Pancake Mix

1 1/2

cups

water

2

teaspoons

vegetable oil
Instructions
Whisk together pancake mix and water. Set aside for 10 minutes. Stir down.

Heat large griddle, lightly oil griddle with 1 teaspoon oil if necessary. Pour a 1/2 cup or so of batter onto griddle. When top surface bubbles, turn pancakes over and cook a few minutes longer.
Looking For More Pancake Recipes?