Red, White and Blue Marshmallow Treats
We may earn money or products from the companies mentioned in this post.
Red, White and Blue Marshmallow Treats
Can you believe this weekend is the 4th of July?? How'd that happen? Once again, summer is flying by and I haven't done a darn thing! I can remember a time when my mom Aggie would say, "After the 4th of July, summer is over." Then she'd let out a long, loud *sigh* I guess it's the 'glass half full or half empty' way of thinking. Personally, I think she was waiting for school to start. Summer vacation can be long with three kids at home, no air-containing and God forbid, no electronics. Red, White and Blue Marshmallow Treats are easy to make, and fun to eat. Red, white and blue m & m's are stirred in to add a bit of chocolate, which is always appreciated.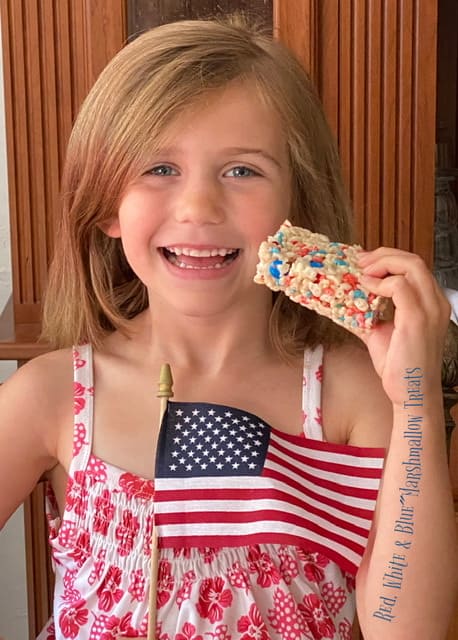 Summer Vacation
When I was growing up, my family didn't go on vacations like my friends families did. We didn't all hop into the paneled station wagon and take a road trip out west to see Mt Rushmore or the Grand Canyon. I don't think Aggie ever uttered the word "camping." The closest thing we got to camping was throwing an old blanket over the clothesline and securing the four corners of the blanket down with wooden clothes pins. We did stay at a rental cottage several different times while I was growing up. Once at a cottage in Townsend WI, once in Pickeral WI and then twice we stayed at my aunts cottage near Crivitz WI.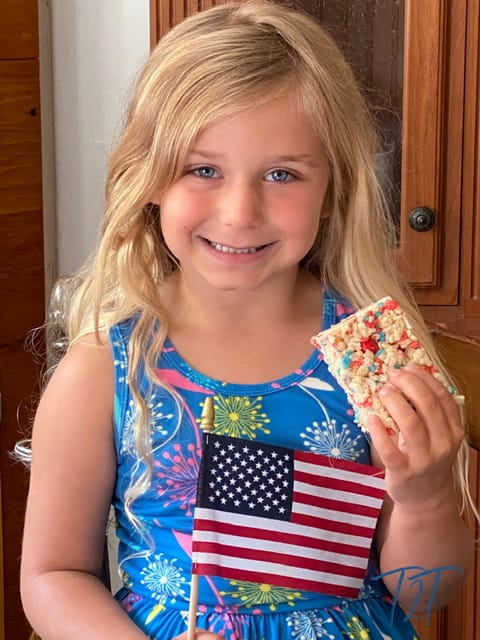 Marshmallow Treats
You might be thinking to yourself, does anyone need another recipe for marshmallow treats? Most people already know how to make them. Well that may be true, but marshmallow treats have a special place in my heart. When my kids were young, a long time ago, they loved marshmallow treats and still do. Back in the day, mom's could make a 13 x 9-inch pan of marshmallow treats for under $3.00. Marshmallow treats were the perfect and economical bake sale treat. Plus, they could feed a small neighborhood of hungry kids. My son Bobby aka Bob, would grab a corner of marshmallow treats and pull up. He'd then "tear" off a huge hunk and proceed to walk out the door. *No Utensils Necessary* Now I make marshmallow treats for my grandkids and they're just as crazy for marshmallow treats as their parents.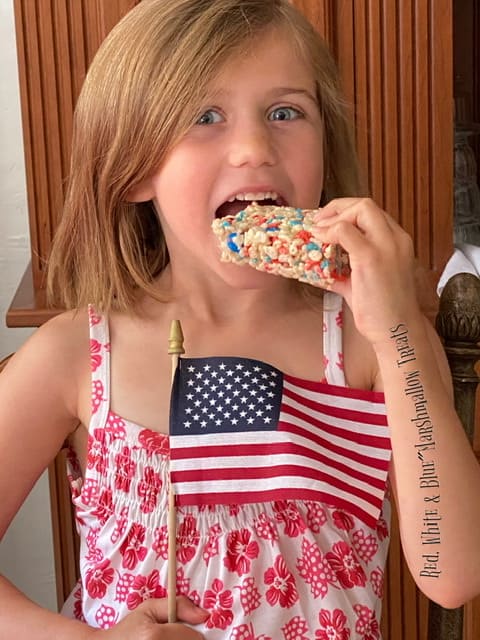 Red, White and Blue
I spotted red, white and blue Rice Krispies and M & M's on my recent grocery shopping trip. Throw in the fact that my granddaughters were coming for the weekend, I knew what I was going to make! My only mistake in this whole scenario was a simple one and one many of you no doubt will totally understand. My grandkids spent the weekend with us but didn't come until Friday. I went grocery shopping on Monday and wasn't going to make the treats until Thursday. This meant that I was going to have a bag, a big bag, of m & m's in my house for several days. For some people this may not have been a problem but for me, it's a big problem! I did manage not to open the bag of m &m's on Monday night, but by Tuesday after it began. A handful here, a handful there, turned into a handful every time I walked pass the now opened bag. By the time Thursday night came around, the bag was almost empty. Thankfully there was a cup left!! Red, White and Blue Marshmallow Treats was made with Rice Krispies Cereal and M & M's.
More Marshmallow Treats to Savor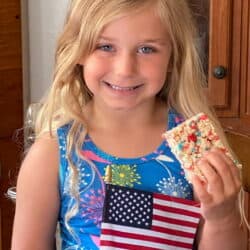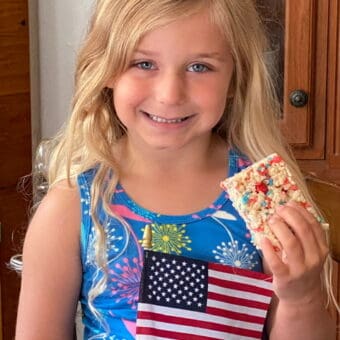 Red, White and Blue Marshmallow Treats
Ingredients
1

stick

butter

2

10 oz packages

marshmallows

12

cups

red, white and blue Rice Krispies cereal

2

cups

red, white and blue m & m's candy
Instructions
Lightly butter 13 x 9-inch and 8 x 8-inch square pan.

Melt butter in a large pan over medium-low heat.

Add marshmallows. Stir until marshmallows are completely melted. Turn off heat.

Add Rice Krispies cereal. Stir until cereal is coated with marshmallow mixture. Quickly stir in m & m candies.

Divide rice krispie mixture between both pans.