Baked Eggs in Avocado
We may earn money or products from the companies mentioned in this post.
Baked Eggs in Avocado
Looking for an easy and good for you breakfast, lunch, dinner or late night snack? Than this is the recipe for you! It's fantastically delicious. When I first saw a recipe similar to this on Pinterest, I was a little skeptical. I wasn't sure if the eggs would cook completely or how a baked avocado was going to taste. Well, I was so relieved that I tried this recipe. Baked Eggs in Avocado are delicious and become one of our 'go to' recipes.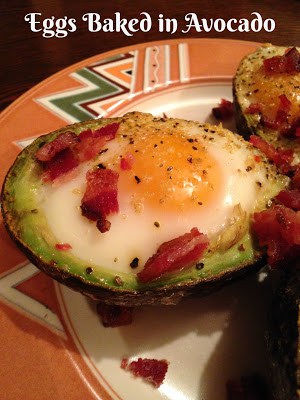 Avocado Facts
Native to the tropics and subtropics, this rich fruit is known for its lush, buttery texture. The fruit's name comes from abuacati, the Nahuatl word for "testicle." Which I guess is in reference to the avocados shape. In the 1830's, Florida was the site of some of the first avocado trees. Today's crop though, almost 80%, comes from California. Avocados were once called the 'alligator pear.'
The two most widely marketed avocado varieties are the pebbly textured, almost black Hass and the green Fuerte. The Fuerte has a thin, smooth skin. There are even tiny Fuerte cocktail avocados called avocaditos. They are about the size of a small gherkin. Like many fruits, avocados ripen best off the tree. Choose avocados that are firm to the touch. Bring them home and let ripen on a sunny window until slightly soft to the touch.
Guacamole
Avocados are delicious on sandwiches, in salads, as avocado toast or eaten plain with a sprinkling of sea salt, cracked fresh pepper and a drizzle of olive oil. And of course we can't forget everyone's favorite way to eat avocados and that's in guacamole. I have enjoyed many a strawberry margarita and bowls of guacamole with homemade tortilla chips at Serigo's Mexican Restaurant in the 1980's. They had the best Mexican food in the Fox Valley at that time.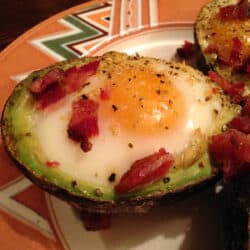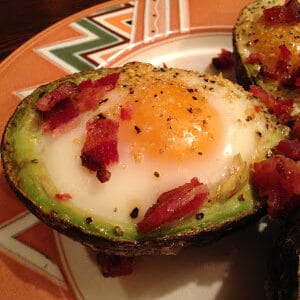 Baked Eggs in Avocado
Delicious for breakfast or a light lunch.
Ingredients
2

avocados, halved and pit removed

4 

large

eggs

salt-free seasoning blend, to taste

4

tablespoons

crumbled bacon
Instructions
Preheat oven to 425º

Lightly oil a baking sheet or coat with nonstick spray.

Using a spoon, scoop out about one tablespoon of avocado flesh, creating a small well in the center of each avocado. Sprinkle inside of well with salt-free seasoning blend.

Gently crack 1 egg and slide it into the well, keeping the yolk intact.

Repeat with remaining eggs; season with salt-free seasoning blend, to taste.

Bake until the egg whites have set but the yolks are still runny but firm, about 15-18 minutes.

Garnish with bacon and serve immediately.
Nutrition
Serving:
1
g
,
Calories:
534
kcal
,
Carbohydrates:
18
g
,
Protein:
24
g
,
Fat:
43
g
,
Saturated Fat:
10
g
,
Cholesterol:
442
mg
,
Sodium:
595
mg
,
Potassium:
1131
mg
,
Fiber:
13
g
,
Sugar:
2
g
,
Vitamin A:
906
IU
,
Vitamin C:
20
mg
,
Calcium:
88
mg
,
Iron:
3
mg
Recipes On Tap
Bacon Lettuce Tomato Salad with Avocado, Shrimp Salad Stuffed Avocado, and another favorite avocado recipe Bacon Blueberry Avocado Spinach Salad.