Awesome Vegetable Pizza
We may earn money or products from the companies mentioned in this post.
Awesome Vegetable Pizza
Awesome Vegetable Pizza makes a great appetizer but I like to serve veggie pizza for dinner. On a hot summer evening, when I would rather not heat up my kitchen or eat another grilled burger or grilled chicken breast, I make this recipe for veggie pizza. The crust only has to bake for 8 minutes so it doesn't heat up your kitchen. The result is a delicious, refreshing and satisfying veggie pizza. Perfect for eating outside at the picnic table.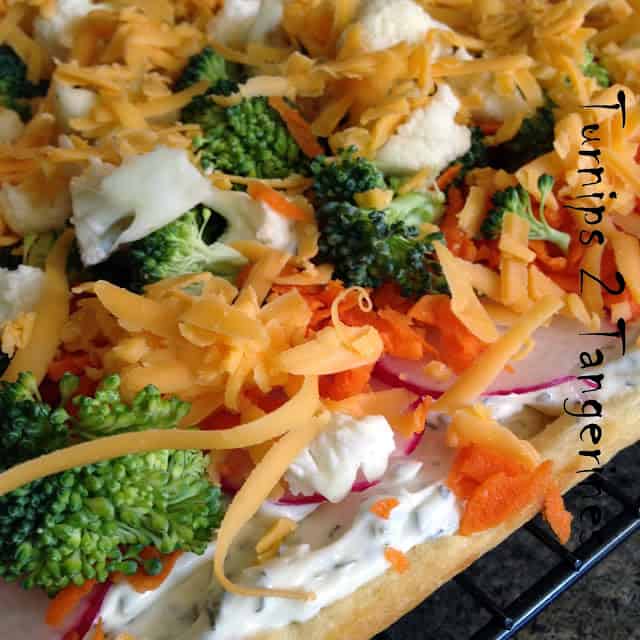 Years and Years
For the life of me I can't seem to remember where or from whom I acquired this recipe from. What I do know is that I've been making veggie pizza for at least 40 years. (Ouch) It seems to me that my first mother-in-law, an excellent cook, gave it to me when I was a newlywed at the tender age of 19. Colleen was in a women's chorus back then called Chaminade Chorus and some of my favorite recipes if hers were from this group. That marriage didn't last but this recipe did!
Dill Dip
The dill dip. For this recipe, I've always used a purchased Dill veggie dip. You can certainly make your own dill veggie dip or make your favorite veggie dip recipe without the dill. My family prefers dill veggie dip, so that's what I go with. I've tried to change things up at times but that never goes over well. Some goes with the "brand" of dill veggie dip. It has to be Marzetti Dill Veggie Dip. Now I have tried different brands in the past but I then get the moans and groans from the family, "It doesn't taste the same!" So as the saying goes, "if it ain't broke, don't fix it."
Crescent Rolls
The crust for awesome veggie pizza is made with Pillsbury Crescent Rolls. When I first started making veggie pizza, crescent rolls only came one way. With the perforated edges in the classic triangle shapes. Now you can buy full sheets of crescent rolls, minus the perforations. For some reason I still use the "original" version of rolls. Call me old-fashioned or stuck in my ways but I tend to reach for the "original" vs "new and improved" Anyway, this recipe easily makes a large baking sheet, jelly-roll size. Depending on the size of the baking sheet will determine how many packages of crescent rolls you'll need. Make sure to seal the perforated edges together well, watch carefully while baking and use a baking sheet with sides. (press crescent rolls up the sides of the baking sheet)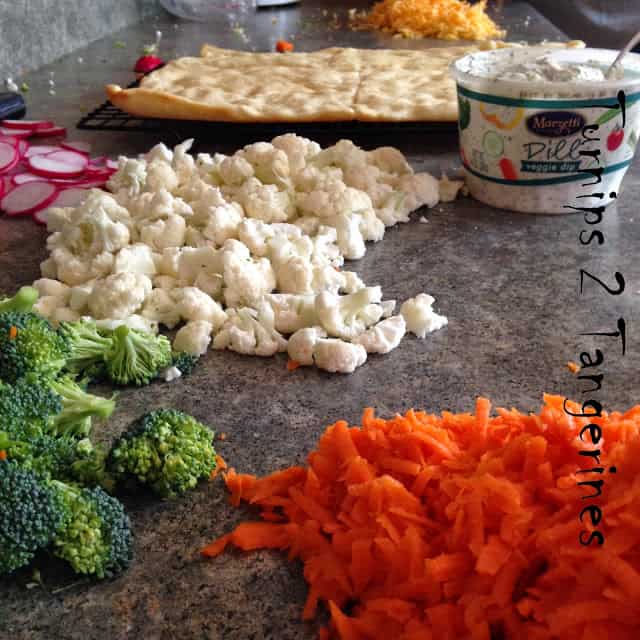 Awesome Veggie Pizza is delicious for lunch, dinner or snack time.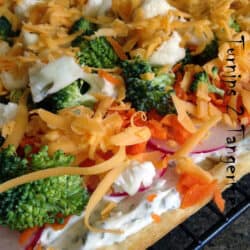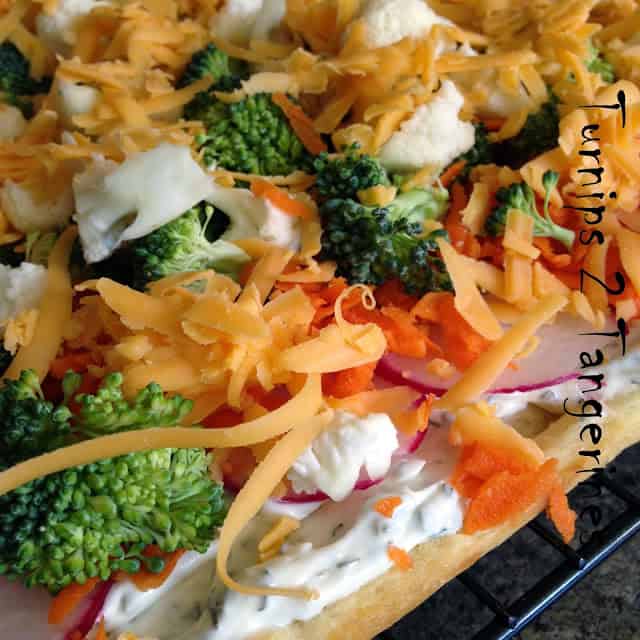 Awesome Vegetable Pizza
Ingredients
2

8 oz tubes crescent rolls

1

15.5 oz container dill veggie dip

6 to 8

radishes, thinly sliced

1

small English cucumber, thinly sliced

4 to 6

carrots, peeled and shredded

6

green onions, thinly sliced

1

small green pepper, diced

1

small bunch broccoli, broken into florets

1

small head cauliflower, broken into florets

2 to 3

cups

shredded extra sharp cheddar cheese
Instructions
Unroll both cans of dough, press in the bottom and up sides of jelly roll size baking sheet, sealing or pressing together perforated edges. Bake at 375º for 8 minutes, watching carefully until browned. Cool crust completely.

Spread cooled crust with veggie dip, using as much as you like. (We use about 3/4 of a 15.5 oz container.)

Layer radish and cucumber slices on top of dip.

Sprinkle shredded carrots over radishes and cucumbers. Press down lightly with fingers.

Sprinkle with onions and green pepper. Press down lightly. Sprinkle with broccoli and cauliflower florets. Press down lightly with fingers.

Sprinkle with shredded cheese. Press down lightly. Cover loosely with saran wrap. Chill  in refrigerator about an hour.

When ready to serve, cut veggie pizza with a pizza cutter.
For this recipe we used Pillsbury Crescent Rolls and Marzetti Dip. Serve Awesome Vegetable Pizza with Mini Cheesy Dogs, for a fast and yummy lunch.