Apple Rhubarb Crisp
We may earn money or products from the companies mentioned in this post.
Apple Rhubarb Crisp
Apples and Rhubarb go together wonderfully in this easy recipe for Apple Rhubarb Crisp. Apples offer the sweetness in this recipe and rhubarb adds the tart. Together the end result is just right. Over the years, rhubarb has become known as the "fruit" that goes with everything. Apple-Rhubarb, Strawberry-Rhubarb, Mixed Berries-Rhubarb, Cranberry-Rhubarb, Ginger-Rhubarb, this list can and should go on and on.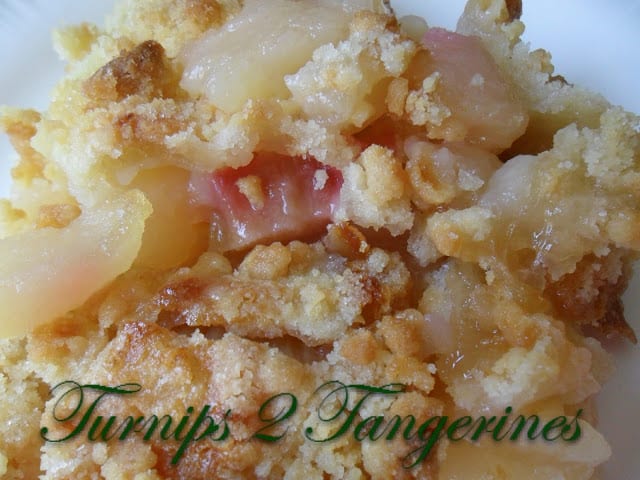 What is Rhubarb?
Rhubarb [ROO-bahrb] The thick celerylike stalks of this buckwheat family member can reach up to two feet long. They're the only edible portion of the plant. The leaves contain oxalic acid and can therefore be toxic. Though rhubarb is generally eaten as a fruit, it's botanically a vegetable. Highly perishable, fresh rhubarb should be refrigerated, tightly wrapped in a plastic bag for up to 3 days.
What Does "Crisp" Mean?
There are several definitions to the word crisp. Crisp means to 'refresh' vegetables such as celery and carrots by soaking them in ice water until they once again become crisp. Other foods, such as crackers that have lost their snap, may be heated in a moderate oven until their crispness returns. My mother-in-law swears by this method. Crisp also means, a dessert of fruit topped with a crumbly, sweet pastry mixture and baked until browned and crisp.
Apples, Apples. Apples
In the fall (Sept.-Nov.), when apples are at their peak here in Wisconsin, we head out to our favorite Apple Orchard to pick up some apples. Everflow Apple Orchard, is located a few mile south of Bonduel WI. Apples at Everflow are delicious, fresh and very reasonably priced. They grow many different kinds of apples and of course there are always free samples! Everflow sells, besides apples, plums, peaches, apple cider and eggs.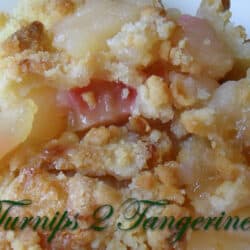 Apple Rhubarb Crisp
A fast and easy apple rhubarb crisp.
Ingredients
3

cups

apples, peeled, cored and sliced

2

cups

rhubarb, sliced

1/4

cup

sugar

1/4

cup

flour

1/2

teaspoon

ground cinnamon

1/2

teaspoon

apple pie spice

2/3

cup

flour

2/3

cup

rolled oats

2/3

cup

brown sugar

1/4

teaspoon

ground cinnamon

1/3

cup

chopped pecans

1/3

cup

butter, melted
Instructions
Toss the apples and rhubarb with sugar, 1/4 cup flour, cinnamon and apple pie spice.

Mix the flour, rolled oats, brown sugar, cinnamon, pecans, and melted butter in a medium bowl. Place apple mixture in an 8 x 8 inch baking dish. Sprinkle topping mixture on top.

Bake at 350º until bubbly and top is golden brown 35 to 45 minutes. Serve with Vanilla Ice Cream
Nutrition
Serving:
1
g
,
Calories:
403
kcal
,
Carbohydrates:
65
g
,
Protein:
4
g
,
Fat:
16
g
,
Saturated Fat:
7
g
,
Cholesterol:
27
mg
,
Sodium:
100
mg
,
Potassium:
289
mg
,
Fiber:
4
g
,
Sugar:
39
g
,
Vitamin A:
390
IU
,
Vitamin C:
6.1
mg
,
Calcium:
73
mg
,
Iron:
1.8
mg
Easy Caramel Apples are super easy and oh so good!
Who doesn't like a caramel apple!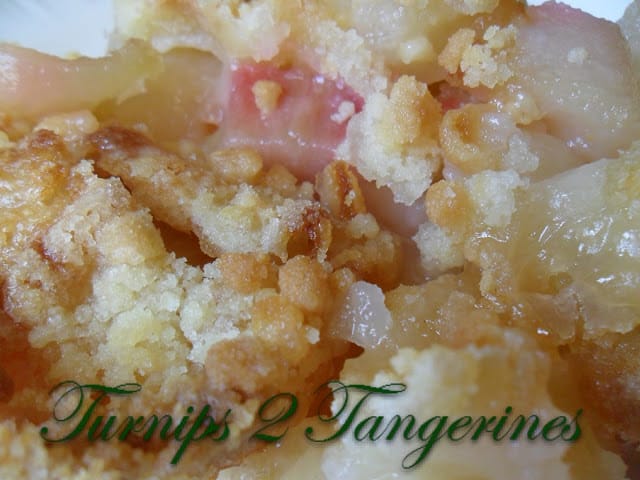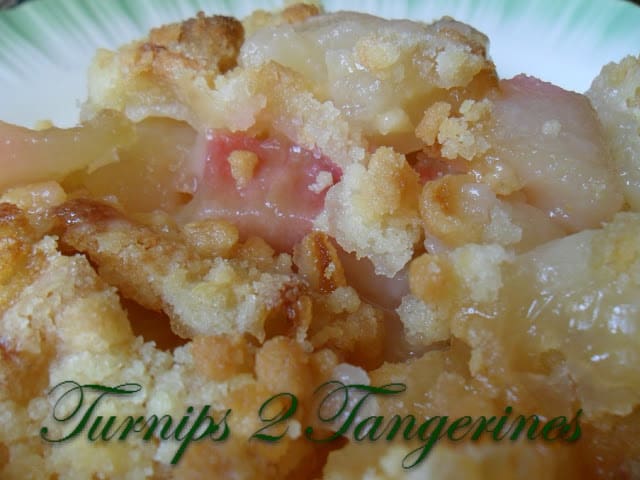 Recent Recipe: Super Easy Taco Dip