Aggie's Fruit Salad
We may earn money or products from the companies mentioned in this post.
Aggie's Fruit Salad
A super simple fruit salad that is remarkably delicious.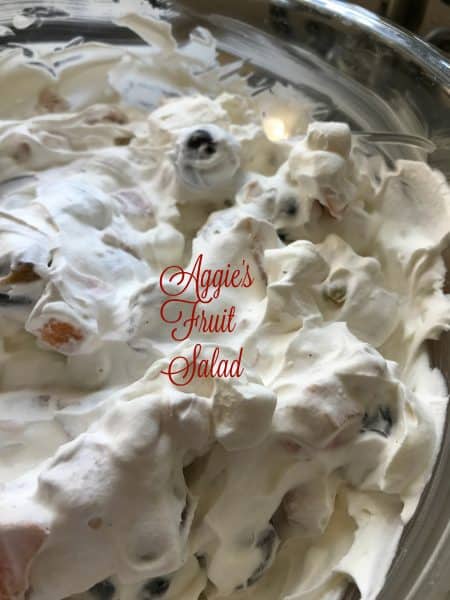 Specialties
When I was growing up, I remember eating this fruit salad for Thanksgiving and Christmas. I have stated before that my mom Aggie was a horrible cook. I mean terrible. Aggie would totally agree. She couldn't cook to save her a$$ but Aggie could sew up a storm and always had a nice flower garden. Some of her specialties were; Tuna Casserole, Spaghetti and Meat Sauce, Lasagna, Pork Roast with Sauerkraut, Pork Chops in Cream of Mushroom Soup and on occasion, maybe Shake 'n Bake Chicken and that's about it. I know that sounds like a great list of dishes but let me add here, that that was all she made. The menu pretty much stayed the same. We did have mashed potatoes and always had bread with every meal but never, ever did we have fresh vegetables, only canned.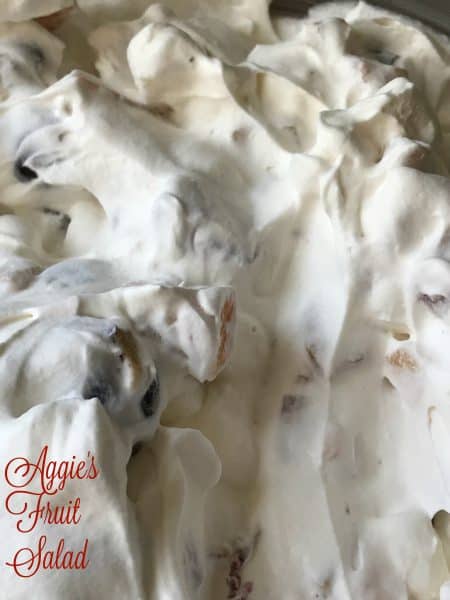 Lunches
Lunches included; grilled cheese sandwiches, fried egg sandwiches, tuna sandwiches and Chef Boy-ar-dee Pizza in the box. Aggie made a concoction called brown sugar toast….if your around my age, you might remember this concoction yourself. White bread, usually Wonder bread, with one side of the bread buttered, then a sprinkling of brown sugar over the bread. The bread went under the broiler until the brown sugar and butter was melted together into a sugary, syrupy, buttery mess.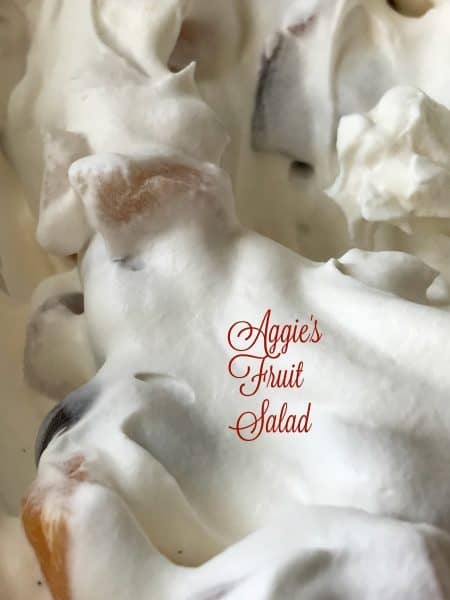 Dinner for All Seasons
Another thing Aggie liked to do was she liked to serve whatever was in season. That may sound harmless enough maybe even frugal and healthy really, but as a kid, this wasn't cool. Let me give you an example; let's say apples where in season, then apples would be our dinner…just a baked apple, that's it….if corn was in season, we'd eat corn-on-the-cob for dinner and we'd each get our own stick of butter and shaker of salt. If squash was in season, then we'd have baked acorn squash, watermelon season,  watermelon was on the menu. So on and so forth. Let me reassure you, none of my friends ever wanted to eat dinner at my house! Never-ever. 
Drain Fruit Well
The real secret to making this fruit salad is really quite simple. Make sure that the fruit is well drained. If the fruit isn't well-drained, the salad will become watery after you stir in the whipped cream and the fruit salad won't last as long. Let's face it, no one likes a watery, mushy, fruit salad…not even Aggie!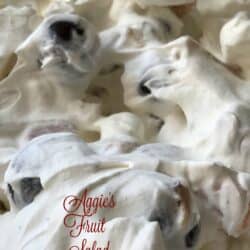 Aggie's Fruit Salad
Nice and Easy, just the way Aggie liked it.
Ingredients
2

14 1/2 oz cans

fruit cocktail in heavy syrup, drained

1

15 oz can

dark sweet pitted cherries in heavy syrup, drained

1

12 oz

carton heavy whipped cream

2

tablespoons

vanilla sugar

1

teaspoon

vanilla extract

2

cups

mini marshmallows
Instructions
Set a plastic colander over a medium bowl. Empty cans of fruit cocktail and sweet cherries in plastic colander. Cover loosely with plastic wrap. Place in refrigerator overnight.

Chill a large glass bowl and the beaters from hand mixer for several hours in the refrigerator. In chilled bowl, with hand mixer on high speed, beat heavy whipping cream and vanilla extract until soft peaks form, sprinkling sugar over cream as you continue to beat.

Continue beating until cream is thick and holds it's shape. Carefully fold in drained fruit and mini marshmallows. Refrigerate a few hours before serving.