Caesar Artichoke Dip
We may earn money or products from the companies mentioned in this post.
Caesar Artichoke Dip
Caesar Artichoke Dip is made with bottled, creamy Caesar salad dressing, taking it a step apart from more popular style artichoke dips. I have made several different artichoke dips but this one is my favorite. The Caesar dressing gives the dip terrific flavor, without being overpowering. Serve this dip with carrot or celery sticks, thin slices of toasted baguette or my personal favorite, Fritos, the big scooper size.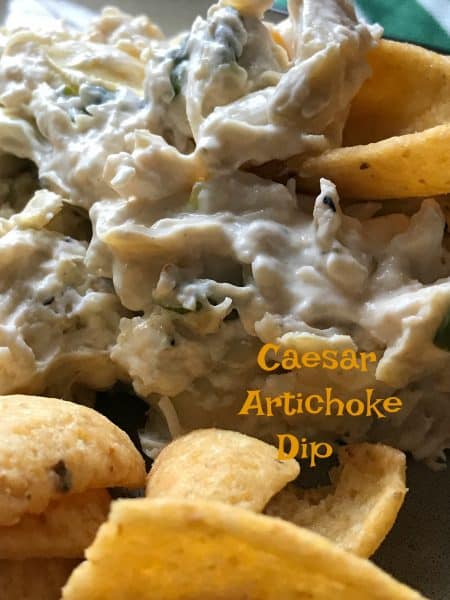 Heat in Slow Cooker
Caesar Artichoke Dip is heated on high in a small crock-pot or slow cooker until hot and bubbly. The crock-pot or slow cooker is then turned to low or warm and the dip is kept warm which makes it ideal to serve directly from the crock-pot. You can also heat this dip in the oven at 375 degrees for 30 to 45 minutes. It's delicious served hot, warm, or room temperature.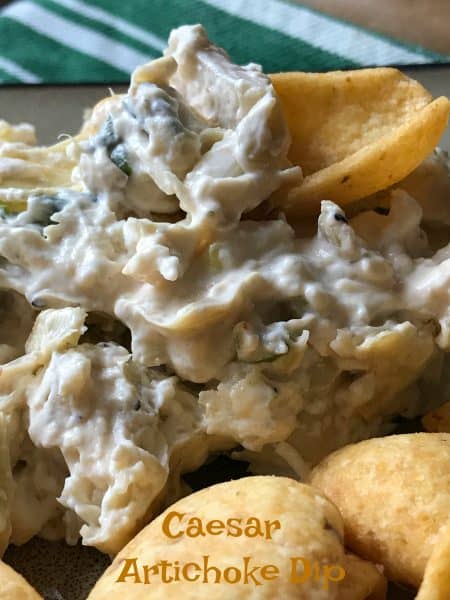 New and Different Artichoke Dip
With the holidays fast approaching, it never hurts to have a new appetizer recipe to serve your family and guests. Each year I try out a few new appetizer recipes, more often than not they become a family favorite that I make over and over again. This recipe is one of those…tired of the same old spinach artichoke dip? Then give this recipe a try, it might become your family's new favorite recipe too.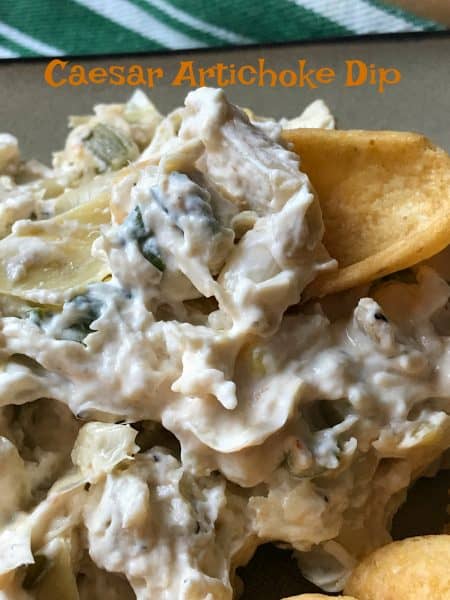 Serve this fantastic dip with Fritos Scoops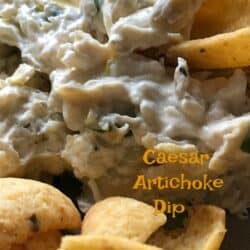 Caesar Artichoke Dip
Creamy Caesar salad dressing is the key ingredient to this delicious dip. Serve with fresh carrot and/or celery sticks or spread on your favorite crackers.
Ingredients
1

14 oz can

quartered artichoke hearts, drained and coarsely chopped

1

8 oz package

cream cheese, cut into cubes

1/2

cup

creamy Caesar dressing

3/4

cup

shredded Parmesan cheese

1/4

cup

chopped green onions

1

tablespoon

hot pepper sauce

,

Frank's RedHot Slammin' Srirracha Sauce

chopped

green onions, for garnish

1

loaf

baguette cut into 1/2-inch slices, toasted

carrot and celery sticks
Instructions
In a small slow cooker, combine artichoke hearts, cubed cream cheese, creamy Caesar dressing, Parmesan cheese, chopped green onions and hot pepper sauce. Heat on high for 2 hours or until dip is hot and bubbly. Garnish dip with chopped green onions and serve with toasted baguette slices, carrot and celery sticks.
Looking for another recipe using artichoke hearts? Give this recipe a try Cheesy Spinach Artichoke Dip