Turkey Monte Cristo Sandwich
Make this delicious sandwich using left-over holiday turkey and whole berry cranberry sauce. Spread thick slices of Texas style toast/bread with Dijon mustard, layer slices of left-over holiday turkey and slices of Gouda cheese. Top sandwich with a few tablespoons of whole-berry cranberry sauce. Yum!
What is a Monte Cristo Sandwich
Monte Cristo sandwich [MON-tee KRIHS-toh] A sandwich consisting of slices of cooked chicken or turkey, cheese (usually Swiss) and sometimes baked ham. The sandwich is dipped into beaten egg and sautéed butter until golden brown. Monte Cristo Sandwiches are nice and filling so one sandwich can easily feed two people. Simply cut the sandwich in half and serve with a cup of  homemade turkey noodle soup for a delicious and filling lunch or dinner for two. Serve this soup and sandwich combination with a light, crisp Melon de Bourgogne.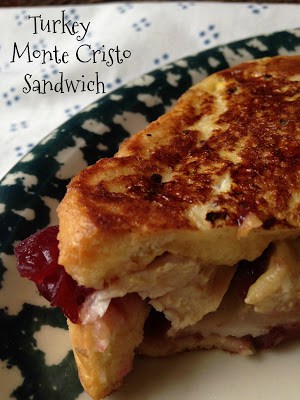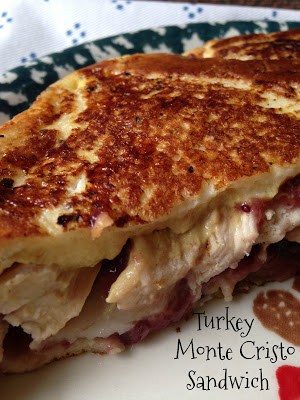 Ingredients
(per sandwich)
1




egg

2 tablespoons




milk

pinch of




salt and pepper

1 tablespoon




butter

2 slices




Texas toast/bread

1 teaspoon




Dijon mustard

2 slices




turkey

2 slices




Gouda cheese

2 tablespoons




whole berry cranberry sauce
Cooking Directions
In a medium shallow bowl, beat together egg, milk, salt and pepper. Set aside.
In a skillet, over medium heat, melt butter.
Spread mustard on one slice of bread, top with turkey slices, then cheese slices. Spoon cranberry sauce over cheese, top with remaining piece of bread.
Carefully dip sandwich into egg mixture, saturating both sides of bread. Brown sandwich in melted butter over medium heat until golden brown on both sides.