Carnation Famous Fudge
We may earn money or products from the companies mentioned in this post.
Carnation Famous Fudge
Creamy, Silky and Smooth. Carnation Famous Fudge has been around for years. Why? It's easy to make, even for the first time fudge maker like me. There are a few "rules" to follow when making fudge. First, use a heavy-duty, medium saucepan (no teflon please) Second, bring sugar, butter, milk and salt to a full rolling boil and stir constantly. Lastly, add marshmallows, chocolate chips, and nuts. Stir vigorously. Follow these simple "rules"and you'll make fantastic fudge each and every time.
One Recipe
With this recipe and by changing the chocolate and/or ingredients added, you can make many variations of fudge. We have made white chocolate blueberry fudge, maple nut fudge, chocolate mint fudge and my favorite, candy cane fudge. So put on your thinking caps and see what you can come up with. Any variation of fudge you make, this recipe is wonderfully delicious and super easy. Doesn't get any better than that!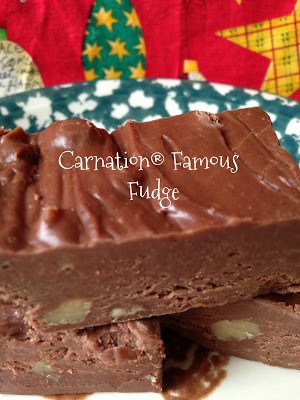 Traditions
My Grandma Rose was famous for her fudge. Each holiday season she made batch after batch of fudge. She made fudge well into her 70's and now that I have decided to carry on her fudge "tradition" I don't know how in the world she did it. My grandma didn't use this recipe, not the fast and easy recipe like me. My grandma made the cooked kind of fudge, the "soft ball' stage kind. Someday I hope to "master" her recipe for fudge but until then, I'll be happy to carry on her fudge tradition with an easy fudge recipe.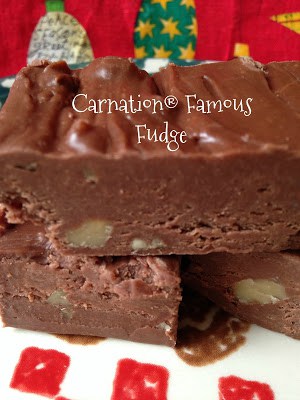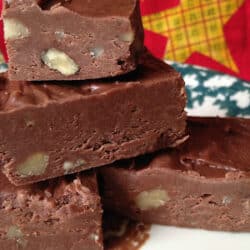 Carnation Famous Fudge
Ingredients
1 1/2

cups

granulated sugar

2/3

cup

evaporated milk

2

tablespoons

butter

1/4

teaspoon

salt

2

cups

miniature marshmallows

1 1/2

cups

semi-sweet chocolate chips

1/2

cup

chopped walnuts

1

teaspoon

vanilla extract
Instructions
Line 8-inch square baking pan with foil.

Combine sugar, evaporated milk, butter and salt in a medium, heavy-duty saucepan. Bring to a full rolling boil over medium heat, stirring constantly.

Boil, stirring constantly, for 4 to 5 minutes. Remove from heat.

Stir in marshmallows, chocolate chips, nuts, if using and vanilla extract.

Stir vigorously for 1 minute or until marshmallows are melted. Pour into prepared baking pan; refrigerate for 2 hours or until firm. Lift from pan; remove foil. Cut into 48 pieces.