Turkey Monte Cristo Sandwich
We may earn money or products from the companies mentioned in this post.
Turkey Monte Cristo Sandwich
Turkey Monte Cristo Sandwich is a super delicious sandwich made using left-over holiday turkey and whole berry cranberry sauce. Spread thick slices of Texas style toast/bread with Dijon mustard, layer slices of left-over holiday turkey and slices of Gouda cheese. Top sandwich with a few tablespoons of whole-berry cranberry sauce. Yum!
What is a Monte Cristo Sandwich
Monte Cristo sandwich [MON-tee KRIHS-toh] A sandwich consisting of slices of cooked chicken or turkey, cheese (usually Swiss) and sometimes baked ham. The sandwich is dipped into beaten egg and sautéed butter until golden brown. Monte Cristo Sandwiches are nice and filling so one sandwich can easily feed two people. Simply cut the sandwich in half and serve with a cup of  homemade turkey noodle soup for a delicious and filling lunch or dinner for two. Serve this soup and sandwich combination with a light, crisp Melon de Bourgogne.
History of Monte Cristo
Like many dishes, sandwiches and the like, the Monte Cristo Sandwich varies from restaurant to restaurant. A classic Monte Cristo Sandwich should come with a side of jelly for dipping. If you are a fan of French Toast, you will fall in love with this sandwich. The classic sandwich is a double decker sandwich, made with two slices of white bread, containing ham, turkey or chicken, and a slice of cheese.
The assembled sandwich is dipped in beaten egg and then fried in butter. The secret to a successful Monte Cristo sandwich is the batter and getting it fried just right. The sandwich should be crisp in the outside and yet custardy on the inside. The Monte Cristo is definitely not a diet food! You've been warned but in my opinion it's worth every calorie.
Most Food Historians
Most food historians generally think that the Monte Cristo sandwich is a variation of a French dish called Croque Monsieur. This original grilled cheese sandwich consisted of Gruyere cheese and lean ham between two sliced of crust less bread, and fried in clarified butter. It was originally served in 1910 in a Paris cafe.
Others feel that the sandwich was invented in the United States, more specifically, Monte Cristo Washington in the 1950's. Some feel that the sandwich was brought back to the US by returning World War II GI's after the war. Even others feel that the sandwich was invented in the 50's at the Brown Derby restaurant in LA. Where ever or by whom ever invented the Monte Cristo Sandwich, one thing is for certain, this sandwich is excellent.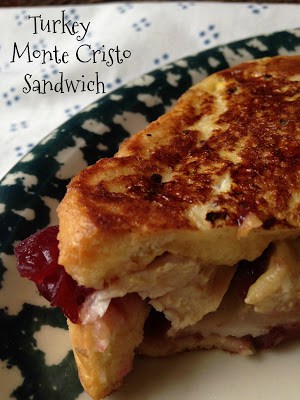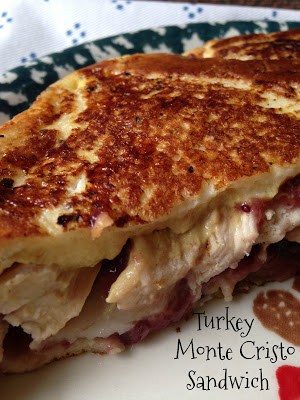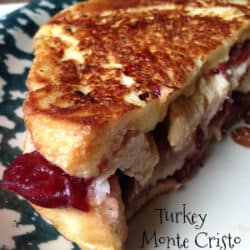 Turkey Monte Cristo
A great and new way to use up holiday left-overs.
Ingredients
per sandwich

1

egg

2

tablespoons

milk

pinch

of salt and pepper

1

tablespoon

butter

2

slices

Texas toast/bread

1

teaspoon

Dijon mustard

2

slices

turkey

2

slices

Gouda cheese

2

tablespoons

whole berry cranberry sauce
Instructions
In a medium shallow bowl, beat together egg, milk, salt and pepper. Set aside.

In a skillet, over medium heat, melt butter.

Spread mustard on one slice of bread, top with turkey slices, then cheese slices.

Spoon cranberry sauce over cheese, top with remaining piece of bread.

Carefully dip sandwich into egg mixture, saturating both sides of bread.

Brown sandwich in melted butter over medium heat until golden brown on both sides.
Gravy over Texas Toast/Bread 
is another oldie but goodie:) I remember eating this often as a kid, whenever there was any kind of leftover gravy.