White Chocolate Dipped CupidMallows
We may earn money or products from the companies mentioned in this post.
White Chocolate Dipped CupidMallows
White Chocolate Dipped CupidMallows are made with heart-shaped marshmallows. Look for these cute heart shaped, pink and white, strawberry and vanilla flavored marshmallows at your local grocery store. For this recipe we used campfire brand marshmallows. Campfire Marshmallows make some of the best flavored marshmallows ever. I have used many of the different flavors they offer, usually in marshmallow treats. Some of the flavors are : fruit swirlers, lemon meringue, key lime, tutti frutti and striped zebras.
De La Rosa Brand
There are so many ways you could use these cute, heart shaped marshmallows. You could top your favorite Valentine cupcakes/cake with a CupidMallow or you could float a marshmallow in a mug of hot chocolate. If you can't find cupidmallows in your area, you can substitute regular marshmallows or look for De La Rosa  brand strawberry and vanilla marshmallows. I found De la Rosa in the ethnic food aisle at Piggly Wiggle  in Pound/Coleman WI. Personally, I really like the strawberry/ vanilla flavor of the De La Rosa brand. Another plus, they're available year round.
Strawberry Pancakes
Strawberry Pancakes with Mini Chocolate Chips is a super recipe to make for kids and with kids. Adults will love these strawberry pancakes studded with mini chocolate chips too. They're perfect to serve your sweetie on Valentine's Day, a child's birthday or just because. Caution: When serving white chocolate dipped cupidmallows, Do Not Use Toothpicks When Serving to Children Under 12 years of age. Use Pretzel Sticks instead.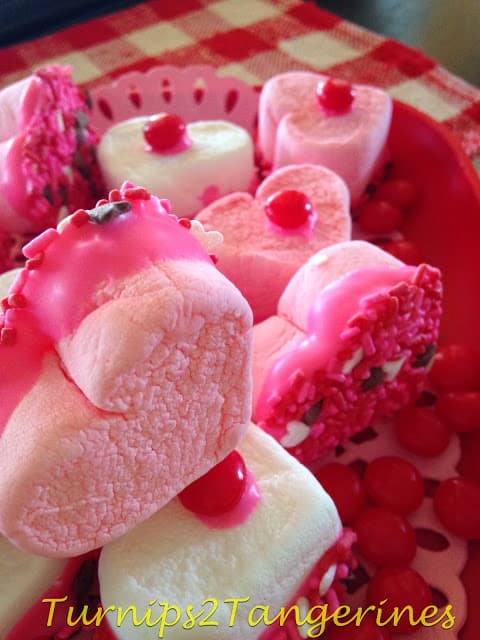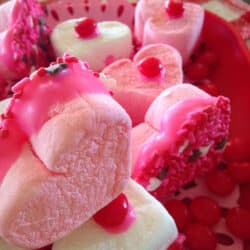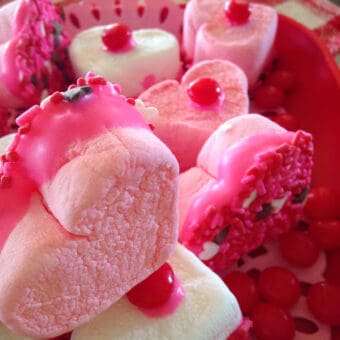 White Chocolate Dipped CupidMallows
A great Valentine's Day treat.
Ingredients
1

bag

CupidMallows

1

cup

white chocolate chips

2 to 4

tablespoons

half and half or milk

few drops neon pink gel food coloring

shredded coconut

decorative sprinkles

,

candies

pretzel sticks
Instructions
Microwave white chocolate chips and creamer in a microwave-safe bowl on medium power for 1 to 2 minutes, or until melted. Stir in food coloring until smooth. Microwave a few seconds longer if needed.

Dip each CupidMallow in melted chocolate, roll dipped end in coconut or sprinkles. Set on wax paper, non-dipped side down.

Place in refrigerator to set up.