The Great Pumpkin Cake
We may earn money or products from the companies mentioned in this post.
The Great Pumpkin Cake
The Great Pumpkin Cake is made in The Great Pumpkin Pan. This is a delicious, moist, spiced pumpkin cake is baked in a pumpkin shaped pan and
then topped with a cream cheese frosting. Delicious! I recently purchased 2 Great Pumpkin Pans for $2.99 each. I found them at a local thrift store, a real bargain, I might add. The Great Pumpkin Pan is made by a family owned company from Minnesota called: Nordic Ware
Nordic Ware
Minnesota Made, Family-Owned. "We proudly produce quality kitchenware products that will be a part of your family's meals and celebrations for years to come." Nordic Ware is the maker of durable, quality cast aluminum pans and sell many different types of pans and decorative pans. Chances are you have seen or own one of these awesome pans or your mother or grandmother has one.
An inspirational American success story, Nordic Ware was founded in 1946 by a determined wife, Dotty, and her resourceful husband Dave, newly back from the second world war. With only $500 in their pockets, a few good ideas and a desire to create a business of their own, a humble kitchenware company was launched from the basement of their home in Minneapolis, Minnesota.
In the Beginning
In the beginning, Nordic Ware's product line was only a handful of items, all of which were specialty Scandinavian ethnic cookware products—the Rosette iron, Krumkake iron, Platte Panne pan, and the Ebelskiver pan. But times have changed! Undoubtedly, Nordic Ware's most famous item is the Bundt® pan, which can be found in over 70 million households around the world.
Despite a lackluster introduction into our line in the early 1950s, the Bundt® pan rose to worldwide fame when it was used to bake a prize-winning cake in a national baking contest, and the rest, as they say, is history. As the pan found its way into the hearts and homes of people everywhere, the Bundt® cake has become the quintessential American dessert–one that's become a tradition for countless gatherings and family celebrations.
70 Years Later…
Nordic Ware is still proudly manufacturing the vast majority of its products in Minneapolis. Those original Scandinavian products have been joined by hundreds of other items in Nordic Ware's product offering, ranging from bake ware and cookware to microwave products and grilling accessories. We've grown from 2 employees to over 350, and our products are distributed across the globe.
Great Pumpkin Cake Recipe
Great Pumpkin Cake Recipe was located on the back of the cardboard sleeve and is by Williams-Sonoma Kitchen. I will be making Pumpkin Cake again for Thanksgiving. This time though, I'm not going to frost the whole cake. Only drizzle the cake with a cream cheese frosting tinted green. I think frosting the whole cake took away from the "pumpkin" look or maybe I should consider taking a cake decorating class! haha
This is what was written on the cardboard sleeve:
The pumpkin lends it's familiar shape to cakes baked in this ingenious pan. It produces an enchanting cake in the plump, rounded shape of a pumpkin. A centerpiece for a fall dinning table or dessert buffet. Simply bake the two halves of the cake and let cool completely. Then trim each one flat on the top and press together with frosting to form a pumpkin.
To finish the cake, dust with confectioners' sugar or drizzle with a simple glaze and add a tootsie roll stem. You can also pipe on decorative leaves and tendrils or a jack-o-lantern face. Durable cast aluminum ensures sharp detail and uniform baking, and a premium nonstick interior provides quick release and easy clean-up.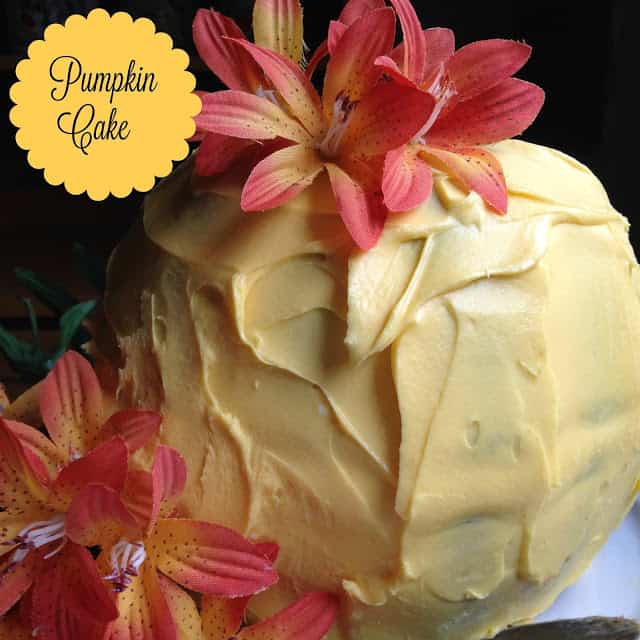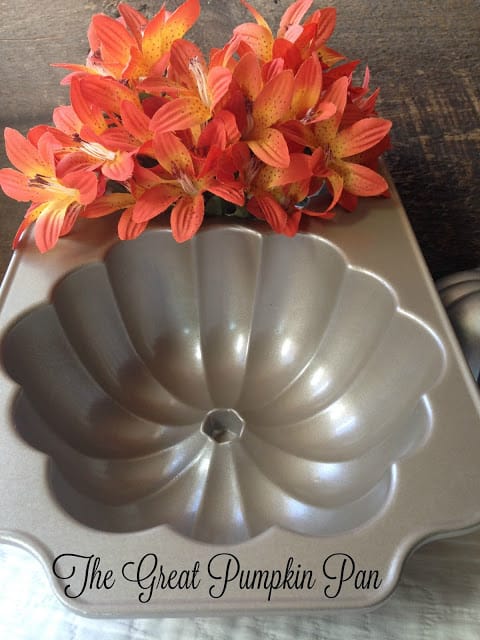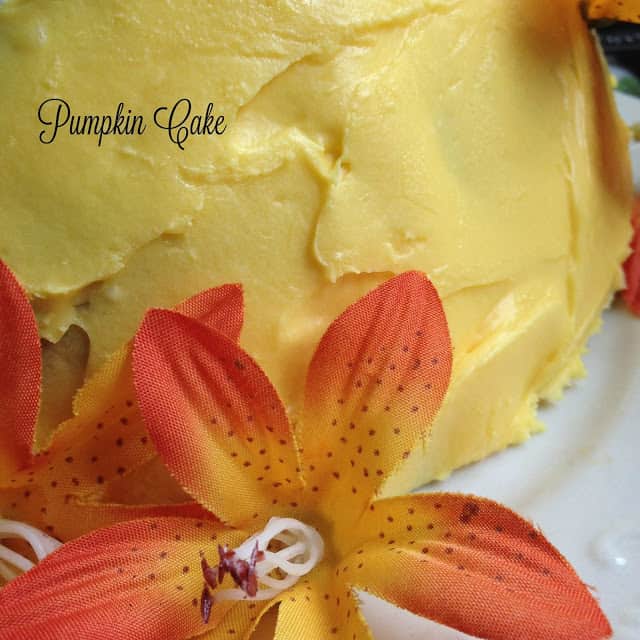 *Nordic Ware pans are super strong and are made to last a lifetime. Nordic Ware is proud to say that they're still family-owned and operated, with three generations involved in the business. Each year Nordic Ware adds innovative items to the expansive kitchenware line.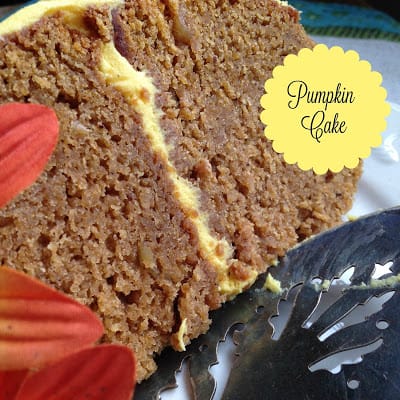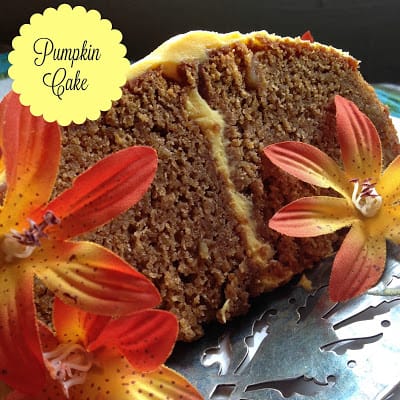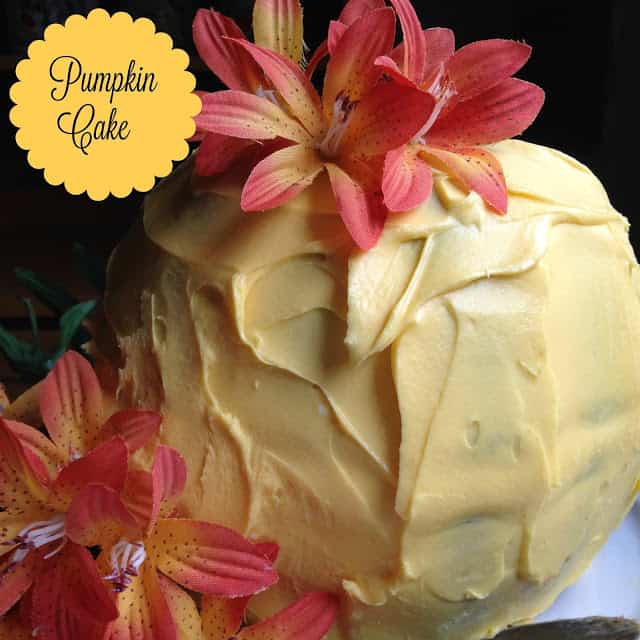 The Great Pumpkin Cake
Ingredients
2 1/2

cups

all-purpose flour

2

teaspoons

baking powder

1/2

teaspoon

baking soda

1 1/4

teaspoons

salt

2 1/2

teaspoons

ground cinnamon

1 1/4

teaspoon

ground ginger

3/4

teaspoon

freshly grated nutmeg

1/2

teaspoon

ground allspice

1/8

teaspoon

ground cloves

10

tablespoons

unsalted butter

1 1/4

cups

firmly packed light brown sugar

1 1/4

cups

sugar

3

eggs

2/3

cup

milk

1 1/4

cups

pumpkin puree'

2/3

cup

toasted walnuts

1/2

cup

diced candied ginger

For the Frosting

1

8 oz package

cream cheese, room temperature

8

tablespoons

unsalted butter

1

cup

confectioners' sugar

1/2

teaspoon

vanilla extract

1

tablespoon

pumpkin puree

food coloring
Equipment
Nordicware Pumpkin Cake Pan
Instructions
Have all the ingredients at room temperature.

Position a rack in the lower third of an oven and preheat oven to 325° F.

Generously grease and flour the wells of The Great Pumpkin Pan; tap out the excess flour.

To make the cake:

Over a sheet of waxed paper, sift together the flour, baking powder, baking soda, salt, cinnamon, ginger, nutmeg, allspice and cloves; set aside.

In the bowl of an electric mixer fitted with the flat beater,

beat the butter on medium speed until creamy and smooth, 1 to 2 minutes.

Add the brown and granulated sugars and beat until light and fluffy, about 5 minutes, stopping the mixer occasionally to scrape down the sides of the bowl. Add the eggs, one at a time, beating well after each addition.

Reduce the speed to low and add the flour mixture in three additions, alternating with the milk and beginning and ending with the flour. Beat each addition until just incorporated, stopping the mixer occasionally to scrape down the sides of the bowl. Add the pumpkin puree and beat until incorporated. Remove the bowl from the mixer.

Using a rubber spatula fold in the walnuts and candied ginger until incorporated.

Divide the batter between the wells of the prepared pan and spread it evenly.

Bake until a toothpick inserted near the center of the cake half comes out clean, about 1 hour and 15 minutes.

Transfer the pan to a wire rack and let the cake halves cool upright in the pan for 15 minutes.

Gently tap the pan on a work surface to loosen the cake halves.

Invert the pan onto the rack and lift off the pan.

Let the cake halves cool completely before decorating.

To make frosting:

In the bowl of an electric mixer fitted with the flat beater, beat cream cheese on medium speed until smooth, 2 to 3 minutes. Add the butter and beat until combined, 1 to 2 minutes.

Add the confectioners' sugar and vanilla and beat until fluffy, 2 to 3 minutes.

Divide the frosting between two small bowls and stir the pumpkin puree into one bowl.

Reserve the remaining frosting for decorating.

Using a bread knife, cut 1/4-inch off the flat side of each cake half.

Place one cake half, flat side up, on a cake stand or plate and spread the pumpkin frosting on top.

Place the other cake half, flat side down, on top. Refrigerate for 30 minutes.

Add food coloring as desired to the reserved frosting (green for leaves and tendrils, orange for a jack-o-lantern.

To create leaves and tendrils:

Using a rubber spatula, transfer the green frosting to a pastry bag fitted with a leaf or medium plain tip. Pipe leaves and tendrils on the top of the cake.

To create a jack-o-lantern:

using a rubber spatula, transfer the orange frosting to a pastry bag fitted with a medium plain tip.

Pipe an outline of the face on the cake, then fill in the design.
Meatloaf Skull is a perfect recipe to serve for Halloween, along with Garlic Vampire Dip with Garlic Naan and Creamy Corn Casserole.