Southern-Style Buttermilk Fried Chicken
We may earn money or products from the companies mentioned in this post.
Southern-Style Buttermilk Fried Chicken
I have a confession to make…..I have never, ever, in my entire cooking life, ever made fried chicken. There, I said it! Why have I never, ever made fried chicken? Simple…I have a huge fear that the chicken won't be cooked completely. I have in the past bitten into uncooked fried chicken and I can tell you, it has taken me many years to get over that! Southern-Style Buttermilk Fried Chicken sounds like a good start to me.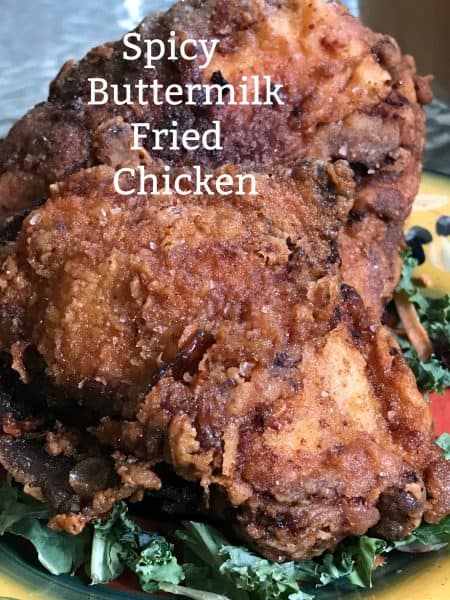 Fried Chicken Fears
Another fear….many years ago I was either at a wedding dinner or banquet, I can't remember which one,  they served fried chicken. Now that I think about it…I'm pretty sure it was broasted chicken, anyway, I choked on a chicken bone. A chicken bone became lodged in my throat. For some reason I didn't panic. Which was probably good.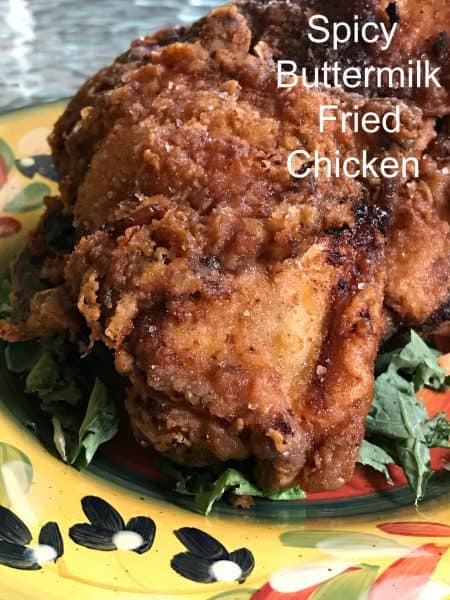 I got up from the table, didn't say I word to anyone no doubt because I could hardly breathe and went to the bathroom. I went into the stall and locked the door. I literally had to stick my finger down my throat and pull out the chicken bone. I bet it was a good 20 years before I ate fried or broasted chicken again. When I went back to the table, I sat down and ate about four dinner rolls.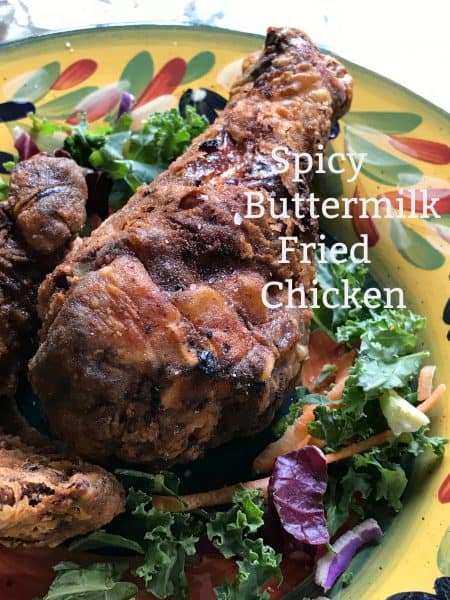 Fried Chicken A New Day
Enough about old chicken fears. Today is a new day and that means a new outlook on fried chicken. I have decided to change the fact that I have never made fried chicken before. What a better way to jump into making fried chicken than to make a recipe for spicy, southern style, fried chicken. What is "Broasted Chicken?" I'm going to save the answer to that question for a future post….Stay Tuned.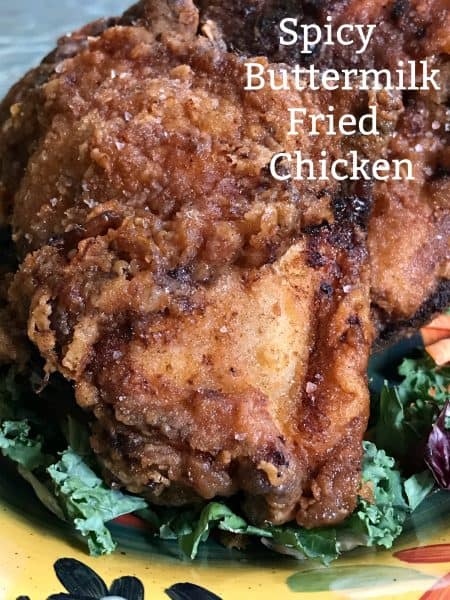 Paula Deen Recipe
A delicious recipe for spicy buttermilk fried chicken. This recipe calls for soaking the chicken in hot sauce, seasoned salt and buttermilk for 8 hours or overnight. This step should not be skipped. The chicken becomes extremely moist and juicy when soaked overnight. I feel this is the 'secret' to why this chicken turned out so fantastic. This recipe is based on a recipe by Paula Deen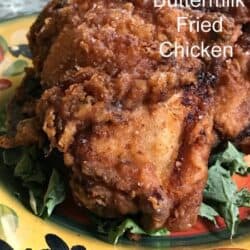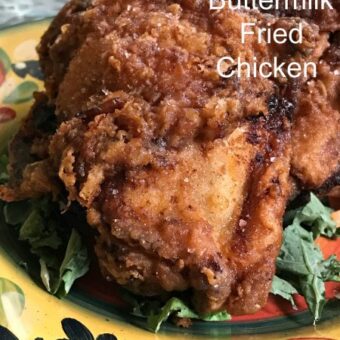 Southern-Style Buttermilk Fried Chicken
Everyone loves Fried Chicken!
Ingredients
1

quart

buttermilk

1

tablespoon

hot sauce

2

teaspoons

seasoned salt, divided

1

4-5 lb chicken, cut into 8 pieces

2

cups

all-purpose flour

1

teaspoon

garlic salt

1

teaspoon

cayenne pepper

1

teaspoon

onion powder

peanut oil

,

for frying

1

teaspoon

creole seasoning (Tony Chachere's)
Instructions
In a large bowl place the buttermilk, hot sauce and 1 1/2 teaspoons of seasoned salt and the cut-up chicken. Cover and refrigerate at least 8 hours or up to 24 hours. Drain and discard buttermilk mixture.

In a shallow dish combine flour, garlic salt, red pepper, onion powder and remaining 1/2 teaspoon seasoned salt. Dredge chicken in flour mixture and place on wire rack and let sit for 15 minutes.

In a large cast-iron skillet pour oil to a depth of 3 inches and heat to 350 degrees.

Fry chicken pieces in batches, for 12 to 15 minutes per side or until a thermometer inserted into the thickest part of the chicken and registers 165 degrees. Drain on a clean wire rack set over paper towels.
For dessert serve Cool Chocolate Mint Brownies