Pickled Turkey Gizzards
We may earn money or products from the companies mentioned in this post.
Pickled Turkey Gizzards
I will be the first to admit, pickled turkey gizzards aren't pretty to look at. Nope, not at all. In fact, if you didn't know they were pickled turkey gizzards, you might think it's a kids science project gone really bad. Don't let looks fool you though, Pickled Turkey Gizzards are really quite delicious.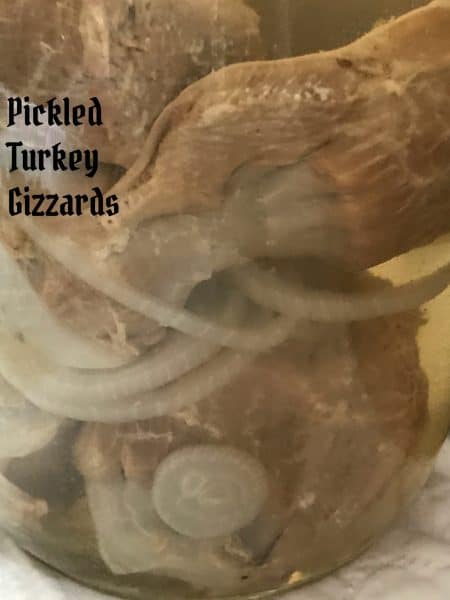 Pickled
I have to admit, I have been on a "pickled" roll here lately. Pickled Eggs and now Pickled Turkey Gizzards. What's next…well not Pickled Pigs Feet, that's for sure! I have to draw the line somewhere. Maybe Pickled Sausage? Hmm, that's a thought. Believe it or not, I remember eating pickled turkey  gizzards as a kid and liking them.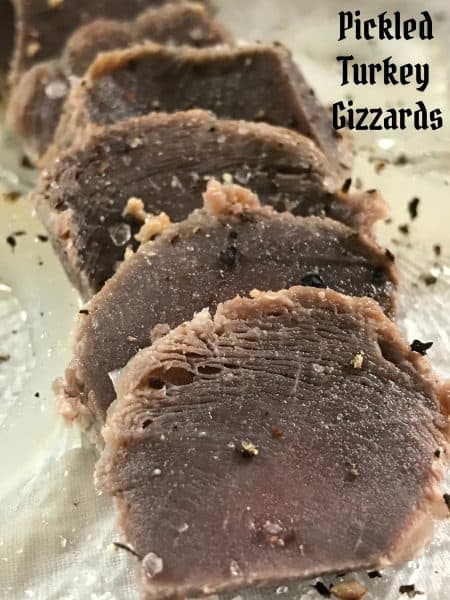 About Time
When I recently made pickled eggs, I remembered also eating pickled turkey gizzards. Something I had totally forgotten about until then. I also remembered I liked pickled turkey gizzards and wondered why I haven't made these tasty bites for so many years. I thought about it and couldn't come up with an answer. When you can't come up with an answer why you haven't made something in a while, that's usually a good indication that it's about time to give it a go.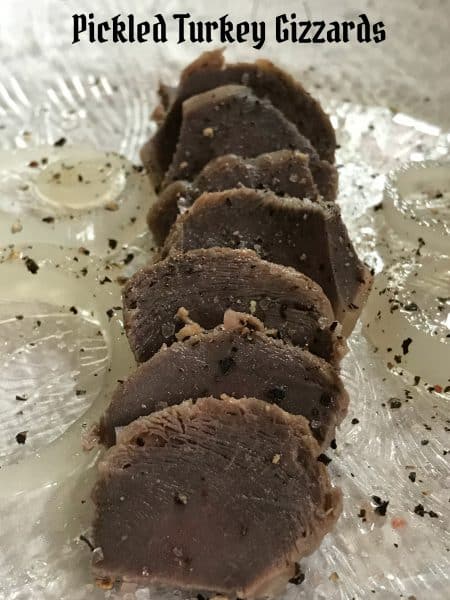 Turkey Gizzards, New to Me Again
This recipe calls for simmering the turkey gizzards in salted water and vinegar for 2 1/2 hours. The reason for this is a simple one,  the gizzards become very tender, remarkably tender in fact. When serving turkey gizzards, remove the gizzards from the jar and cut any fat around the gizzard. Slice the gizzards into thin slices, sprinkle with salt and pepper, and serve with some of the pickled onions. Pickled Turkey Gizzards…a new to me again appetizer.
Turkey Gizzards
When making Pickled Turkey Gizzards, use turkey gizzards. You can and could use chicken gizzards but turkey gizzards are more than twice the size of chicken gizzards therefore making them a lot more 'meatier' than the chicken gizzards. Another plus, around Thanksgiving and Christmas you can find turkey gizzards just about anywhere and they are very inexpensive too.
Send a gallon-size jar of 'pickled turkey gizzards' along with your significant 'deer hunter 'other and you'll be whistling 'Happy Days are Here Again' as you shop those Black Friday Sales!!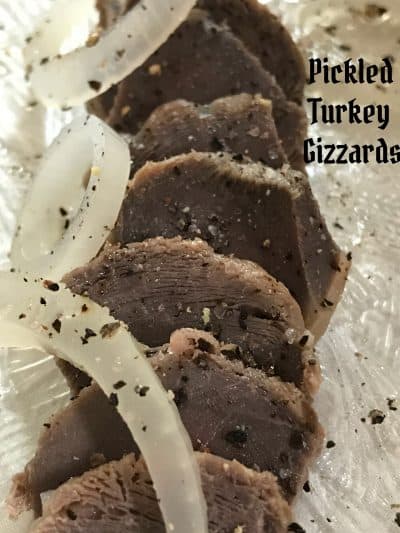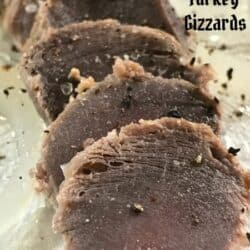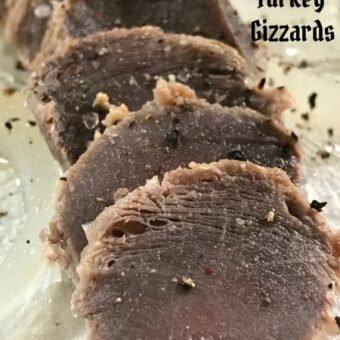 Pickled Turkey Gizzards
A recipe I can remember eating as a child...and liking!
Ingredients
5

lbs.

turkey gizzards

2

quarts

water

2

tablespoons

salt

1

cup

vinegar

5

cups

vinegar

2 1/2

cups

water

2

tablespoons

sugar

3

tablespoons

salt

1

tablespoon

(heaping) pickling spice

2

large

onions, sliced
Instructions
Simmer turkey gizzards in water, salt and 1 cup vinegar for 2 to 2 1/2 hours. Drain and cool slightly. Combine five cups vinegar and 2 1/2 cups water, sugar and salt. Put pickling spice in cheesecloth and tie shut. Put cheesecloth in vinegar mixture; bring to a boil. Reduce heat and simmer for 15 minutes. Arrange gizzards and sliced onions in a large glass jar. Do not pack. Remove and discard spice bag, pour hot brine over all. Cover, let stand overnight before refrigerating.
Notes
Recipe Idea: Place thin slices of pickled turkey gizzards on Triscut crackers. Top with a thin slice of Gouda cheese. Put under broiler to melt cheese. Serve.