Slow Cooker Oxtail Stew
We may earn money or products from the companies mentioned in this post.
Slow Cooker Oxtail Stew
Slow Cooker Oxtail Stew has become a fast, family favorite. Oxtail now comes mainly from beef and are hugely flavorful. Oxtail, like short ribs, are best when braised, which makes them perfect for slow cooking. Long hours of cooking turns oxtails into fall off the bone delicious. This recipe has been in my "draft" file since February and it's high time that I posted this sensational recipe.
Trigs
I have been wanting to make a recipe using oxtails ever since a saw a package of oxtail at my favorite grocery store, Trigs located in Rhinelander WI. I swear, you can find anything and everything at Trigs and if you can't find it at Trigs, all you have to do is ask someone and they will find it for you. Seriously, that's how wonderful they are. Now on to the recipe…What the heck are oxtails?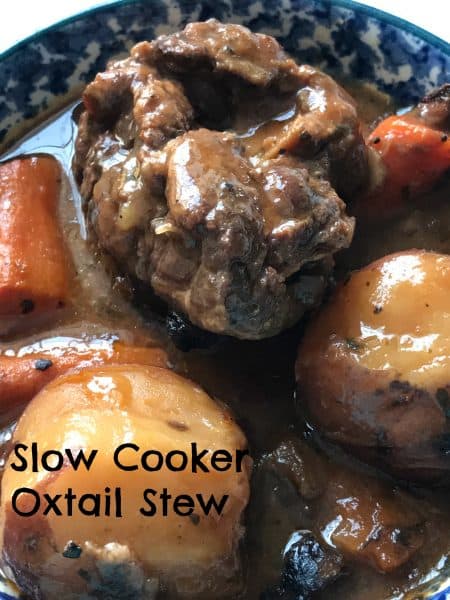 What are Oxtails?
The oxtail was once really from an ox but nowadays the term generally refers to a beef or veal tail. Though its quite bony, this cut of meat is very flavorful. Because it can be extremely tough, depending on the age of the animal, oxtail requires long, slow braising. It's often used in stews or soups. A hearty English classic oxtail soup, includes vegetables, barley and herbs and can be flavored with sherry or Madeira.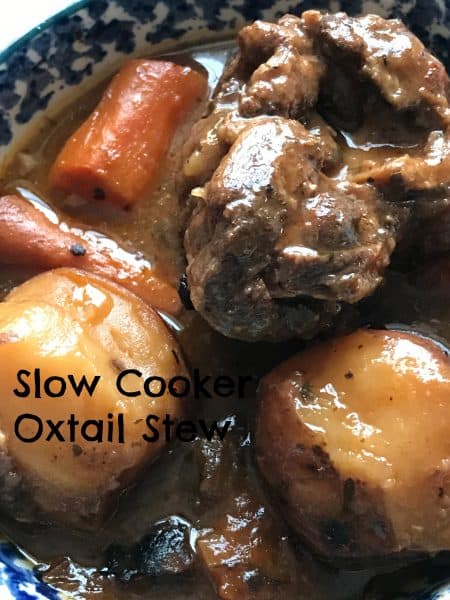 Changing Times
Oxtail was once considered a very cheap cut of meat and was often either discarded or sold for literally pennies. It was considered as peasant food or as a very inexpensive cut of meat. Today on the other hand, oxtail has really come into its own. Now considered as a delicacy, the price of oxtail has sky-rocketed and is now considered a specialty cut of meat. People can't resist the detectable, creamy white, bone marrow.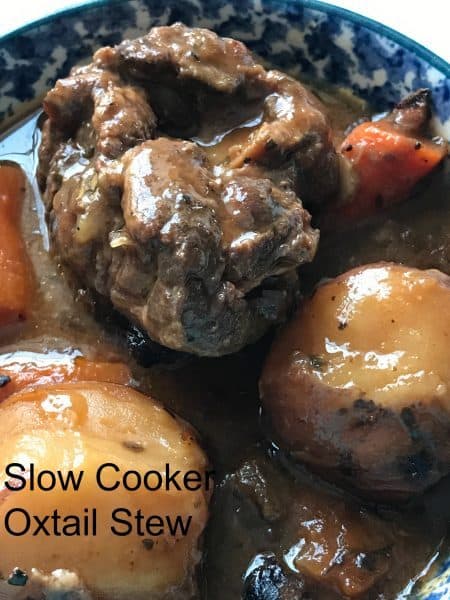 Kitchen Tip:
An often overlooked and by-passed meat, Oxtails need to make a comeback and spend some time in the spotlight. Once an inexpensive cut of meat, Oxtail has become expensive. Wait until they go on sale and stock up. Be sure to serve this delicious stew with thick slices of buttered bread.
Looking for More?
Looking for more slow cooker recipes? Well you will find quite a few slow cooker recipes here on Turnips 2 Tangerines. One of our favorites is fast, easy and delicious. Slow Cooker Caramelized Onions and Slow Cooker White Beans with Smoked Ham Hocks.
Slow Cooker Oxtail Stew
Author:
Prep time:
Cook time:
Total time:
A delicious and flavorful stew made with beef oxtail. An often by passed meat that needs to make a comeback and spend some time in the spotlight.
Ingredients
4 lbs oxtail pieces
2 tablespoons plain flour
2 tablespoons olive oil
8 slices thick-cut bacon, diced
8 small red potatoes, cut in half
1 large onion, coarsely chopped
2 sticks celery, coarsely chopped
4 medium carrots, coarsely chopped
8 oz button mushrooms, halved
1/2 cup red wine
1 1/2 cups beef stock
1 bay leaf
2 sprigs fresh thyme
1 tablespoon tomato paste
2 tablespoons coarsely chopped fresh flat-leaf parsley, optional
Instructions
Season oxtail. Coat pieces in flour, shaking off excess.
Heat oil in a large skillet over medium-high heat. Cook oxtail for 3 minutes on each side or until browned. Transfer to a 5 quart slow-cooker. Add bacon to same skillet and cook, stirring constantly for 5 minutes or until crisp. Add to oxtail.
Add vegetables, wine, stock, bay leaf, thyme and tomato paste to slow-cooker. Cover with lid. Turn slow-cooker on low. Cook for 8 hours or until oxtail is tender. Stir in parsley just before serving.