Sesame Ginger Pork Chops
We may earn money or products from the companies mentioned in this post.
Sesame Ginger Pork Chops
Serve Sesame Ginger Pork Chops with Blue Cheese Jasmine Rice and Steamed Lemon Broccoli for dinner tonight and you'll have a delicious meal everyone will flip over. Adding a few fortune cookies for dessert will give this meal a whimsical touch. Plus, who doesn't like fortune cookies! Fortune cookies can be purchased at most if not all Oriental markets and in most SuperCenter stores in the Asian food aisle.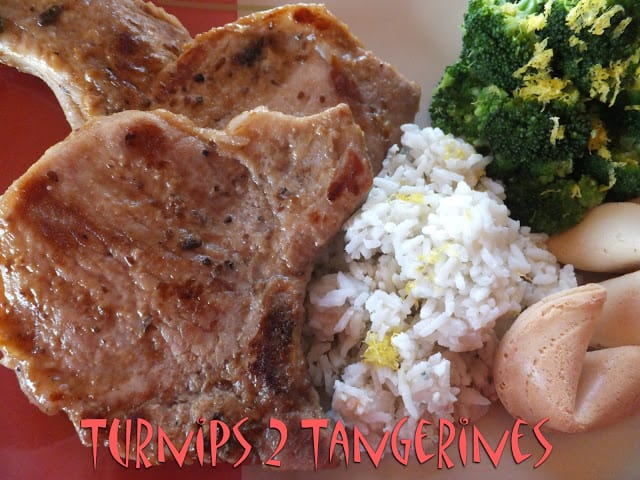 Fast and Easy
Sesame Ginger Pork Chops are made with a bottled sesame ginger marinade. Feel free to make your own marinade if you don't care for bottled marinades. With so many new and delicious marinades on the grocery store shelves, we prefer to purchase the bottled variety. The brand we used for this recipe is from World Harbour Sauces and Marinades .  This is a fast, easy and delicious meal, one I make over and over.
A Word About Rice
This ancient and vegetable grain has been cultivated since at least 5000 B.C., and archaeological explorations in China have uncovered sealed pots of rice that are almost 8,000 years old. (Information from The "New" Food Lover's Companion) Today, rice is a staple, for almost half the world's population, particularly in parts of China, India, Indonesia, Japan and Southeast Asia. The 7,000-plus varieties of rice are grown in one of two ways. Aquatic rice (paddy-grown) is cultivated in flooded fields. The lower-yielding, lower-quality hill grown rice can be grown on almost any tropical or subtropical terrain.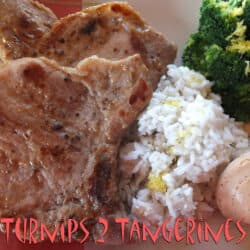 Sesame Ginger Pork Chops
A complete meal made easy. Don't forget the fortune cookies.
Ingredients
4 to 6

pork chops

1/2

of a 12 oz bottle

sesame ginger salad dressing/marinade or make your own

2

tablespoons

vegetable oil

1

cup

jasmine rice

2

cups

water, for rice

2

teaspoons

lemon zest, divided

1/4

cup

crumbled blue cheese

1

10 oz package

chopped broccoli

1

teaspoon

butter
Instructions
Divide pork chops between 2 large size resealable plastic bags. Pour dressing into each bag. Seal and refrigerate 2 to 4 hours. Heat oil in a large skillet. Brown pork chops on medium heat for 8 to 10 minutes. Turn and cook until pork chops are no longer pink inside. *The cooking time will vary depending on how thick your chops are*

Cook jasmine rice according to package directions. Fluff rice with fork. Gently stir in 1 teaspoon lemon zest and 1/4 cup blue cheese. Cook broccoli according to package directions. Add 1 teaspoon butter and remaining lemon zest. Stir.

Serve pork chops with rice and broccoli.
Pork Egg Rolls with Orange Sauce is a super delicious recipe we love to love.