Savory Herb Goat Cheese Scones
We may earn money or products from the companies mentioned in this post.
Savory Herb Goat Cheese Scones
If your looking for a scone recipe that is fast, easy, versatile and delicious, look no further. This recipe is the one your looking for. These scones are perfect warm from the oven or with a slice of ham and cheese sandwiched in the middle. Savory Herb Goat Cheese Scones are perfect served along side a bowl of your favorite soup stew or chili. Heck, these scones are great all by themselves. You can make these scones many different ways just by changing the cheese and herbs used.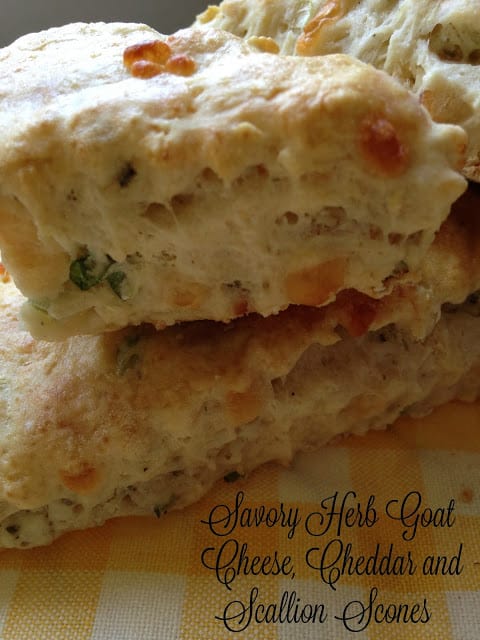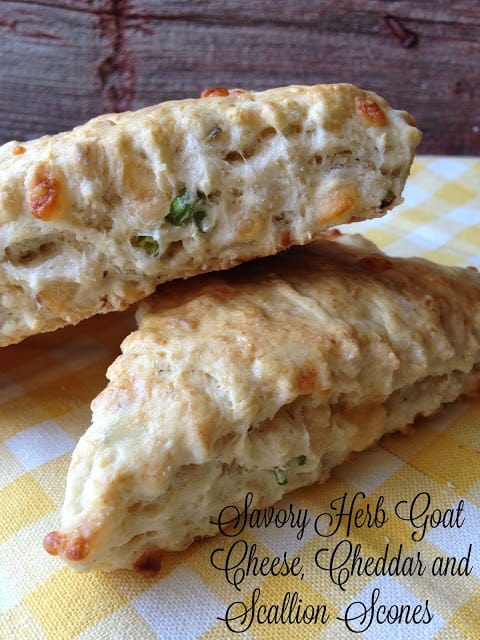 Scones
When I first starting making scones a few years back now already, was roughly around the same time I was bitten by the Pinterest bug. I searched high and low for scone recipes that looked good. Did I find the recipes!! The majority of the scone recipes I first made were on the sweeter side but as time went by  and the more scones I tried and therefore consumed, I started to really like savory scones as much as or not more than sweet. Don't get me wrong, sweet scones are super but there is nothing better than dunking a savory scone into a steamy bowl of soup:)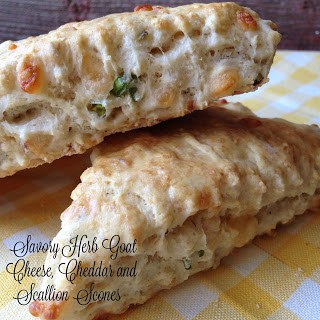 Recipe From:
This recipe is from the blog Farmgirl Fare. A fantastic blog I came across when I first started blogging almost 4 years ago. Check out Susan's blog and check out her mouth-watering recipes. This recipe is adapted from: Savory Cheese and Scallion Scones with Cream Cheese and Feta Savory Chive and Sharp Cheddar Scones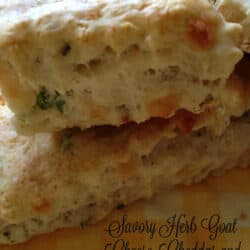 Savory Herb Goat Cheese, Cheddar and Scallion Scones
Delicious served with soup or with butter:)
Ingredients
2 1/2 to 3

cups

all-purpose flour

1

tablespoon

plus 2 teaspoons baking powder

1

teaspoon

salt

4

ounces

herb goat cheese, room temperature

4

ounces

shredded white cheddar cheese

4

scallions green and white parts, chopped

1

cup

whole milk or half and half

1

large

large egg

1

egg, for wash

2

tablespoons

milk or half and half, for wash
Instructions
Beat 1 egg and 2 tablespoons of milk (or half and half) well with a fork. Set aside.

Heat oven to 400 degrees.

Combine 2 1/2 cups of the flour, baking powder and salt in a large bowl. Add the cheeses and toss gently with a fork until combined. Add the scallions and toss gently with a fork until combined.

Beat the milk (or half and half) with the egg and gently fold it into the dry ingredients, mixing lightly until a soft dough forms. Add up to 1/2 cup additional flour, if the dough is too sticky.

On a floured surface, gently pat the dough into a circle approximately 1-inch thick (or into two smaller circles for 12 scones) The key to tender scones is to handle the dough as little as possible and with a light touch. Cut the circle(s)into 8 or 12 wedges and place them on a heavy duty baking sheet lined with parchment paper.

Brush the tops and sides of the scones with the egg wash. Bake for 20 to 25 minutes, or until golden brown. Cool on a wire rack. Serve warm or cool completely and refrigerate or freeze in a heavy zipper bag or airtight container.
We love scones here on Turnips 2 Tangerines and here is another favorite; Roasted Asparagus Scones