Frog Eye Salad
We may earn money or products from the companies mentioned in this post.
Frog Eye Salad
Frog Eye Salad is best described as a creamy, fruity, fruit salad made with pasta. I thought my grand-kids would like this salad when I told them the name..but it turned out we all loved this salad. I had never of Frog Eye Salad. I'm really not sure why? Maybe because it's not a Midwest "salad" I did some research and found out it may have originated in Utah. It's still very popular there. If anyone knows anything about Frog Eye Salad please leave us a comment below. We'd love to learn more about this scrumptious salad.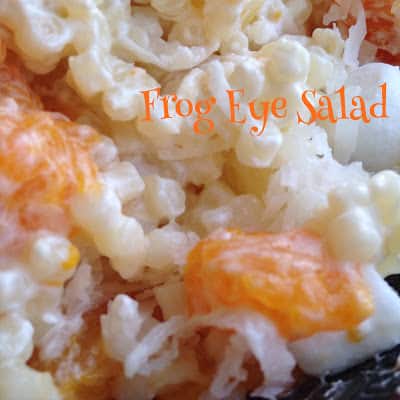 Ambrosia Salad
Frog Eye Salad is very similar to Ambrosia Salad. Ambrosia salad is a very popular southern-style salad, that is made with mini marshmallows, pineapple, mandarin oranges and coconut, then combined in a pudding/whipped cream mixture. Frog eye salad is made with cooked pasta, crushed pineapple, pineapple tidbits, mini marshmallows, mandarin oranges and a cooked filling. Mix it all together with whipped cream or a non-dairy whipped topping and you have delicious!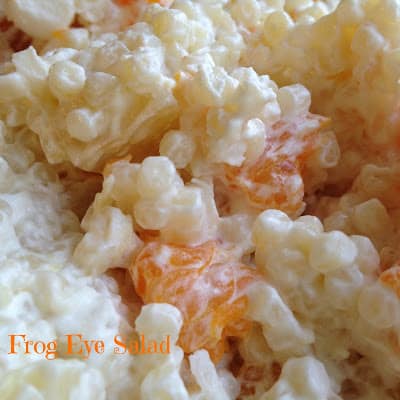 Frog Eye Salad?!?
Frog Eye Salad is named after the pasta used in the salad. The small little pasta called; Acini di Pepe. This pasta is said to look like little eyes, hence the name. I have also seen recipes for this salad using ring macaroni, instead of the Acini di Pepe pasta. I think the next time I make this salad I'm going to use both….more eye-like, I think:) This recipe makes a lot of lip-smacking, yummy salad. If your invited to a party tomorrow to celebrate Memorial Day or over the summer if your asked to bring a dish to pass, Frog Eye Salad is definitely a dish everyone will love.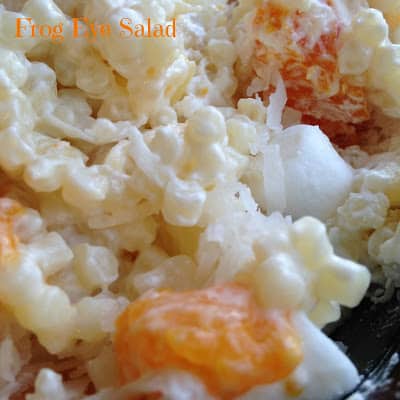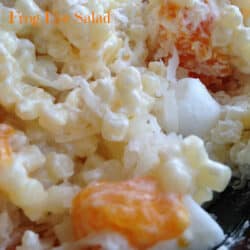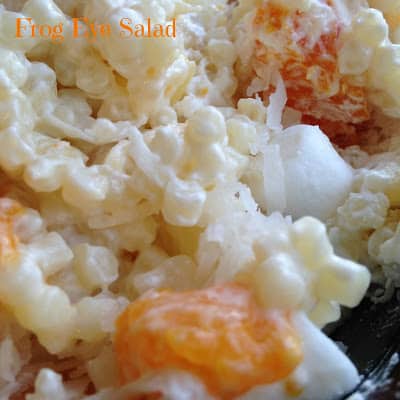 Frog Eye Salad
A delicious fruit salad, perfect for warm summer days.
Ingredients
1

cup

white sugar

2

tablespoons

flour

2 1/2

teaspoons

salt

1 3/4

cup

unsweetened pineapple *see note

2

eggs, beaten

1

tablespoon

lemon juice

3

quarts

water

1

tablespoon

oil

1 16

oz

package acini di pepe pasta

3 11

oz

cans mandarin oranges, drained

2 20

oz

cans pineapple tidbits, drained

1 20

oz

can crushed pineapple, drained

1 8

oz

tub non-dairy whipped topping

1

cup

mini marshmallows

1

cup

shredded coconut
Instructions
Note: Use drained pineapple juice and mandarin orange juice plus enough water to equal 1 3/4 cups.

In a saucepan, combine sugar, flour, 1/2 teaspoon salt, pineapple juice and eggs.

Stir and cook over medium heat until thickened. Remove from heat; add lemon juice and cool to room temperature.

Bring water to a boil. add oil, remaining salt and cook pasta until al dente. Rinse under cold water and drain.

In a large bowl, combine the pasta, egg mixture, mandarin oranges, pineapple and whipped topping.

Mix well and refrigerate overnight or until well chilled. Before serving, add marshmallows and coconut. Toss and serve.
Recipes On Tap: