Rustic Pear Cranberry Tart
We may earn money or products from the companies mentioned in this post.
Rustic Pear and Cranberry Tart
What could be easier than making a Rustic Pear and Cranberry Tart? Nothing is easier than making a rustic tart. It sounds mysterious and even complicated but trust me, a five year old could manage a rustic tart! Well alright, maybe not a five year old but with some adult help, it can be done. You will need to make a crust using flour, salt, crisco, and ice water. This basic recipe one can find on any container of crisco shortening.
Simply mix together the crust ingredients; flour, salt, crisco, ice water and form into a disk. Wrap in plastic wrap and refrigerate for about an hour. Are you still following me?? Good. Remove disk from the refrigerator. Roll out the dough to about a 12-inch circle on a well floured surface. Carefully transfer dough to a parchment paper lined baking sheet, preferably one with sides. We're almost done already!!
Remember this is a Rustic Tart
Now the hard part, open a quart jar of Pear Cranberry Pie Filling* and spoon the filling into the center of the crust, spreading the filling out slightly. Fold crust up and over the filling. The crust will not totally cover the pie filling. Remember, this is a rustic pie tart. It's not suppose to be perfect or look beautiful. It's meant to be made with the lest amount of work as possible. Brush crust with milk, sprinkle with sparkling sugar and bake.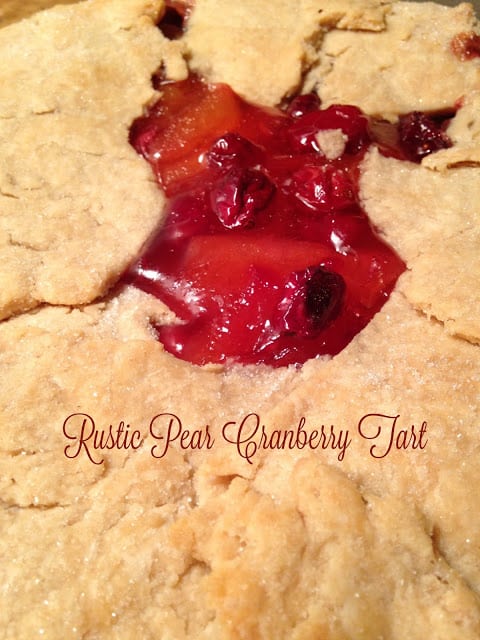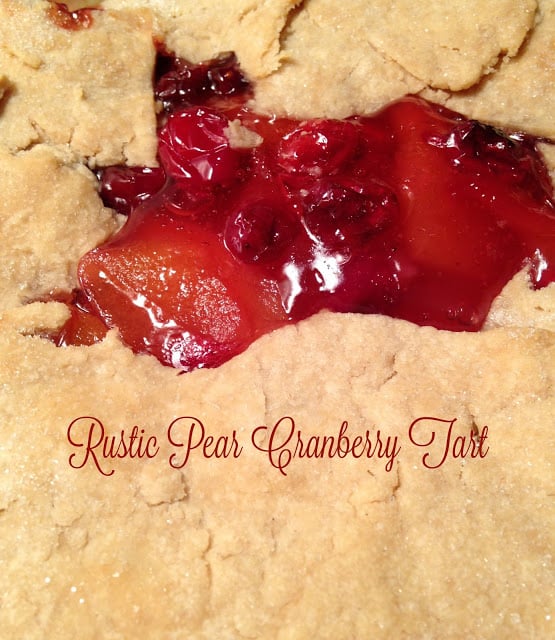 Pie Filling
When making this recipe for rustic tart, feel free to use any homemade pie filling you have on hand. If you don't have homemade pie filling, don't fret! You can still make a rustic tart. Simply use your favorite canned pie filling, apple, cherry, blueberry or even lemon. I would suggest that you use 1 1/2 cans to 2 cans pie filling. This depends on your own personal preference. Rustic tarts are best served warm with ice cream.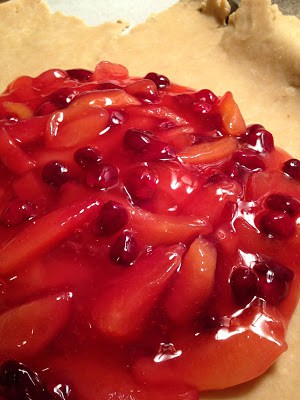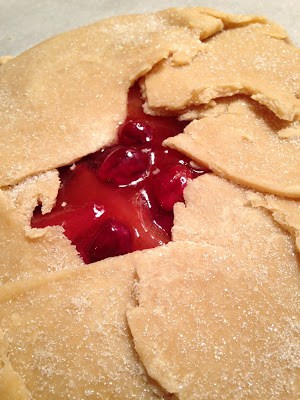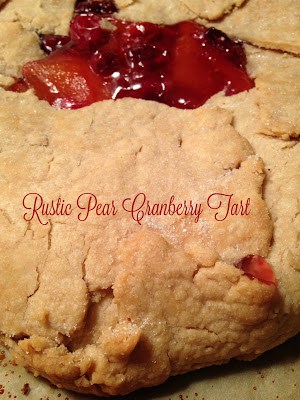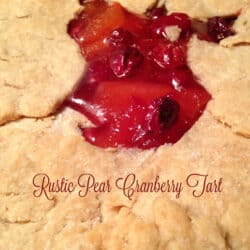 Rustic Pear Cranberry Tart
A rustic and delicious pie made with a pear and cranberry pie filling.
Ingredients
1

quart

pear and cranberry pie filling

2

tablespoons

sugar

2

cups

sifted all-purpose flour

1

teaspoon

salt

3/4

cup

well chilled shortening

4 to 8

tablespoons

cold

,

ice water

2

tablespoons

milk and 2 tablespoons sugar

,

garnish
Instructions
Combine flour and salt in medium bowl.

Cut in shortening using a pastry blender until all flour is blended to form pea-sized pieces.

Sprinkle with cold (ice) water, 1 tablespoon at a time. Toss lightly with a fork until dough forms a ball.

Form dough into a small circle. Wrap in plastic wrap. Refrigerate for 30 minutes or up to 1 hour.

Roll dough into a rustic 12-inch circle, adding more flour as needed to prevent sticking.

Carefully transfer the crust to a baking sheet (preferably one without sides) lined with parchment paper.

Spoon pear cranberry pie filling into center of crust, spreading it out slightly.

Fold crust up and over pie filling, crust will not completely cover pie filling.

Using pastry brush, brush milk over crust. Sprinkle 2 tablespoons sugar over crust.

Bake at 375° for 40 to 45 minutes or until crust is golden brown and pie filling is bubbly.

Remove from oven and cool on baking sheet for 10 minutes.

Serve warm with whipped cream or vanilla ice cream.
*Recipe: Pear Cranberry Pie Filling