Rumaki-A Strange Sounding Appetizer
We may earn money or products from the companies mentioned in this post.
Rumaki-A Strange Sounding Appetizer
Each year for Thanksgiving I like to try a 'new to us' appetizer. This year was no exception. Rumaki certainly fills the bill for 'new to us' appetizer. I will be perfectly honest, I am not totally sure how much I will like these, not being a huge fan of liver and all. But..I am going to give these a try.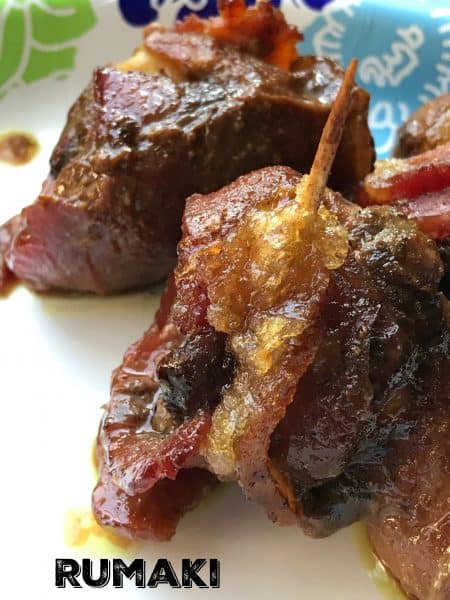 Rumaki
Rumaki is a strange name for an appetizer with an equally strange list of ingredients. Making this strange sounding appetizer a real curiosity. I have wanted to try this funny sounding appetizer for some time now. I decided to make Rumaki for an appetizer on Thanksgiving. Why? I knew my hubby would love these and most likely would end up eating them all….which he did!  Like I said, I am not a fan of liver. I like liver páte, when it's ice cold but that's about it. Now my hubby on the other hand loves liver, therefore he absolutely loved Rumaki. He even asked me when I was going to make them again, so rest assured liver lovers out there, you will definitely love Rumaki too.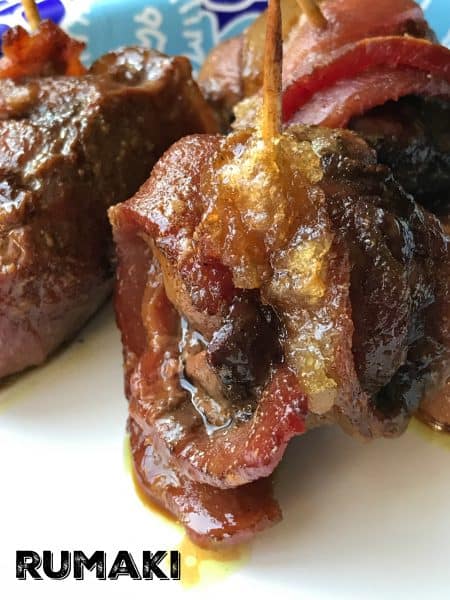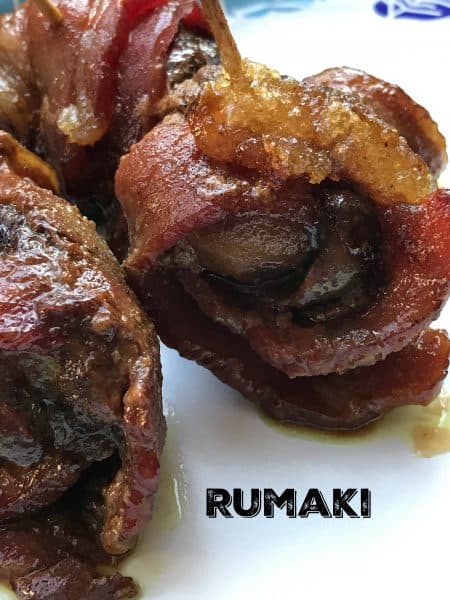 Rumaki Update
When I originally wrote this post, about a week ago, I had every intention of making and eating rumaki. I really thought I could…It didn't bother me when I was making these, wrapping the liver around the water chestnut, then wrapping them in bacon and securing them with a toothpick. I mixed together the sauce ingredients, poured the sauce over the rumaki, sprinkled brown sugar over the top and refrigerated the rumaki overnight. The next day I baked them in the oven at 350 degrees for 45 minutes. They smelled wonderful while baking but when I took them out of the oven and was going to try one, I just couldn't get over the liver part. Sorry:(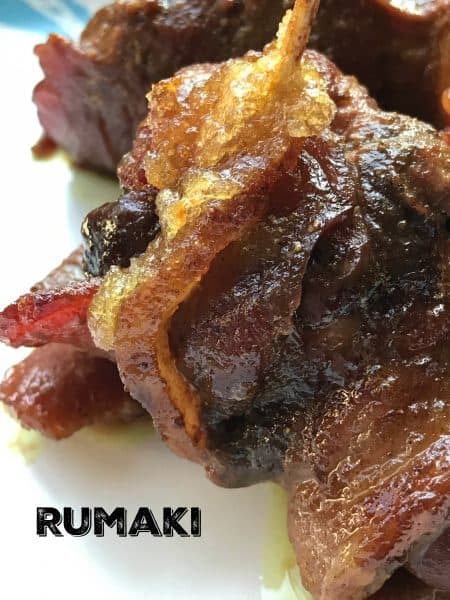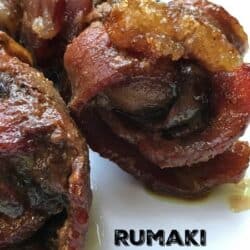 Rumaki
A strange sounding appetizer with a delicious taste.
Ingredients
30

chicken livers

15

slices

thick bacon, cut in half

1

8 oz can

whole water chestnuts, drained

2/3

cup

low sodium soy sauce

1

teaspoon

ground ginger

1

teaspoon

curry powder

8

tablespoons

melted butter

salt and pepper, to taste

1/3

cup

brown sugar
Instructions
Cut each chicken liver in half if necessary; wrap a chicken liver around a water chestnut. Wrap a slice of bacon around the chicken liver/water chestnut, secure with a toothpick. Sprinkle with salt and pepper.

Combine soy sauce, melted butter, ginger and curry powder in a 3-quart glass baking dish. Add the chicken livers; turn to coat, sprinkle brown sugar over bacon/chicken livers, marinade overnight. Remove from bacon/chicken livers from marinade and place on a baking sheet. Sprinkle again with salt and pepper. Bake at 350 degrees for 45 minutes or until bacon is crisp and livers are no longer pink inside.

Makes 30 appetizers
Looking for another unusual but delicious appetizer? Try Pickled Turkey Gizzards