Rich and Buttery Caramels
We may earn money or products from the companies mentioned in this post.
Rich and Buttery Caramels
Rich and Buttery Caramels is a recipe from Taste of Home. This year, we will be sharing many holiday recipes with you. Some of the recipes are from Taste of Home, while others are from friends. Some recipes are traditional family favorites. Recipes that my family makes each and every Christmas. We hope you enjoy all the recipes we share in this month. Happy Baking and Candy Making!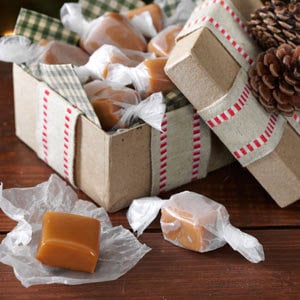 Nice and Easy
My hubby is super crazy about caramels. He loves anything and everything caramel. When I told him I was going to make homemade caramels for Christmas, I seriously thought he was going to cry. This was my first time making caramels, so I wasn't totally sure what to expect. This recipe was a wonderful first time recipe. Fast and easy plus the recipe only makes an 8 x 8-inch pan. The perfect size, just in case it didn't turn out!
UP NEXT: Cherry Oatmeal Jumbo Muffins

Taste of Home
This recipe comes to your from Taste of Home I've been a huge Taste of Home fan since they first appeared in the grocery store checkout aisle, some 20+ years ago. I have ALL of the Taste of Home Annual Recipe cookbooks, Quick Cooking Annuals, Light and Tasty Annuals and many more. I'm often asked if I still look at and use my cookbooks? The answer to that question is a big, Yes! Taste of Home is located in Glendale WI.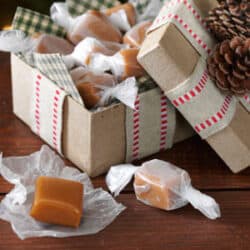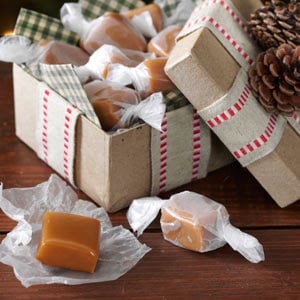 Rich and Buttery Caramels
A few ingredients is all that is needed to make these rich and buttery caramels.
Ingredients
2

sticks

butter

2

cups

sugar

1

cup

light corn syrup

1

can

sweetened condensed milk

1

teaspoon

vanilla extract
Instructions
Melt butter in a 2-quart pan.

Add rest of ingredients, stirring constantly,

cook until candy thermometer reads 240 degrees.

Remove from heat, pour into a lightly buttered 8 x 8 square pan.

Cool, then cut into bite-size squares.

Wrap individually in waxed paper.
Recipe and picture credit: Taste of Home Eagle Brand Sweetened Condensed Milk was used in this recipe.
Here is another great Holiday Recipe: Sugar Cookies with Marshmallow Fluff Frosting