Rhubarb Ginger Yogurt Pops
We may earn money or products from the companies mentioned in this post.
Rhubarb Ginger Yogurt Pops
This recipe for Rhubarb Ginger Yogurt Pops is made with  Rhubarb Ginger Sauce  recipe that was posted on Tuesday. It's made similar to the recipe for Strawberry Yogurt Pops that I posted on Monday but with a few minor tweaks. Let's just say that this recipe is a combination of both recipes and call it a day!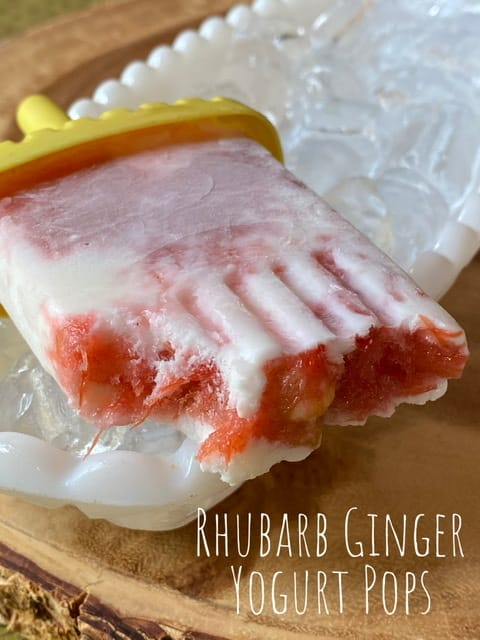 Cool and Refreshing 
There is nothing better than an icy, cold treat on a hot summer day. I've been on a popsicle roll here lately and this recipe is one of many. Another plus when it comes to making homemade pops, is of course sampling them. So far, out of all six recipes they've all passed with flying colors. Here on Turnips 2 Tangerines we like to use ice pop molds by Tovolo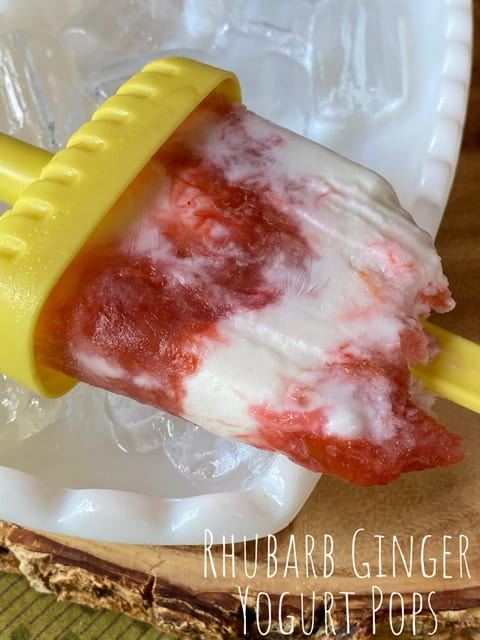 Rhubarb Facts
The thick, celerylike stalks of this buckwheat-family member can reach up to 2 feet long. The stalks are the only edible portion of the plant. The large green leaves contain oxalic acid and can therefore be toxic. Though rhubarb is generally eaten as a fruit, it's botanically a vegetable. Because of its intense tartness, rhubarb is usually combined with a considerable amount of sugar. Rhubarb makes delicious sauces, jams and desserts. In many regions rhubarb is also known as 'pie plant' because of its popularity to be used in pies. In the United States, rhubarb is often paired with strawberries.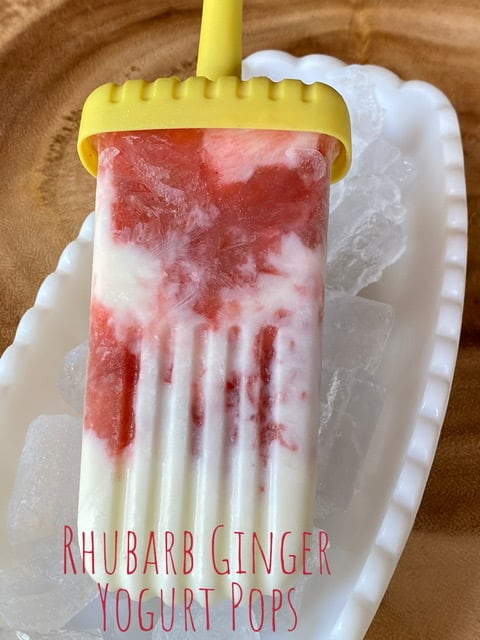 Rhubarb Ginger Yogurt Pops are made with our favorite candied fruit, provided to us by Paradise Fruit Co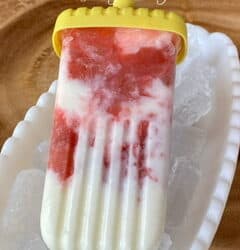 Rhubarb Ginger Yogurt Pops
Ingredients
6

cups

rhubarb, cubed

1 1/2

cups

sugar

1/4

cup

crystallized ginger, diced

1/2

cup

water

2

cups

Greek yogurt, plain

1-2

tablespoons

honey
Instructions
Make Rhubarb Sauce: In a large saucepan mix together rhubarb, sugar, crystallized ginger and water.

Heat over medium heat until mixture starts to boil. Turn the heat to medium low and simmer until rhubarb breaks down and most of the liquid has evaporated. *Adjust sugar and ginger per taste.* Set rhubarb sauce aside to cool.

In a small bowl, stir together the Greek yogurt and honey until blended.

Spoon 1 to 2 tablespoons yogurt into bottom of each mold. Top with 1 to 2 tablespoons of rhubarb mixture. Repeat layers until all molds are full, tapping molds lightly on counter to remove any air pockets. Top molds with holders. Freeze until firm.
Notes
Thank-you to the reader who pointed out the fact that I forgot the yogurt and honey in the initial recipe:)
More Delicious Recipes
Here on Turnips 2 Tangerines we like to use Tovolo Ice Pop Molds.