Plum Kuchen Coffee Cake
We may earn money or products from the companies mentioned in this post.
Plum Kuchen Coffee Cake
Plum Kuchen Coffee Cake is a very delicious fruit kuchen. Kuchen is German for cake, more commonly thought of as a breakfast cake, or coffee cake.  In Germany, kaffee and kuchen is as common for breakfast as bacon and eggs are here in the United States. The kuchen seen most often in Germany is one heavily topped with various fresh fruits. Some of the best coffee in the world are found in Germany and Italy, too.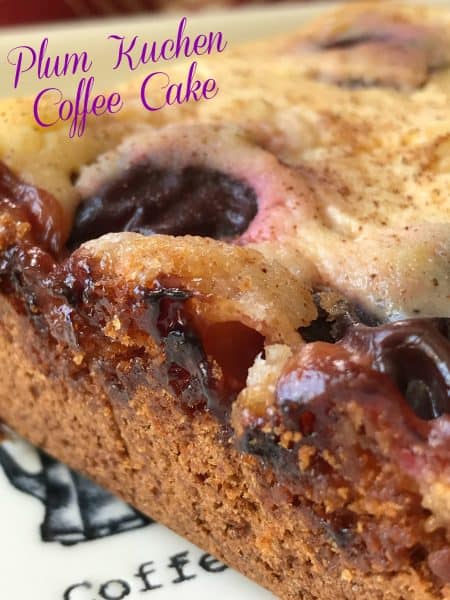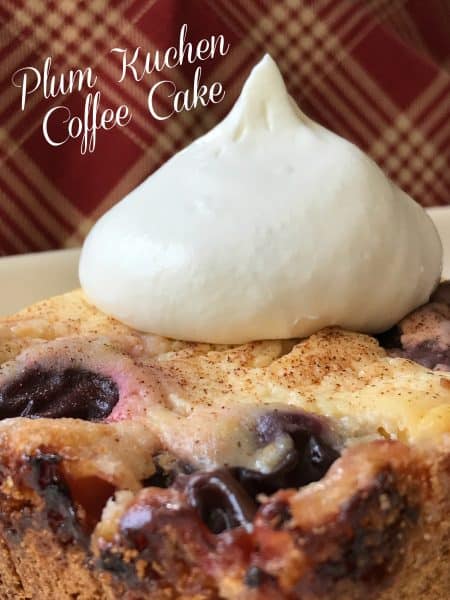 German Immigrants
The German immigrants that came and settled in America, brought their kuchen recipes with them. The typical German kuchen or fruit kuchen have been somewhat replaced here with the popular streusel topped, quick-bread type coffee cakes with powdered sugar icing. Don't get me wrong, I love streusel topped coffee cakes as much as the next guy, but the "true" German fruit kuchen has been put on the back burner, so to speak, and needs to make a comeback.
Yeast based kuchen is a sweetbread, making it my favorite kuchen. A sweetbread kuchen is rich and sweet. It will bring out the best of the fresh fruits topping it. With that being said, some will think this recipe shouldn't be called a kuchen at all, since I have (mistakenly) made this kuchen with Bisquick. Shame on me, but not surprisingly though, this kuchen is delicious. Which means kuchen is very adaptable as well as delicious.
Few Things to Remember
Keep in mind that the kuchen or cake is not the star of the kuchen. Make sure your kuchen dough is about 3/4 of an inch to an inch thick, this will give you the perfect thickness to your baked kuchen. Lay the fruit on top of your kuchen dough thickly. Fill every open space with fruit until you can't see any dough showing, then you'll know you have enough fruit. You can use any combination of spices you like and any fruit or combination of fruits as well.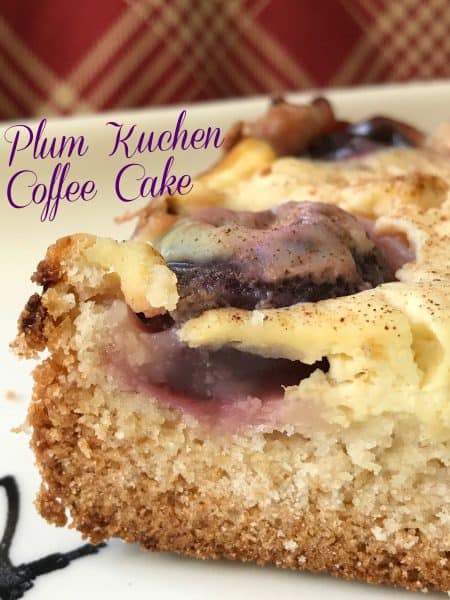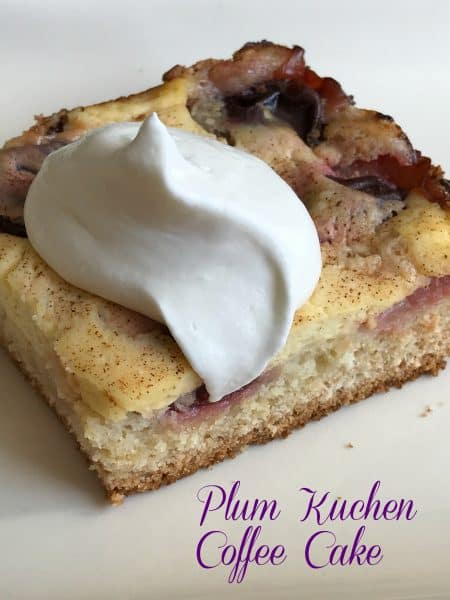 Very Adaptable 
I love the adaptability of kuchen. Most kuchen recipes are relatively plain but all kuchens will bring out the best of the fruit you choose to use. The right size pan for making kuchen is important too. It's better to have too much pan than not enough! So take care in choosing your pan, and make sure it has sides high enough to guard against overflow. No need to set the smoke alarms off!
Serve with Coffee
In true Wisconsin spirit, "the coffee pot is always on." But don't serve your coffee alone when the delicious smell of this kaffee kuchen can fill the house almost magically with the sweet smells of plum kuchen. Another breakfast favorite and perfect with a cup of coffee Cinnamon Rolls with Cream Cheese Icing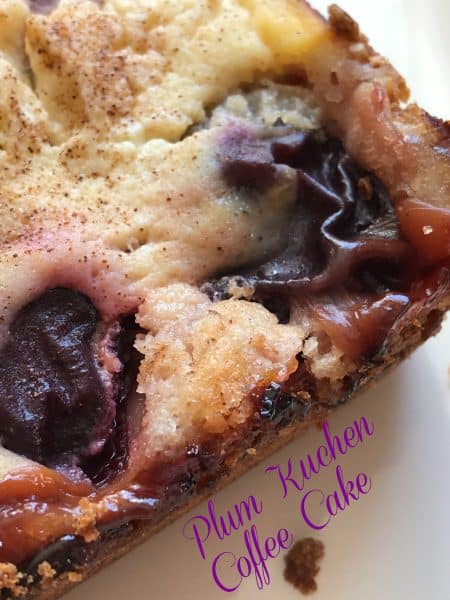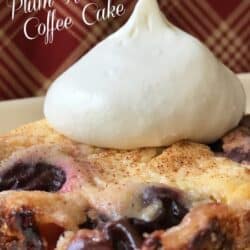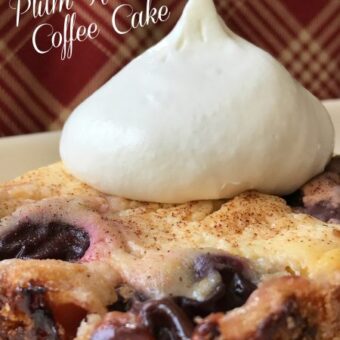 Plum Kuchen Coffee Cake
Easy, yet so delicious. This recipe is made easy using Bisquick.
Ingredients
1/2

cup

sugar

1/3

cup

butter, softened

1

egg

2

cups

Original Bisquick Mix

1/2

cup

sour cream

1

egg

1

teaspoon

lemon zest

1/4

teaspon

vanilla extract

25

small

plum halves

1/4

cup

sugar

1/4

teaspoon

ground cinnamn
Instructions
Heat oven to 350º F. Grease bottom and up sides of a 9-inch square baking pan with butter.

In medium bowl, beat 1/2 cup sugar, butter and egg with electric mixer on low speed about 30 seconds or until smooth. Beat in Bisquick. Spread or pat over bottom and 1 inch up sides of pan.

In small bowl, beat sour cream, egg, lemon zest and vanilla extract until smooth. Completely cover the top of the batter with plum halves. (layer plum halves if necessary, remember more fruit is better than less) Spread sour cream mixture over plum halves. Mix 1/4 cup sugar and the cinnamon; sprinkle over the top.

Bake 50o60 minutes or until center is set and crust is deep golden brown. Cool 10 minutes; remove side of pan. Serve warm.
Notes
Recipe Note: Serve with whipped cream or ice cream if desired.
Try this recipe for Bavarian Apple Torte