Peking Duck Culinary Adventures China
We may earn money or products from the companies mentioned in this post.
Peking Duck Culinary Adventures China
Recipes Inspired From Around the World. Today we are taking an adventure to China. Peking Duck Culinary Adventures China. Peking Roast Duck is China's National Food. It can be found everywhere but the recipes are basically the same, with minor variations. Serve Peking Duck with Plum Sauce and glasses of Baijiu.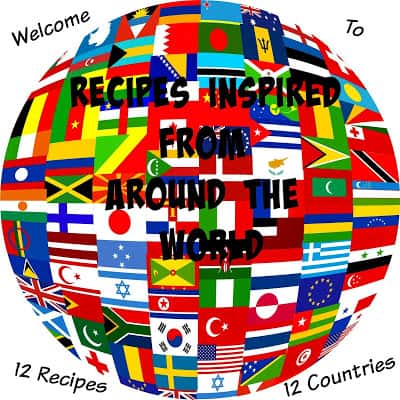 Roast Duck
Peking Roast Duck, is a well-known duck dish in Beijing, that has been considered one of the most delicious dishes all over the world. This dish originated in the Yuan Dynasty and now has become the cultural symbol of traditional Chinese food. Most people visiting Beijing will not miss out on the chance to try Peking Roast Duck.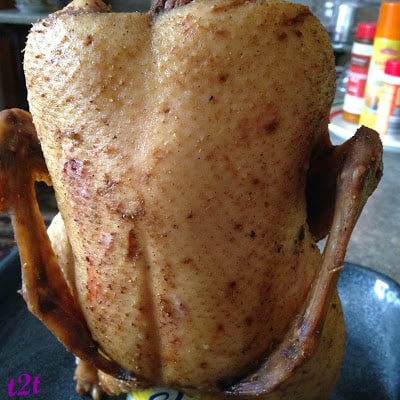 Skin Should Crunch
When properly prepared, the deeply flavored skin should crackle and crunch, the meat should be moist, tender and flavorful. Wrapped in ultra thin mandarin-style pancakes and served with scallions, cucumber and a smear of hoisin or plum sauce, is the traditional way to serve and enjoy Peking Duck.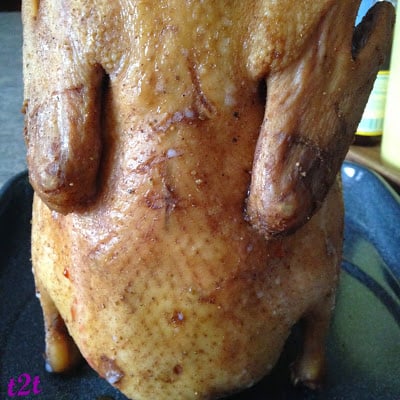 Brief History of Peking Duck
The history of the roast duck can be traced back to as early as the Yuan Dynasty, when it was listed among the Imperial dishes during the Qianlong period of the Qing Dynasty. Roast Duck was a favorite delicacy of the upper-classes.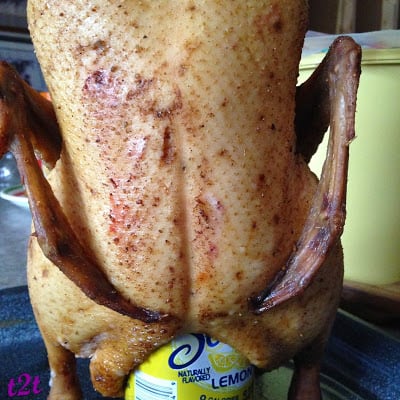 Preparation and Cooking Procedure
The cooking procedure of roast duck has several steps and is somewhat complicated, the reason most people prefer to order Peking duck when eating at a Chinese Restaurant. In my research to learn more about Peking Duck and in my quest to find a recipe, I found many different recipes, with many different steps. Find a recipe your comfortable with and follow the steps called for in that particular recipe.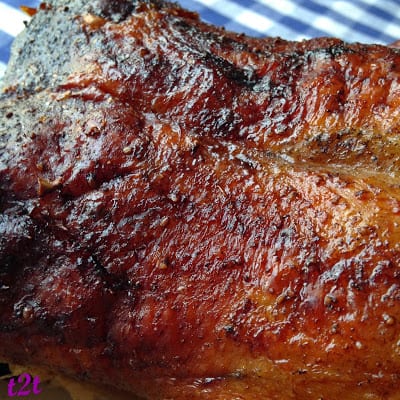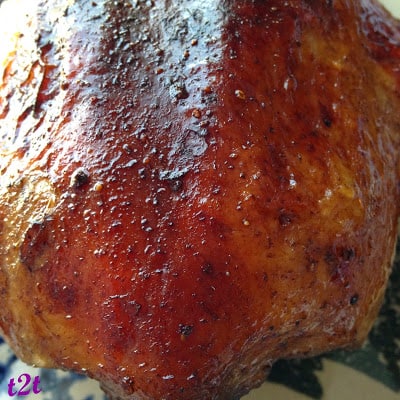 Chinese Five Spice Powder
This recipe has several steps to follow but each step is necessary to achieve the best Peking duck possible. This recipe calls for one tablespoon of Chinese five spice powder. Five spice powder is used extensively in Chinese cooking. This pungent mixture of five ground spiced usually consists of equal parts of cinnamon, cloves, fennel seed, star anise, and Szechuan peppercorns. Pre-packaged five spice powder is available in Asian food markets and most supermarkets. If you use five spice powder often you might want to make your own.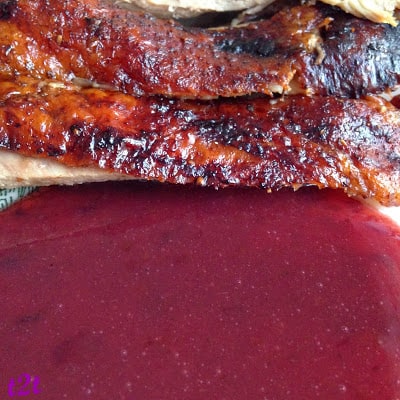 Plum Sauce
Ingredients
1 cup




firmly packed brown sugar

2 tablespoons




cornstarch

2 tablespoons




dry mustard

1/4 teaspoon




ground cloves

1 (30 oz) can




purple plums in heavy syrup drained, pitted, reserving 1 cup plum juice

2/3 cup




pomegranate/plum juice
Cooking Directions
In a medium saucepan, combine brown sugar, cornstarch, dry mustard and ground cloves. Stir in reserved plum liquid and pomegranate plum juice until smooth. Cook over medium-high heat until mixture boils and thickens, stirring constantly. Add whole, pitted plums. Cook mixture until it comes back to a boil, boil 2 minutes, stirring constantly. Remove from heat and set aside to cool. When mixture has cooled, using an immersion blender, blend mixture well.
Store in the refrigerator, tightly covered, up to one week.
Serve with Peking duck or as a dipping sauce for egg rolls.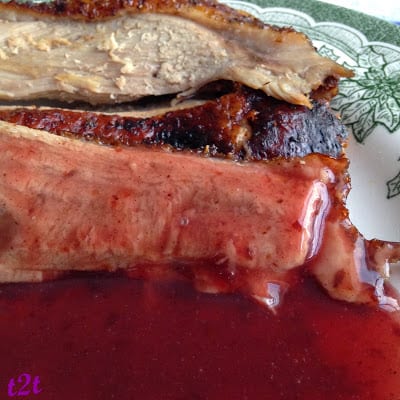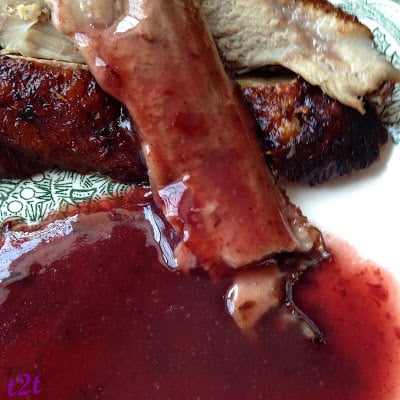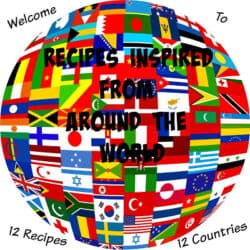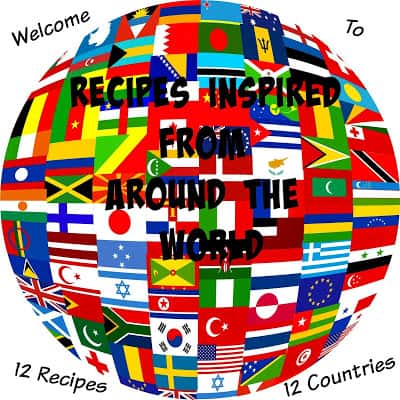 Peking Duck
Culinary Adventure: Recipes From Around the World
China Peking Duck
Ingredients
1

Peking Duck

boiling water

1/4

cup

sugar

1/4

cup

salt

1

tablespoon

five-spice powder

1

cup

molasses

2

cups

hot oil, optional
Instructions
Carefully add whole duck to a large pot of boiling water. Remove as soon as the skin changes color, 5 to 8 minutes. Sprinkle the inside of the duck with sugar, salt and 5-spice powder. Rub the skin of the duck with molasses.

Truss the duck with string and hang in an airing place for 2 hours or fill an empty can (pop or beer can) half way full with water. Set can in a 13 x 9 cake pan, or other baking pan with sides. Position duck on top of can, place pan and duck in the refrigerate overnight. Do not cover the duck. This method will dry out the skin of the duck and allow the skin to become crisp. Drain any juices that accumulate in the pan.

Preheat oven to 350º Remove duck and pan from refrigerator.

Drain any juices that have accumulated in the bottom of the pan, carefully remove can from the duck, discard can, place a clean can, half full of water, in a baking pan with sides, position duck on top of can, place pan and duck in oven.

Bake for 1 hour and 30 minutes and/or until the skin is dark reddish brown. Remove from oven. To increase crispiness, before serving, pour hot oil over duck, optional.

Thinly slice the skin and meat from the duck. Serve wrapped in mandarin-style pancakes with scallions, cucumber and plum sauce.
For this recipe we used Five Spice Powder from Mc Cormick.
Recipes On Tap
Shrimp Egg Tolls with Sweet Sour Sauce and Chop Suey American Style.