Classic Italian Lasagna
We may earn money or products from the companies mentioned in this post.
Classic Italian Lasagna
Everyone loves lasagna. It's the Ultimate in comfort food. Classic Italian lasagna is made with a thick meat sauce, layers of mozzarella, Parmesan and ricotta cheese, separated with wide lasagna noodles. Serve slices of classic lasagna with a side salad, garlic bread and glasses of Chianti for an authentic Italian meal. Bellissimo!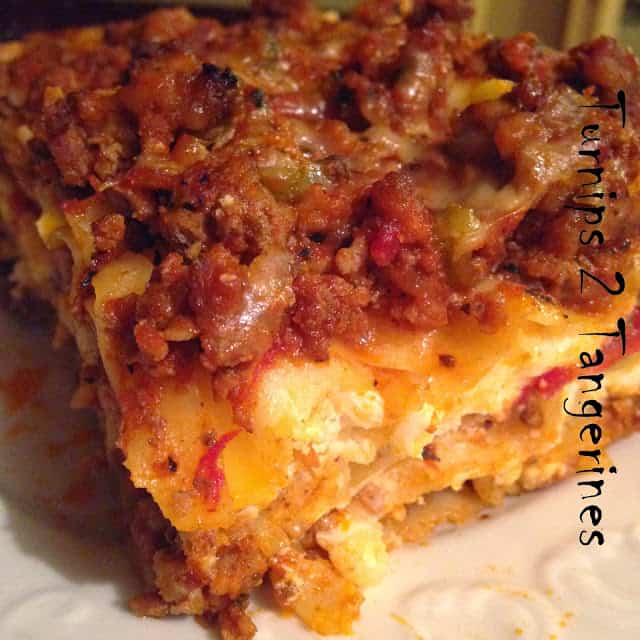 Many, Many Years
I have been making lasagna ever since I was in high school. The recipe had changed somewhat over the years but the "base" has stayed the same. Classic Italian lasagna is from an Italian cookbook that I checked out of my high school library and never returned. That was back in 1976, so I'm not too worried about it anymore. I don't think they'll come looking for me anytime soon but if they do I still have the cookbook!
First Time
The first time I made this recipe (per the borrowed cookbook directions) classic Italian lasagna, it was 1976, we had recently graduated from high-school, and we had our whole lives ahead of us. If only we had a crystal ball that night, to look into our futures. The mistakes and decisions we made would have been different, I'm sure of that! From that night on, and over the course of 45 years, our lives would be intertwined.
Romantic Dinner
This intimate dinner for four was to consist of Classic Italian Lasagna, garlic bread and Chianti. Lots of Chianti. The dinner was made for my future hubby, his brother, my future brother-in-law and his then girl-friend, soon to be his first wife. This is beginning to sound like a soap opera:) Jim, Ray, Sue and me we're at the "guys" apartment for our romantic dinner. When you're young and inexperienced in the "wine" drinking department, you don't realize that wine should be sipped, not guzzled:)
Pass Out
Well, as the night progressed, the wine continued to flow, the garlic bread had been consumed and the music got a little bit louder. The big moment had finally arrived, the lasagna in all its delicious glory was ready to be served! The only problem was, the moment of wanting to eat had come and gone. Someone had the bright idea to get out the "pass out" game and the kitchen table was now set up for a night of 'fun' (Pass Out was a popular Drinking game from the early 60's that was making a short lived come back in the late 70's
Aspirin Please
Needless to say, the night continued, the music got louder and the full pan of lasagna was put in the refrigerator. In the wee hours of the morning, I could hear the guys rummaging around in the kitchen, no doubt eating platefuls of cold lasagna. (This was BM, before microwave ovens) All I wanted was an aspirin, an ice cold diet coke and a dark, quiet room.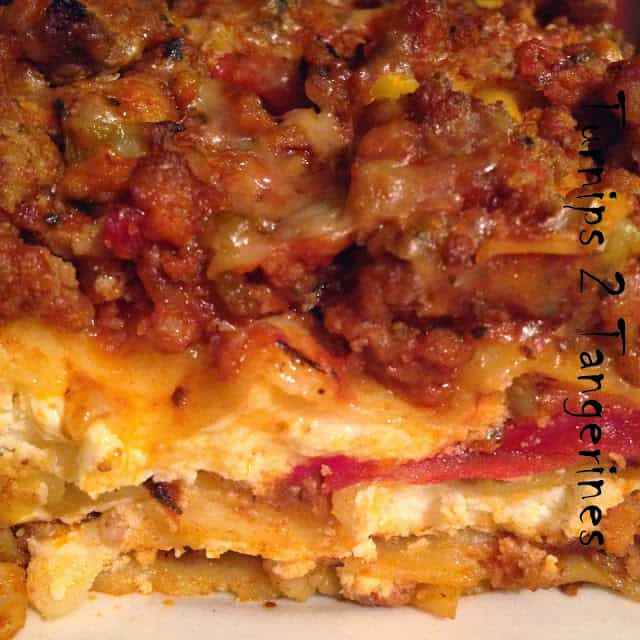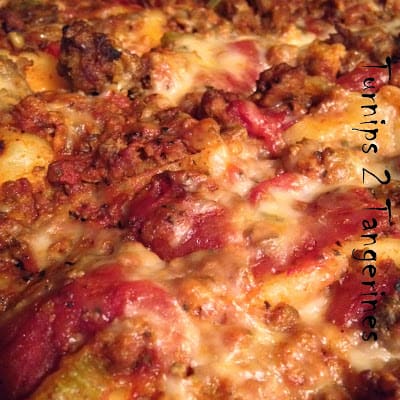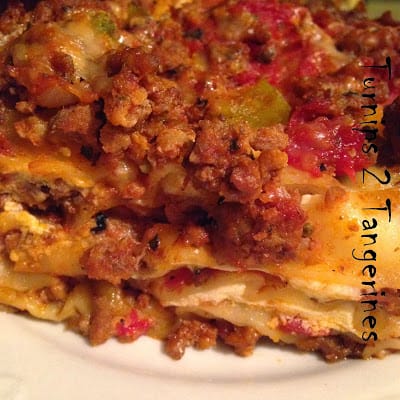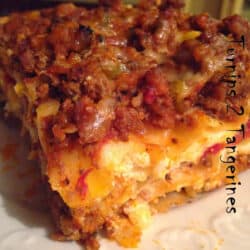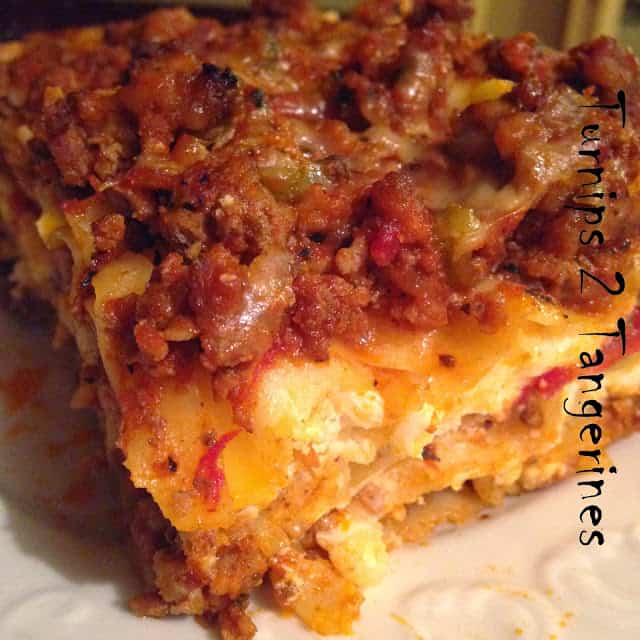 Classic Italian Lasagna
Serve with a tossed green salad and a loaf of garlic bread.
Ingredients
12 to 16

lasagna noodles, no boil type

1/2

pound

ground beef

1/2

pound

ground pork

2

cloves

garlic, minced

1

shallot, minced

2

stalks celery, diced

1

carrot, peeled and diced

1

32 oz jar

tomato basil spaghetti sauce or sauce of your choice

1

28 oz can

diced tomatoes

1

6 oz can

tomato paste

1

6 oz can

red wine or water

1

teaspoon

oregano

1

teaspoon

dried basil

1

tablespoon

sugar

1/4

teaspoon

each salt and pepper

1

10 oz package

frozen chopped spinach thawed and squeezed dry

1

32 oz container

ricotta cheese

1

egg, beaten

1

teaspoon

Italian seasoning

1

teaspoon

dried parsley

8

ounces

shredded mozzarella cheese, divided

1

cup

Parmesan cheese, divided

,

divided

8

ounces

shredded cheddar cheese
Instructions
Preheat oven to 375 degrees.

In a large skillet, over medium heat, brown ground beef and pork, drain off fat. Add garlic, shallots, celery and carrot. Stir and cook 5 minutes. Remove from heat. Set aside.

In a dutch oven add spaghetti sauce, diced tomatoes, tomato paste, wine or water, oregano, basil, sugar, salt and pepper. Stir well. Heat to boiling, reduce heat, cover and simmer 1 hour or longer, stirring occasionally.

In a large bowl combine spinach, ricotta cheese, egg, Italian seasoning, parsley, 4 oz mozzarella cheese and 1/2 cup Parmesan cheese.

Spread a thin layer of sauce, about 3/4 cup on the bottom of a 13 x 9 inch baking dish. Arrange 4 lasagna noodles over sauce. Spoon about 1-1/2 cups meat sauce over the noodles. Sprinkle meat sauce with Parmesan cheese. Drop spoonfuls of ricotta mixture over meat. Sprinkle mozzarella cheese and shredded cheddar cheese over all.

Repeat layers 2 or 3 more times ending with remaining meat sauce.

Sprinkle top with any remaining mozzarella cheese, cheddar cheese and Parmesan cheese

Cover pan with aluminum foil. Bake for 45 minutes.

Remove foil and bake 15 minutes longer or until heated through and lasagna is bubbly and cheese is melted. Let stand 10 minutes before serving.
Nutrition
Serving:
1
g
,
Calories:
401
kcal
,
Carbohydrates:
28
g
,
Protein:
24
g
,
Fat:
21
g
,
Saturated Fat:
11
g
,
Cholesterol:
81
mg
,
Sodium:
582
mg
,
Potassium:
462
mg
,
Fiber:
3
g
,
Sugar:
4
g
,
Vitamin A:
4242
IU
,
Vitamin C:
5
mg
,
Calcium:
390
mg
,
Iron:
2
mg
String Pie is more comfort food at its best. Most Italian dishes are in my opinion. For this recipe we used Barilla Lasagna Noodles.