Pear Cranberry Hand Pies
We may earn money or products from the companies mentioned in this post.
Pear Cranberry Hand Pies
Pear Cranberry hand pies are truly delicious. The buttery crust is the bomb, the pear cranberry filling is one of my absolute favorites and the powdered sugar glaze is literally the icing on the cake, or should I say, the hand pie. The glaze reminds me of the glaze that is found on Hostess fruit pies, (my hubby's secret addiction) sugary yet not to sweet. The glaze forms a nice firm coating.
When Life Gives You Pears
Last November when I received a bushel of ripen pears (for free) from the kind owner of the apple orchard where I buy all of my fall fruit from, I didn't really know what I was going to make with them. On my way home, I made one last stop at the grocery store. In an end bunker located near the produce section, they had a sale on cranberries for .99 a bag. I knew immediately what I was going to make. Pear Cranberry Pie Filling was born and has become one of my all time favorite pie fillings.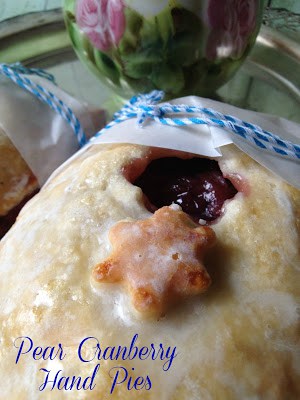 Fruit Filling made with Cranberry and Pear
If you'd like to make these delicious hand held pies and make some pear cranberry pie filling read on. If you aren't a fan of pears or cranberries and you don't want to make pie filling, then feel free to use whatever kind of pie filling you like. Any pie filling will taste delicious enclosed in the rich, home-made buttery crust and generously drizzled with the glaze. Apple, cherry, even blueberry pie filling will do nicely in this recipe.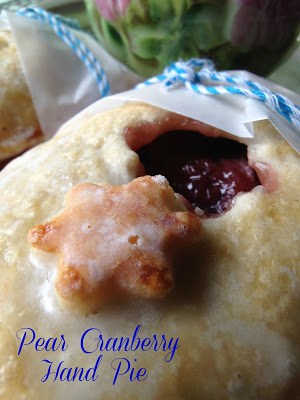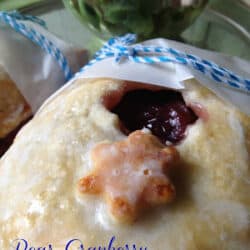 Pear Cranberry Hand Pies
Delicious served with any flavor of pie filling.
Ingredients
Buttery Pie Crust

1 1/2

cups

all-purpose flour

1/2

teaspoon

sugar

1/4

teaspoon

salt

1/2

cup

chilled unsalted butter, cut into 1/2-inch pieces

1/4

cup

ice water

1

quart

Pear Cranberry Pie Filling OR

1

quart

pie filling of your choice

water, for sealing dough

1

egg

1

teaspoon

water

2

tablespoons

sugar

1 1/2

cups

confectioners' sugar

1/2

cup

milk or half-and-half
Instructions
In a medium bowl, mix together flour, sugar and salt.

Using a pastry blender, cut in chilled butter until mixture resembles coarse crumbs.

Add 1/4 cup ice water; mix together until dough comes together, adding more ice water if needed. Form dough into a square; wrap tightly in plastic wrap.

Chill dough in refrigerator for 2 hours or up to 3 days.

Allow dough to stand at room temperature for 15 minutes before rolling out.

Roll dough out on lightly floured work surface.

Using a pastry cutter, divide dough into 8 rectangles.

Using a small cookie cutter, cut out a shape in 4 dough rectangles, these will be the tops of your hand pies. Place a small amount of pie filling on the remaining 4 rectangles, brush a small amount water on the edges. Place the 4 rectangles with the cut-outs on top of the filling. Lightly press down the edges to seal. Beat together the egg and water. Brush over the hand pies, sprinkle with sugar.

Bake at 375º for 30 minutes or until pies are golden brown. Remove from oven and place on a wire rack, set over wax paper.

Meanwhile make glaze:

In a small bowl, mix together confectioners' sugar and milk. Stir until reach desired glaze consistency. Drizzle glaze over warm hand pies.
Recipes On Tap
Paradise Ginger Peach Hand Pies and Apple Pie Bars Ina Garten.
This recipe was made with Land o Lakes