Marinated Shrimp
We may earn money or products from the companies mentioned in this post.
Marinated Shrimp
This recipe is so easy and delicious. Marinated Shrimp is perfect for the upcoming Labor Day week-end or to serve during the holidays. It's perfect to serve anytime. Now that the Football Season is here, it's time to dig out those appetizer recipes. Keep this recipe handy, it's always a big hit. This recipe does need to be refrigerated for several hours before serving to allow the flavors to blend or marry together.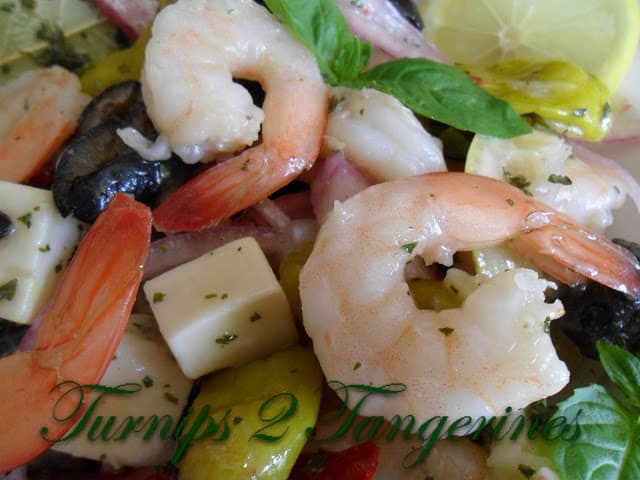 Freshest Ingredients
When making this recipe, try to use the freshest ingredients you can possibly find. Purchase the freshest shrimp you can get your hands on. That might be easy if you live in one of the coastal states, but for us here in Wisconsin, that can be tricky. Head to your favorite grocery store seafood counter and speak to the person behind the counter, ask questions if you need too.
What is Pepperoncini
Pepperoncini; peperoncini [pep-per-awn-CHEE-nee] also called Tuscan Peppers, these thin, 2-to 3-inch long chiles have a bright red, wrinkled skin. They have a slightly sweet flavor that can range from medium to medium-hot. Pepperoncini are most often sold pickled and used as past of an Antipasto, which literally means "before the meal." An assortment of antipasti could include cheese, cured meats, olives, smoked fish and marinated vegetables.
From Appetizer to Light Dinner
Marinated Shrimp is prefect to serve as an appetizer or delicious served as a light dinner. Enjoy the last rays of summer, sitting on the patio, sipping glasses of Sauvignon Blanc or any unoaked fresh white wine, while savoring marinated shrimp with a loaf of crusty bread. Not a bad way to say good-bye to summer.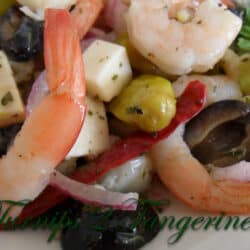 Marinated Shrimp
Serve as an appetizer or light lunch or dinner served with bread.
Ingredients
2

pounds

cooked medium shrimp, peeled and deveined

1

medium

red onion, sliced into rings

2

medium

lemons, thinly sliced

1

cup

pitted whole black olives or kalamata olives

1

16 oz jar

pepperoncini, drained

8

ounces

mozzarella, provolone or pepper jack cheese, cubed

1/2

cup

olive oil

1/3

cup

minced fresh parsley

3

tablespoons

lemon juice

3

tablespoons

red wine vinegar

1

clove

garlic, minced

1

bay leaf

2

dried

chili peppers

1

tablespoon

minced fresh basil

1

teaspoon

salt

1

teaspoon

ground mustard

1/2

teaspoon

cayenne pepper

1

tablespoon

whole black peppercorns
Instructions
In a 3 quart glass serving bowl, combine the shrimp, onion, lemons, olives, pepperoncini, and cheese. In a jar with a tight fitting lid, combine the remaining ingredients; shake well.

Pour over shrimp mixture and stir gently to coat.

Cover and refrigerate for 6 hours, stirring occasionally.

Discard bay leaf and chili peppers before serving.
Amish Onion Cake and Spicy Roast Duck with Raspberry Sauce are two delicious recipes you'll want to try.