Apple Kuchen with Cream Cheese Topping
We may earn money or products from the companies mentioned in this post.
Apple Kuchen with Cream Cheese Topping
There are three steps in making this Apple Kuchen recipe. Even though there are three steps, none are difficult and the end result will leave you with a delicious 8 x 8 apple dessert. You can make the cream cheese topping for the apple kuchen or serve apple kuchen with cinnamon ice cream, my favorite way to eat an apple kuchen or any apple dessert for that matter.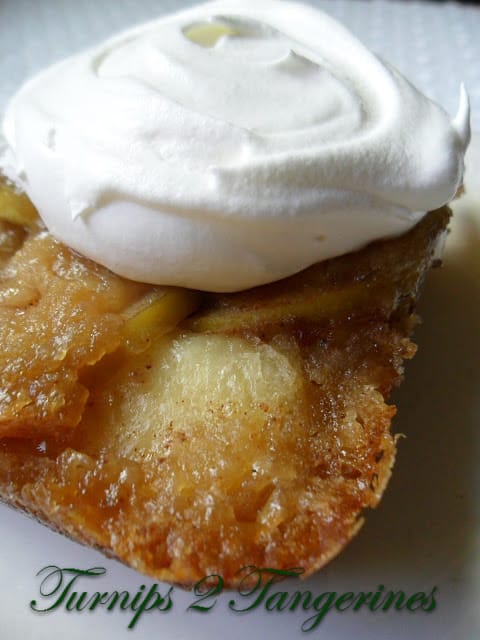 Two Types of Apples
For the best results when making apple kuchen of any apple dessert recipe, I personally like to use at least two different kinds of apples. I feel that using two kinds of apples or even three or four different kinds of apples, adds so much more flavor and texture. Another thing I like to add if possible is a handful of fresh or frozen cranberries which give apple desserts a tart, sweet flavor. Thinly sliced pears are another option too consider.
What is a Kuchen?
Kuchen [KOO-khehn] is a fruit or cheese-filled yeast-raised cake, usually served for breakfast but also enjoyed as a dessert. It originated in Germany but is now enjoyed in many variations throughout much of Europe and the United States. The word Kaffeekuchen is German for "coffee cake." A kuchen tends to be less sweet than what we know as a "coffee cake" with the emphasis on the fruit. So then, what is a coffee cake?
What is a Coffee Cake?
This rich, sweet, cake-like bread is usually eaten for breakfast or brunch. Coffee Cakes can be made with yeast, but those using baking soda or baking powder take less time and are equally delicious. Coffee Cakes can contain fruit, nuts and sometimes a cream cheese filling. They can be frosted or not and are usually best served slightly warm.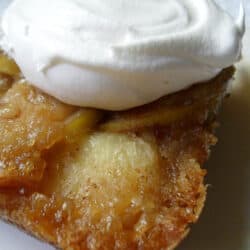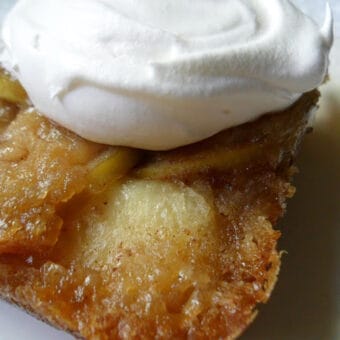 Apple Kuchen with Cream Cheese Topping
Apple Kuchen with Cream Cheese Topping is a real apple treat.
Ingredients
Topping:

1/4

cup

flour

1/4

cup

brown sugar

1 1/2

tablespoons

cold butter

Cake:

1

cup

plus 3 tablespoons flour

1 1/4

teaspoon

active dry yeast

,

make sure your yeast is fresh

1/4

cup

milk

1/4

cup

sugar

2

tablespoons

butter

1/4

teaspoon

salt

1

egg

Apples:

2

cups

thinly sliced apples

2

tablespoons

plus 2 teaspoons brown sugar

1 1/2

teaspoons

quick cooking tapioca

1 1/2

teaspoons

lemon juice

1/2

teaspoon

apple pie spice

Cream Cheese Topping:

4

oz

cream cheese, softened

1/3

cup

whipping cream

1/3

cup

powdered sugar
Instructions
Make Topping:

Combine the flour and brown sugar in a bowl.

Cut in butter using a pastry blender until mixture resembles coarse crumbs. Set aside.

To Make Cake:

Grease an 8 x 8 inch square pan. Set aside.

Combine 1/2 cup flour and the yeast.Heat the milk, sugar, butter and salt in a small saucepan. Heat until mixture reaches 120 º to 130 º F. Add the heated mixture and egg to the flour mixture. Beat on low to combine. Beat on high for 2 minutes, until mixture is smooth.


Using a dough whisk or wooden spoon, add the remaining flour to create a stiff batter. Spread batter in prepared pan.

To Make Apples:

In a medium bowl, combine apples, brown sugar, tapioca, lemon juice and apple pie spice. Toss to coat apples. Spread apple mixture on top of the cake batter, then top apples with crumb topping. Allow to rise for one hour in a warm place.

Preheat oven to 375 º F. Bake for 30 minutes or until top is browned and the apples are cooked through. Cool on rack for 30 minutes.

To Make Cream Cheese Topping:

Beat the cream cheese with a mixer until smooth.

Beat in the remaining ingredients until creamy.

Serve cream cheese topping with apple kuchen.
Do you like Kuchen?? We love it! Here's a recipe you are going to want to make over and over again. German Apricot Kuchen