Homemade Corn Dogs A Carnival Classic
We may earn money or products from the companies mentioned in this post.
Homemade Corn Dogs
If you like corn dogs you are going to love this recipe. Not only are these corn dogs delicious they aren't as intimidating to make as you might think.
The batter is easy to make and comes together quickly. I think the batter is what makes these corn dogs so special.Plus the batter is what makes the corn dogs taste exactly like the corn dogs your get at the fair. Homemade Corn Dogs are best served with ketchup and mustard on the day they're made.
Carnival Classic
Corn Dogs are a carnival and fair classic. Who hasn't had a corn dog at the carnival, state fair or at the ball park. Funnel Cakes might be considered the
"Queen of the Fair" but Corn Dogs are considered the "King of the Fair." Adults and kids of all ages love corn dogs. Just as baseball games, hot dogs and cracker jacks go together, corn dogs and state fairs go together too. Corn Dogs are a Carnival Classic and have been for a very long time.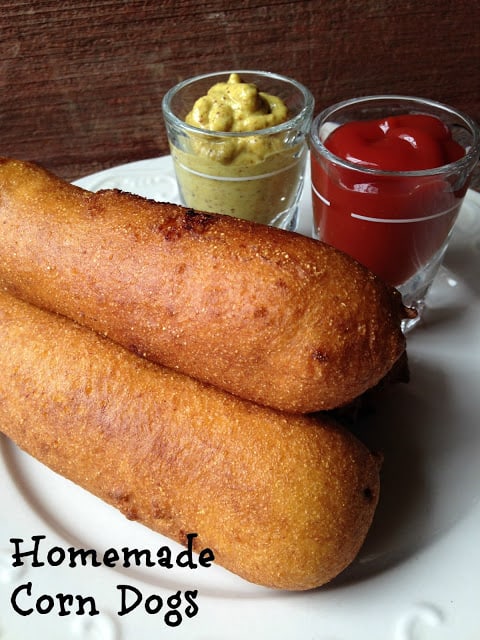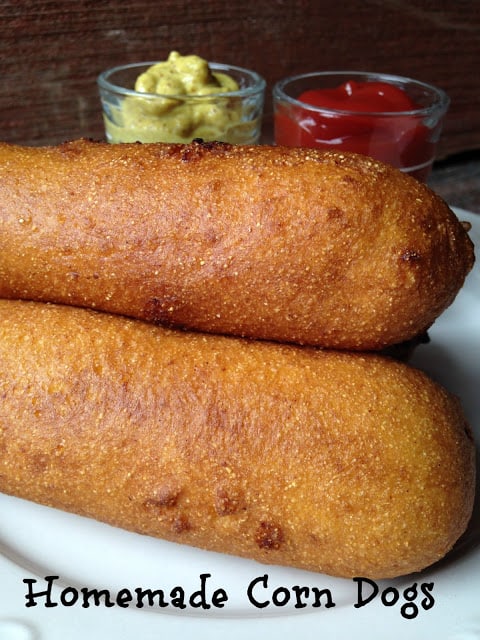 Popular Fair Foods
Not only are Funnel Cakes and Corn Dogs a hit at the fair so is just about anything and everything that is served on a stick. Every state fair has its own specialties. Here is a short list of  "On-a-Stick" foods served at the Wisconsin State Fair. Deep-fried cheesecake, deep-fried pretzel-crusted brownies and Door County cherry pie, to name just a few. Other popular fair food is cotton candy, sno-cones, elephant ears and taffy apples.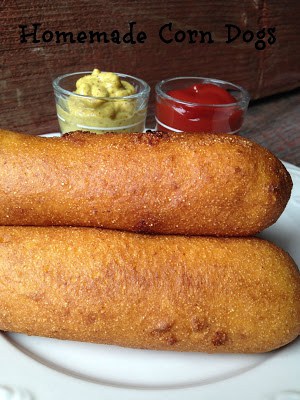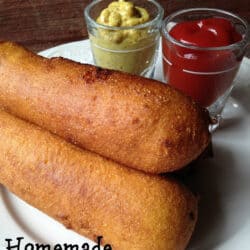 Homemade Corn Dogs
Ingredients
1

10 count package

hot dogs of your choice

1 1/2

cups

yellow cornmeal

1 1/4

cups

flour

1/4

cup

sugar

1

tablespoon

baking powder

1/4

teaspoon

salt

1

egg, beaten

1 1/2

cups

buttermilk

1

tablespoon

oil

1

tablespoon

honey

10

wooden sticks or skewers

2

quarts

vegetable for frying
Instructions
In a large bowl whisk together the cornmeal, flour, sugar, baking powder, and salt.

Add the beaten egg, buttermilk, oil and honey. Stir until combined. Batter will be thick.

Remove hot dogs from package. Wipe all of the hot dogs dry with paper towels.

(This will allow the batter to adhere to the hot dogs)

Insert one wooden stick into each hot dog.

Pour the batter into a tall drinking glass.

Holding by the wooden stick, take one hot dog and dunk it into the batter, coating all of the hot dog.

Slowly remove from batter and let a little excess batter drip back into the glass.

Immediately place into hot oil.

Turn as necessary to brown all sides.

Cook for 2 to 3 minutes or until all sides are deep golden brown.

Remove from oil and drain on paper towels.