Guacamole Salad
We may earn money or products from the companies mentioned in this post.
Guacamole Salad
This salad has the same bright flavors that can be found in the popular dip with the same name. I am a huge fan of guacamole dip but I don't always like the fact that the dip is eaten with tortilla chips. Not that I don't like eating tortilla chips because I do but I thought, wouldn't it be great if you could eat guacamole without the chips? When I saw this recipe in one of my many Cook's Country magazines, it was like Bingo! Now, here we go!!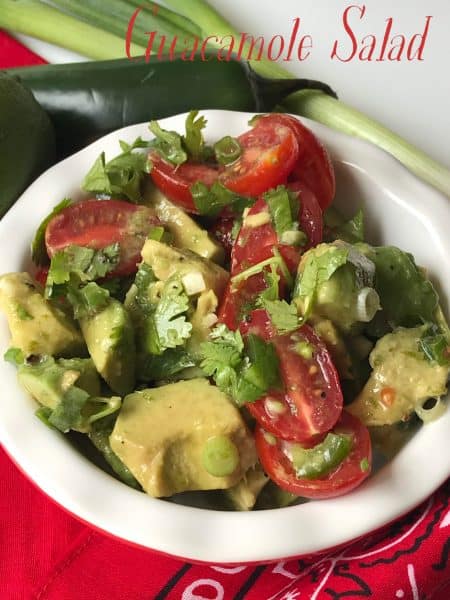 Cinco de Mayo Salad
Finding this recipe when I did was perfect timing. I couldn't have found it at a more perfect time. With Cinco de Mayo coming up this weekend, Saturday May 4th, it was the perfect recipe not only to share but to make and enjoy. I have to admit this recipe was super delicious. The dressing is made with green onions, garlic, lime zest, lime juice, salt and pepper. Olive oil is then slowly whisked in and the result is a super homemade dressing.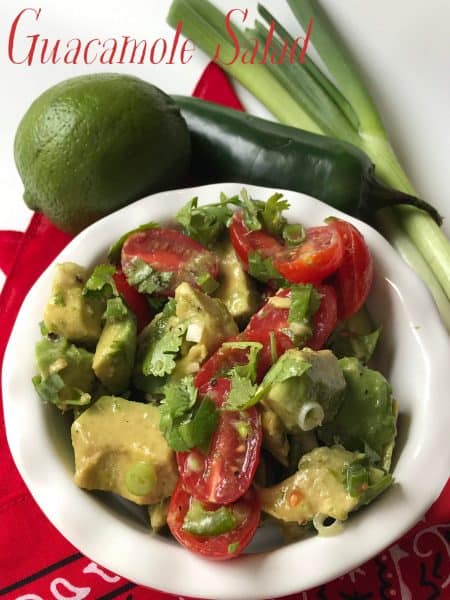 For this Recipe
The original recipe calls for using two poblano chiles, seeded and sliced into 2-inch matchsticks. If you can't find poblano peppers, substitute an equal number of Anaheim peppers or one large green bell pepper mixed with up to 2 tablespoons of minced jalapeno peppers. When I decided to make this salad, for whatever reason my grocery store didn't have any poblano or green bell peppers. Strange I know but true.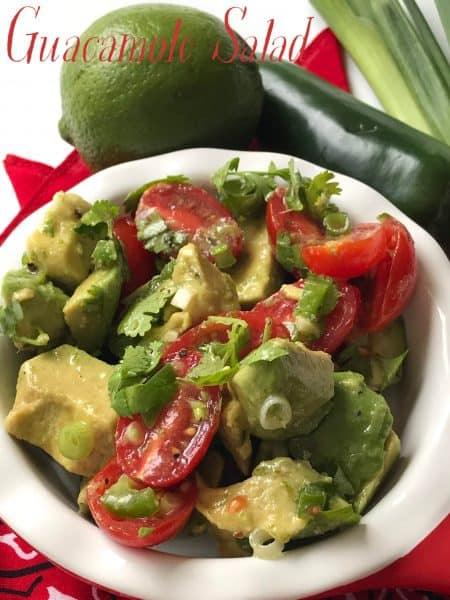 Spicy or Not?
Since I was going to be the only one eating this salad, (Remember? the hubby doesn't like any "green" vegetables, which means he doesn't like avocados). I didn't want to make this salad so spicy and hot, that I wasn't going to be able to eat the darn thing. I decided to go with only two tablespoons finely diced jalapeno peppers. The end result was a delicious and not to spicy salad, that I will be making again! Now if you're like my hubby and you like things hot, hot, hot, then by all means add the hottest peppers you can stand. I'm a wuss when it comes to spicy food. I prefer mild to maybe medium heat. Make this salad the way you like your guacamole dip:)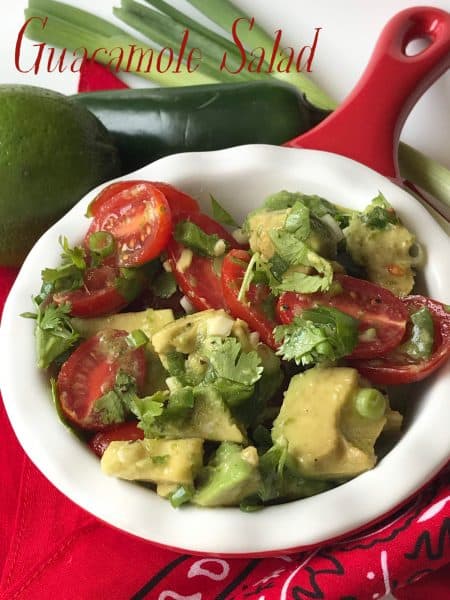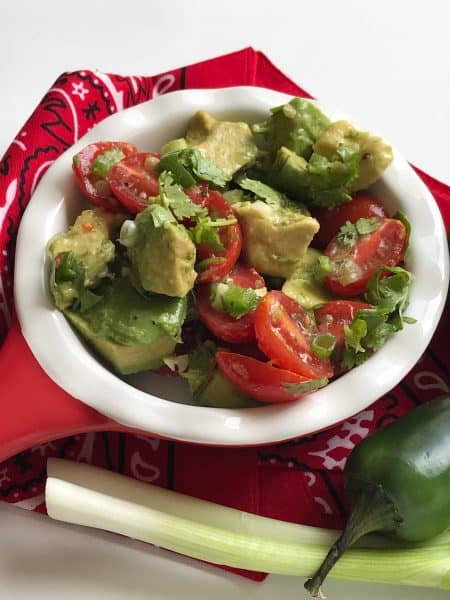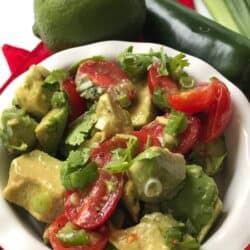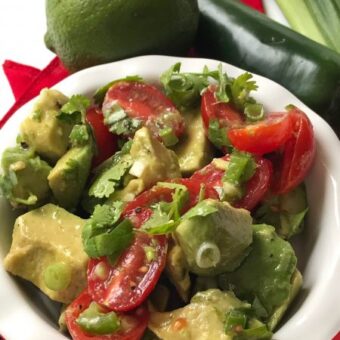 Guacamole Salad
Ingredients
1

pint

grape tomatoes, halved

salt and pepper

4

green onions, sliced thin

1

garlic clove, minced

1

tablespoon

grated lime zest

1/3

cup

lime juice

1/4

cup

olive oil

2

tablespoons

minced jalapeño peppers

2

ripe

avocados, pitted, skinned and cut into 1/2-inch cubes

1/4

cup

finely chopped fresh cilantro
Instructions
Salt Tomatoes: Toss tomatoes and 1/2 teaspoon salt in medium bowl. Transfer to a paper towel lined baking sheet and let drain 15 minutes.

Make Dressing: Combine green onions, garlic, lime zest, lime juice, 1/2 teaspoon salt and 1/2 teaspoon pepper in large bowl. Let sit 5 minutes, then slowly whisk in oil.

Toss Salad: Add jalapeños avocados, cilantro and drained tomatoes to bowl with dressing and toss to combine. Season with salt and pepper. Serve.
This recipe is lightly adapted from Cook's Country, April/May 2009.