Franks Red Hot Buffalo Chicken Dip
We may earn money or products from the companies mentioned in this post.
Franks Red Hot Buffalo Chicken Dip
I had this wonderful Buffalo Chicken Dip for the first time on Christmas Day at Bob and Kim's house. This dip is very tasty and easy to prepare. It is definitely the new favorite in my house! This recipe was found on the back of a bottle of Franks Red Hot Sauce. Isn't it amazing all the delicious recipes you can find on the back of boxes, bottles, and jars.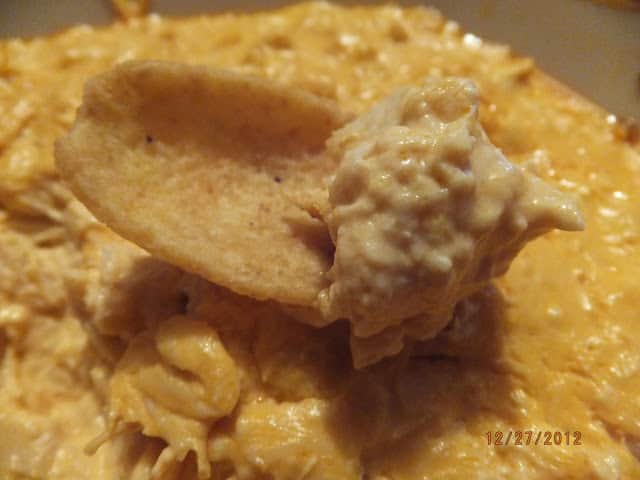 Canned Chicken
This recipe calls for using canned chicken. I know what your thinking…I thought the same thing too. Canned chicken..really? Is it really chicken?? The first time I made this recipe, was actually the first time I have ever bought/used/tasted canned chicken. And I'll admit, it wasn't bad! It certainly works in this recipe, that's for sure.
Chicken
I'm certain you could substitute left-over chicken or even rotisserie chicken in this recipe with the same delicious results. But why would you. This recipe is fantastic made with canned chicken, so why change a good thing, right? "If it's not broke, don't fix it," isn't that how the saying goes. So go ahead and make this super dip using canned, and yes it's real, chicken.
Serve With
We served this cheesy, spicy chicken dip with scoops corn chips. You could also serve this dip with the traditional buffalo dippers, celery sticks. For some reason though, my family prefers to eat big scoops of Frank's red hot buffalo chicken dip on corn chips. If you decide to serve this dip with corn chips or celery sticks, with one bite you will taste how delicious this dip is.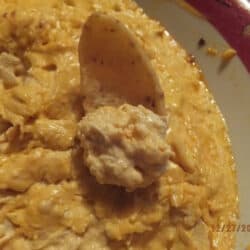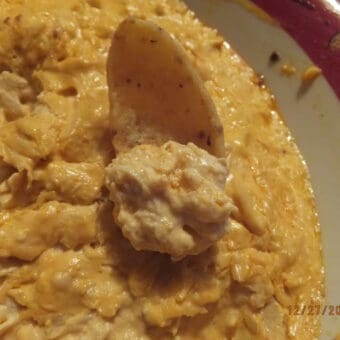 Franks Red Hot Buffalo Chicken Dip
A super delicious and creamy chicken dip. Made with canned chicken and yummy blue cheese.
Ingredients
1

8 oz package cream cheese, softened

1/2

cup

blue cheese dressing

1/2

cup

hot sauce, Franks

1/2

cup

crumbled blue cheese

2

cups

diced canned chicken
Instructions
Place cream cheese into a deep baking dish. Stir in remaining ingredients.

Bake at 350º for 20 to 25 minutes or until hot and bubbly.

Serve with corn chips scoops.
Notes
Products used in this recipe: Frank's Red Hot Sauce, Marzetti Blue Cheese Salad Dressing, Philadelphia Cream Cheese and Treasure Cave Blue Cheese.
If you're looking for appetizer recipes, we have got you covered! If there is one thing we love here at Turnips 2 Tangerines is a good dip:) Hot Chicken Corn Dip,  Warm Turkey Fiesta Dip and Yogurt Dill Dip with Guinness Beer Bread . Recent Recipe: Fudge Bars or Can't Leave Alone Bars