Doritos Hamburger Bake Dish
We may earn money or products from the companies mentioned in this post.
Doritos Hamburger Bake Dish
I have been making this dish since my son was in Legion Baseball. He "volunteered" me to bring a dish to pass and I only had these ingredients in my pantry. About an hour and a half later, this dish was on it's way to the baseball diamond. It was a home run with the players and coaches alike. While visiting my daughter and her family recently in Athens GA, I made this for the first time for my son-in-law. He flipped over it! He hasn't stopped taking about it since. Doritos Hamburger Bake Dish will fast become your "go to" Bake Dish:)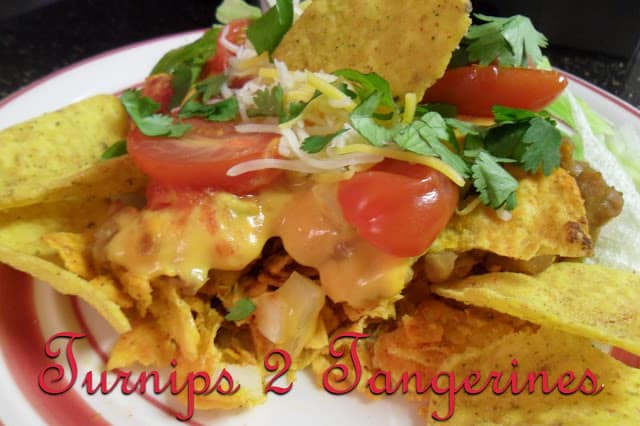 My Sister
My sister Mary gave me this recipe a long time ago. I have added and tweaked this recipe over time and the recipe below is the result. I made many batches of this dish, 'tweaking' the recipe and I never received any complaints. Over the years, my sister Mary has given me many recipes that became 'keepers.' She worked in an office at the courthouse for many years and was always getting a recipe from someone, that she'd then share with me. Doritos Hamburger Bake Dish will become a fast, family favorite. I promise!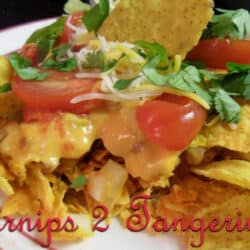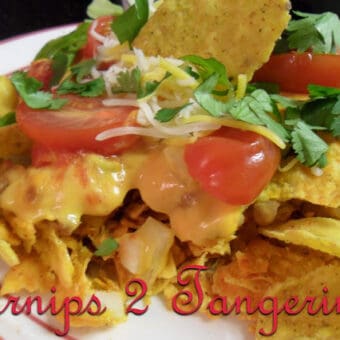 Doritos Hamburger Bake Dish
Ingredients
1 1/2

pounds

ground beef

1

package

,

1.25 oz taco seasoning mix

3/4

cup

water

1

16 oz can refried beans

1

16 oz jar mild thick n' chunky salsa

1

11 1/2 oz bag nacho cheese doritos, crushed

1

16 oz jar salsa con queso cheese sauce

1

small onion

,

chopped

1

4 oz can sliced black olives, drained

2 to 4

cups

shredded cheddar cheese

,

divided

1

pint

grape/cherry tomatoes

,

sliced in half, shredded lettuce, sour cream, guacamole, cilantro and taco sauce.
Instructions
Brown ground beef in large skillet. Drain. Add taco seasoning mix and water. Bring to a boil, reduce heat and simmer 10 minutes, add refried beans and 1/3 cup thick n' chunky salsa. Cook until bubbly, about 10 minutes. Remove from heat. Cool slightly.

Pour crushed Doritos into a 13 x 9 x 2 inch baking dish. Spoon meat mixture over Doritos. Spoon on cheese sauce and remaining salsa. Sprinkle with chopped onions and sliced black olives. Bake at 350º for 15 minutes. Sprinkle with 2 cups shredded cheese. (use additional cheese for serving) Continue baking, just until cheese has melted.
Serve With
Tomato halves, shredded lettuce, shredded cheese, sour cream, guacamole, cilantro and taco sauce. *Note: check often during baking time, Doritos will burn:) Another great recipe to try is Italian Beef Sandwiches.  Perfect to make for large gatherings. Italian beef sandwiches can be made and served straight from the crock-pot. You can also make the sandwiches ahead of time and then reheat the beef in a crock-pot.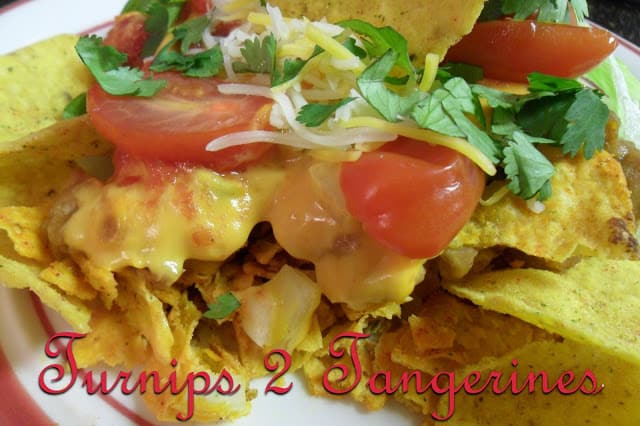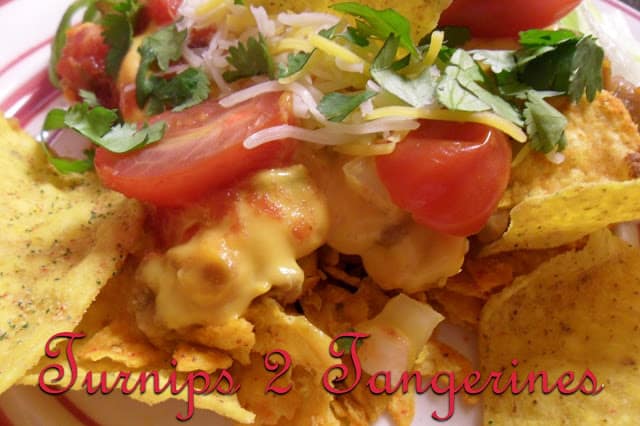 For this recipe we used: Nacho Cheese Tortilla Chips