Cranberry Lemon Shortbread Cookies
We may earn money or products from the companies mentioned in this post.
Cranberry Lemon Shortbread Cookies
Cranberry and Lemon Shortbread cookies are light and lemony with a slight tang from the cranberries. Like all shortbread cookies, these cookies are made with lots and lots of butter, after all that's what gives shortbread cookies that classic buttery flavor we all love in a shortbread cookie. The addition of chopped cranberries gives a holiday twist to these shortbread cookies and the lemon filling gives them just that right amount of sweetness and tang. Think of these Cranberry and Lemon Shortbread Cookies as a new and improved version of classic lemon bars but crunchier.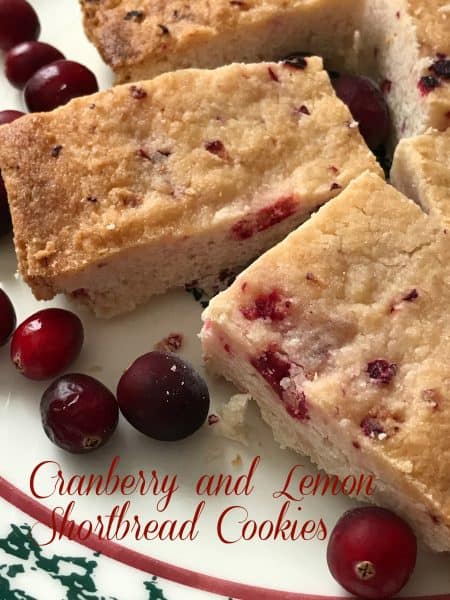 Easy and Affordable
The thing I especially like about shortbread cookies, besides the light, crisp and buttery taste, shortbread cookies are easy to make. With just a few basic ingredients and you have a delicious cookie. Shortbread cookies can be made in a shortbread pan, tart pan with removable bottom or sliced and baked. You can also prick the tops of the cookies, about three times, with the tines of a fork. Shortbread cookies are versatile and buttery good.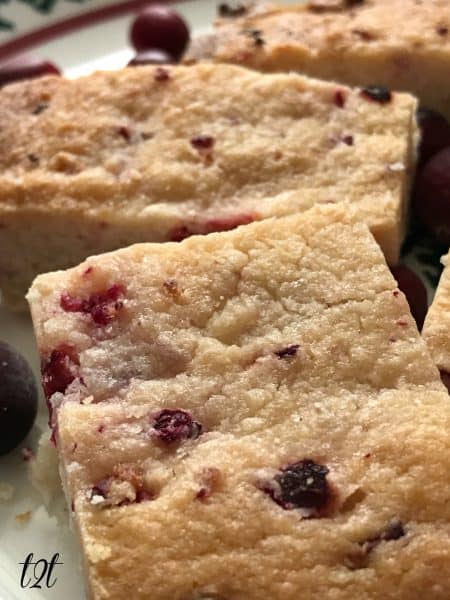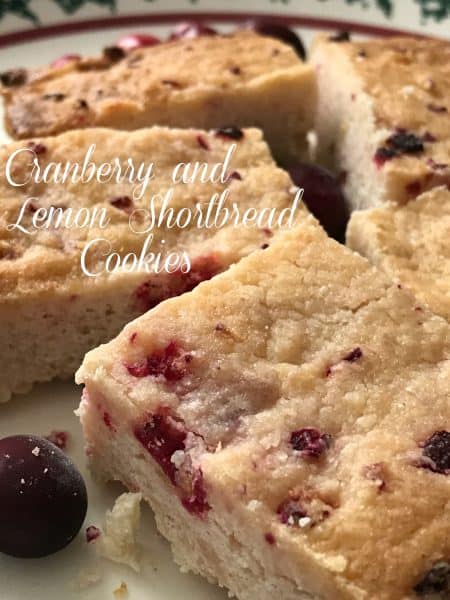 Here are some fun and interesting fact about this ruby red, bouncy berry. Cranberries score among the highest of all fruits in antioxidants. Fruits and vegetables with high antioxidant values, like cranberries, may help support memory function and coordination. Which reminds me, I should eat more cranberries. hehe
Cranberries are a cholesterol free, fat free and low sodium food. They help maintain a healthy immune system too. Consider adding cranberries to low-fat vinaigrettes, whole grain pancakes and yogurt. The cranberry grows on low running vines in sandy bogs and marshes. Because cranberries float, Wisconsin marshes or bogs are flooded when harvested.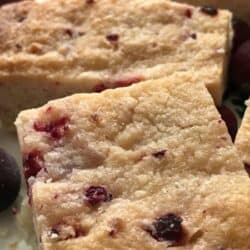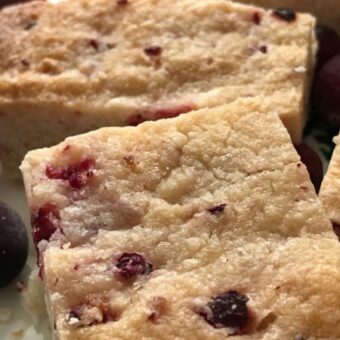 Lemon and Cranberry Shortbread Dough:
A Classic Buttery Shortbread Cookie with the addition if lemon and chopped cranberries.
Ingredients
1

cup

salted butter, softened, plus more for greasing pan

2 3/4

cups

all-purpose flour

1

teaspoon

baking powder

2/3

cup

granulated sugar

1

teaspoon

vanilla extract

2/3

cup

fresh cranberries, coarsely chopped

Zest of 1 lemon

Filling:

2 1/2

cups

granulated sugar

4

large eggs

1/3

cup

lemon juice, about lemons

3

tablespoons

all-purpose flour

1

teaspoon

baking powder

Pinch

salt

Confectioners' sugar, for garnish
Instructions
For the lemon and cranberry shortbread dough: Preheat the oven to 350 degrees Line a 9-by-13-inch pan with aluminum foil (with a 2-inch overhang on all four sides) and grease the bottom and sides with butter.

In a small bowl, combine the flour and baking powder. Set aside. In the bowl of a stand mixer fitted with a paddle attachment, cream the butter with the sugar and vanilla on medium-high speed until light and fluffy, about 4 minutes. Add the dry ingredients and mix on medium-low until incorporated. Mix in the cranberries and lemon zest.

Press the mixture into the bottom of the prepared pan. Bake until slightly brown, about 25 minutes.

For the filling: While the shortbread is baking, whisk together the sugar, eggs, lemon juice, flour, baking powder and salt in a medium bowl. Pour the filling over the baked crust and continue baking until the filling sets and is slightly brown on the edges, about 20 minutes

Let cool completely in the pan. Use the foil edges to help lift the bar out of the baking pan. Cut into 24 squares and dust with confectioners' sugar.
Notes
Recipe courtesy of Chuck Hughes
Looking for more cookie recipes? You can't go wrong with these. Cherry Winks Cookies, Mexican Wedding Cookies and Welsh Tea Cakes.