Mexican Wedding  Cookies
Mexican Wedding Cookies go by several different names; Pecan Fingers, Snowball Cookies and Crescent Moon Cookies. My Grandma made these  buttery cookies every holiday season. She called them Pecan Fingers. Pecan finger cookies have always been a favorite of mine. Sweet, buttery, nutty and melt in your mouth delicious. Not only are these cookies easy to make, most people have the five ingredients on hand needed to make these delicious cookies
Five Ingredients
One reason why Mexican Wedding Cookies are so popular is, (besides the fact they're buttery delicious) but because they require only  five ingredients. Five, that's it! Butter, flour, powdered sugar, vanilla extract and chopped pecans. I don't know about you but I always have the first four ingredients on hand. I mean, always!  And 9 times out of 10 I have some sort of nuts in my house. (besides the ones I live with:)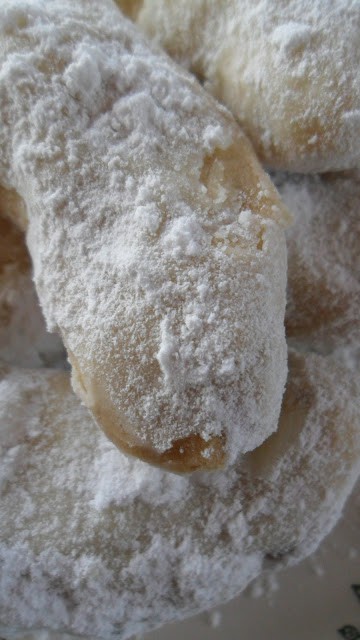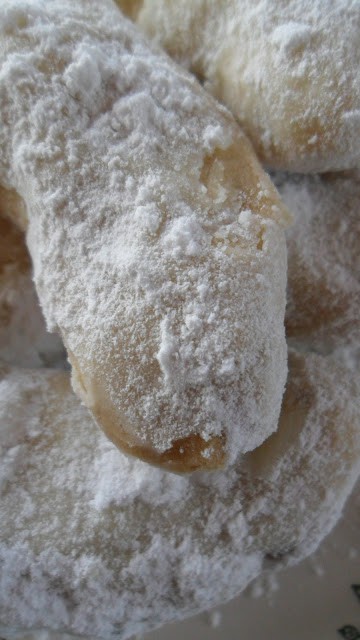 Mexican Wedding Cookies
Light, buttery and delicious!
Keyword:
butter, flour, pecans, powdered sugar
Ingredients
2

sticks

butter, room temperature

1/2

cup

confectioners' sugar, plus more for coating baked cookies

1

teaspoon

vanilla extract

1 3/4

cup

flour

1

cup

pecans, chopped very fine
Directions
Preheat oven to 275 degrees. Line baking sheets with parchment paper.

Using an electric mixer at low speed, cream butter and confectioners' sugar until smooth. Beat in vanilla extract. At low speed, gradually add the flour. Mix in the pecans.

With floured hands, take out about 1 tablespoon of dough, shape into a crescent. Continue to dust hands with flour, as you make and shape the cookies. Place them 1 inch apart on prepared baking sheets. Bake for 45 minutes.

Remove from oven and roll in additional confectioners' sugar while still warm. Cool completely on wire racks. Store in air tight containers.
Recipes:
Looking for more cookie recipes? Well you have come to the right place! We have several we know you are going to want to make. Even though we do love any and all cookies here at Turnips 2 Tangerines, here is a short list of our favorites; Cherry Winks, Old Fashioned Gingersnap, and Snickerdoodle Cookies. For a complete list of cookies shared here on Turnips 2 Tangerines, check out our Recipe Box